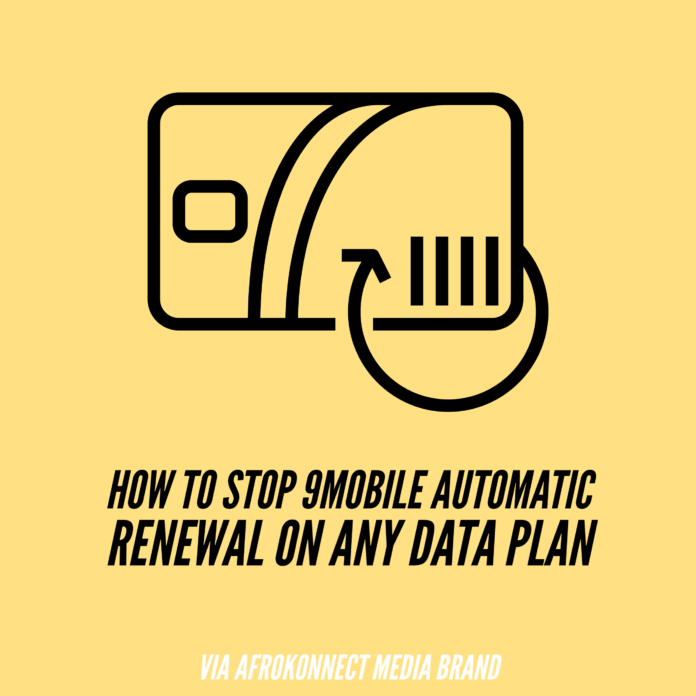 This post is about How to Stop 9Mobile data auto renewal Service in 2023 via Afrokonnect.
In this article, you'll find detailed instructions for disabling, bypassing, or otherwise canceling the automatic renewal of your 9Mobile data package.
You've come to the correct site if you've been looking for the 9mobile Customer Care Line in order to cancel or disable your automatic data renewal.
In a nutshell, this essay will supply all the required solutions to issues such as, and many more besides.
How can you stop the automatic renewal of your 9mobile data plan?
How can I check the remaining amount of data on my 9mobile plan
Cancel your 9mobile data subscription and get your money back
People surfing the internet for data auto renewal solutions will find a variety of different approaches.
The question then becomes why are customers seeking for methods to cancel their automatically renewed subscription,
The unfortunate reality is that you can be throwing away your hard-earned money on needless things like this auto-renewal service without even realizing it.
What exactly is 9mobile automatically renewed service?
If you have sufficient funds in your account, your existing plan will be automatically renewed,
As soon as it reaches its expiry date under the terms of a service known as auto-renewal.
If you are the sort of customer who subscribes on a monthly basis,
Then it makes sense for you to take advantage of automatic data renewal,
Since it will allow you to prolong the duration of your data subscription without any disruptions.
You'll require the code to disable auto-renewal of your data plan if your plan doesn't renew every month;
Otherwise, you may be in for a rude awakening if you'd intended to spend your airtime for calls and instead saw the undesired or unwelcome message,
"Your previously established plan has been extended".
Your next step will be to contact 9Mobile's customer support,
Where you may or may not be able to cancel your subscription's auto-renewal.
In order to err on the side of caution. If you have enrolled to any of 9mobile's data plans,
You should get the code to cancel the automatic renewal of your subscription as soon as possible.
How do I cancel auto renew? – 9mobile (Etisalat)
9mobile claims that in order to subscribe to any of their plans, you only need to call *229#,
And then follow the instructions that appear on the screen.
The data plans offered by 9Mobile provide you with a wide variety of alternatives to choose from,
Including the ability to subscribe to daily, weekly, monthly, or even annual plans.
You need to immediately cancel the automatic renewal of your plan, regardless of the one you enrolled to.
If you're a Glo user then you can consider How to Cancel Auto renewal on Glo Data Plans.
How to cancel 9Mobile data auto renewal Service in 2023
The data service offered by 9Mobile is the quickest available in Nigeria according to online surveys.
Every single one of 9mobile's data plans, whether it be their 3G, 4G or 5G data plan, includes the auto-renewal feature.
Follow the instructions below in order to put a halt to any 9mobile data automatic renewal.
Simply dialing *229*0# will terminate your auto-renewing 9mobile data subscription.
You can also check out How to Cancel Auto Renewal on MTN Data Subscriptions.
How to Stop 9Mobile Data Auto Renewal in 2023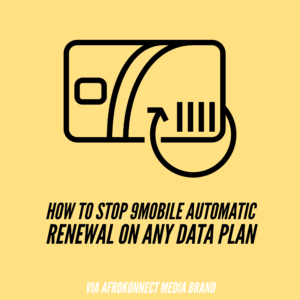 Conclusion
Auto renewal services on any network comes with its pros and cons,
So you just need to find what works for you best, either you stick or twist.
I hope you find this article helpful, if you do then kindly share it on social media and tag Afrokonnect.