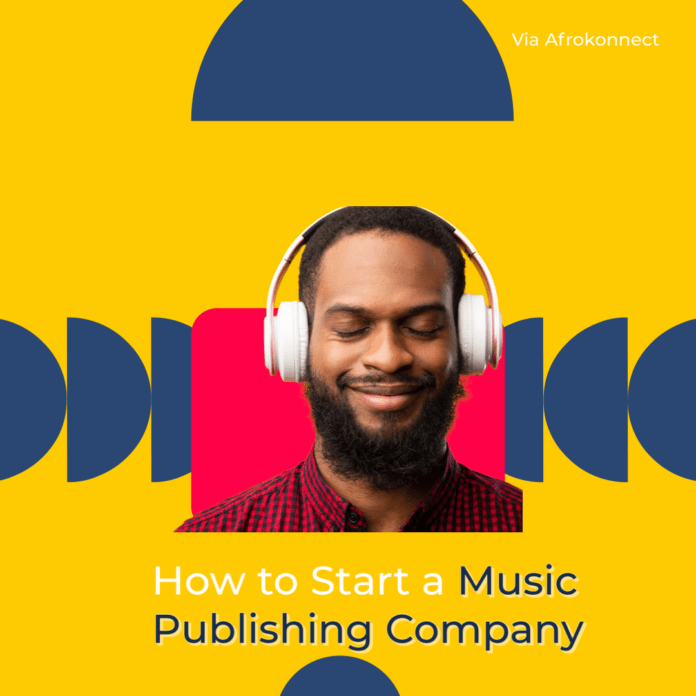 Welcome to this post about How to Start a Music Publishing Company, via Afrokonnect.
This comprehensive guide is your roadmap to kickstarting a music publishing company from scratch, even if you're short on funds or industry expertise.
In the intricate realm of the music industry,
A music publisher, or publishing company, plays a pivotal role in ensuring that songwriters and composers receive due compensation when their compositions hit commercial airwaves.
A publishing contract acts as the bridge between a creative mind and a publishing entity, transferring the rights of the music to the company.
In return, the company takes charge of licensing musical works, monitors their performance venues, collects royalties, and channels them back to the original creators.
But it's not just about the financial side; these entities also champion existing music, pitching it to recording artists, movie producers, and TV shows.
At the heart of the music industry's intellectual property are the copyrights managed by publishing corporations.
These entities are the guardians of a songwriter's intellectual property and rights, playing a pivotal role in preserving this invaluable resource.
Starting a Music Publishing Company
So, what exactly does a day in the life of a music publisher entail?
Picture this: making deals with songwriters, connecting musicians with those in need of a perfect song—be it for a movie, a commercial campaign, or any other creative endeavor—and ensuring the smooth flow of licensing fees.
Now, if you're ready to dive into the music publishing industry, you'll discover a myriad of paths to achieve these core objectives.
Some publishing houses take a hands-off approach, while others handle everything from manuscript creation to extensive promotion.
For those contemplating the entrepreneurial route in establishing a music publishing company, success hinges on your dedication and focus.
Let's face it, launching a profitable music publishing company in many parts of the world involves clearing numerous hurdles.
But fear not, as this guide is here to illuminate your path and set you on the right track for success.
Steps to Starting a Successful Music Publishing Company
Understanding the Industry Landscape
The evolution of the music publishing industry, spanning from the '50s to the present, has seen a notable shift in power from publishing firms to songwriters.
In the earlier days, artists often relinquished full copyrights for a mere $250 per song.
The '60s brought a shift, guaranteeing songwriters at least half of royalties.
Fast forward to the '70s, and a 50/50 co-publishing agreement emerged, giving songwriters 75% of future royalties.
Despite the industry's growth, challenges persist in combating piracy, making the competition fiercer.
Explore Alternatives and Gather Information
Music publishing companies serve a diverse clientele, including public and private entities, celebrities, businesses, educational institutions, party organizers, and internet entrepreneurs.
Understanding the varied needs and interests of these clients is essential for a successful venture. Here is a rundown of the types of clients music publishers see most often:
Public radio, Television stations and other government-run media outlets.
Private industry conglomerates like record labels.
Celebrities and Independent artists
Party Organisers
Internet business owners
Choosing Your Niche
Entrepreneurs entering the music publishing realm have various avenues to explore.
From seeking partnerships with record companies to scouting emerging talent,
Promoting global exposure for artists, collaborating with social media influencers, and enforcing stringent company policies—each direction offers a unique space in the industry.
Success hinges not only on standard contracts but also on ensuring artists receive a substantial return on their investment in a competitive market.
The Saturation of the Market
The success of a music publishing company depends on more than just the knowledge and ability to deliver standard music contracts and the ability to network with important people in the industry.
It is also crucial that any artist who signs with your label or company sees a healthy return on their investment.
Without a question, today's world fosters a great deal of competitiveness, and that includes the music industry.
Artists need to be reimbursed for the many times each day that their works are used by many brands, companies, organisations, individuals, etc.
This means there are a lot of people trying to make a name for themselves in the publishing industry, but there's still plenty of room for new entrants to succeed.
3. Choose between starting from scratch and opening a franchise.
If you are interested in owning an investment in the music industry,
You have the option of buying a franchise from a successful music publishing company or even collaborating with a large publishing organisation.
There is no doubt that many different reasons and incentives encourage people to launch their own businesses.
Starting from scratch is your best bet if your goal is to construct a firm that you will ultimately own, establish a name for your company, and eventually pass on to your children or sell as a franchise.
A successful music publishing company that is willing to sell its franchise is an attractive option if your main goal is financial gain.
4. Determine Which Business Structure is Best For You (LLC, C Corp, or S Corp)
Starting a music publishing firm is serious business, and the type of legal structure you select to operate under will have a significant impact on how large that business can eventually become.
If you have large plans for your music publishing company, selecting the appropriate legal entity is very simple.
You can form a general partnership, limited partnership, limited liability company, "C" corporation, or "S" corporation as the legal framework for your publishing company.
Note that each of these business structures has its own set of benefits and drawbacks;
You'll want to carefully examine your alternatives before deciding on a legal framework for your music publishing organisation.
Limiting personal liability, admitting new owners quickly and easily, meeting the expectations of investors,
And minimising tax obligation are all important considerations when selecting a business structure.
If you take the time to carefully consider the various legal entities you could use for your music publishing company,
You will likely come to the conclusion that a Limited Liability Company is the best option.
Your publishing company can begin as an LLC and later transition to a C or S corporation, depending on whether or not you intend to take the company public.
You can expand your music publishing business to compete with industry heavyweights by converting to a "C" or "S" corporation.
This will allow you to attract investment from venture capital firms and the stock market,
Provide a more favourable tax structure, facilitate the sale or transfer of shares, and give you greater control over the direction and management of your company.
Tips for Starting a Music Publishing Company
Pick a Snappy Name for Your Company
As a matter of taste, picking a name for your music publishing company that is memorable and appealing is crucial if you want to attract a wide variety of musicians to work with you.
This is because, in the music business, a person's reputation is everything.
Safeguard Your Ideas With Trademarks, Copyrights, And Patents
Starting your own music publishing company necessitates protecting your ideas through a patent application.
When starting a music publishing firm, it's important to file for intellectual property protection to safeguard not only the company's logo and other documents, but also its software programmes and, of course, its name.
Music publishing organisations play a crucial role in ensuring the safety of its artists' creative works.
A music publishing company can succeed only with strong intellectual property protection and a distinctive brand.
Plagiarism, fraud, etc., are all things that can be avoided if this safeguard is properly implemented.
Obtain the Required Credentials
There would be no music business without the music publishing sector.
As a result, it is closely controlled to forestall litigation over alleged contract violations.
The publishers must be qualified experts who understand the music business,
Someone who will fight for the rights of the musicians and artists who spend many hours crafting songs for the public's enjoyment.
If you want to stand out from the crowd and launch a successful music publishing company, it's important to earn international music publishing credentials.
The truth is that you'll have greater clout and success in persuading customers to use your services if you and your team members hold more relevant publishing qualifications.
To that end, you or your top employees might want to consider joining one of the following professional societies that offers certificates in your field:
In United States: ASCAP and BMI
Canada: SOCAN
In Japan: JASRAC
Germany: GEMA
UK: Music PRS, SoundExchange, etc.
Establish a Business Strategy
If you want to launch a music publishing company, one of the first things you should do is get advice from professionals on how to put up a solid business plan.
The fact is, you'll need a solid business strategy if you want to lead a prosperous firm.
You may cut down on the amount of time spent learning the business on the fly if you take the time to create a thorough and practical business strategy.
You'll have a clearer idea of how to manage your company, allowing you to better respond to changes, new opportunities, and more.
You should use facts, figures, and other indices from the security industry that apply to the country in which you intend to launch your music publishing company in order to craft a thorough business plan that stands up to scrutiny.
The point of developing a business plan is to provide yourself with a road map for taking your idea all the way from concept to reality.
How you intend to run and expand your music publishing company should be laid out in detail in your business strategy.
Carry out a Comprehensive Price Evaluation
You'll need to shell out some cash to get your music publishing company off the ground.
It's crucial to have completed and analysed your feasibility studies and market survey prior to drawing up a budget,
And sourcing funding for your business because the location you choose to launch your business will undoubtedly affect the total cost of starting the business.
In the United States of America, a music publishing corporation must cover the following initial expenses:
To incorporate a business in the United States of America will cost a total of $750.
Insurance, licences, and permits will cost a total of $5,000.
To rent an adequate office space in the United States of America (Re – Construction of the facility included) will cost you a minimum of $50,000 a year.
The sum of $25,000 is needed to purchase musical instruments, electronics, and accessories.
$700 to Covers the Price of a Prototype Website.
Advertising, marketing, and promotional materials, in addition to business cards, will cost $2,000.
$1,000 for many other expenses
Based on our analysis and preliminary cost estimates, we estimate that it will cost around $150,000 to launch a modest music publishing company in the USA.
To launch a somewhat successful music publishing company in the USA typically requires investments of over $200,000.
A starting budget of $2 million US dollars or more is recommended for a large-scale music publishing corporation.
This sum accounts for the salary of any in-house musicians or information technology specialists.
Cost of Starting a Music Publishing Company in USA, UK, Canada, South Africa, Nigeria and Ghana
| | | | |
| --- | --- | --- | --- |
| Country | Modest Launch | Somewhat Successful Launch | Large-Scale Corporation |
| USA | $150,000 | $200,000 | $2 million or more |
| UK | Comparable to the USA, potentially slightly higher | Comparable to or slightly higher than the USA | Adjust based on location and market dynamics |
| Canada | Slightly lower than the USA, varying by city | Similar to the USA, possibly lower in smaller cities | Competitive, considering economic similarities |
| Nigeria | $30,000 – $80,000, depending on location | $100,000 – $150,000 | $500,000 – $1 million, subject to significant variation |
| South Africa | $50,000 – $100,000 | $150,000 – $200,000 | Starting with $1 million for a competitive edge |
| Ghana | $20,000 – $50,000 | $80,000 – $120,000 | Starting with $500,000, market research essential |
Key Elements:
Modest Launch:
Represents the estimated initial investment for a basic, functional music publishing company.
Costs vary based on factors like location, local business environment, and available resources.
Somewhat Successful Launch:
Indicates the increased investment required for a more ambitious and potentially more successful music publishing venture.
Factors such as marketing, talent acquisition, and market positioning contribute to higher costs.
Large-Scale Corporation:
Suggests the substantial budget required for launching a major player in the music publishing industry.
Includes provisions for hiring in-house musicians, information technology specialists, and other key personnel.
Note: The figures provided are estimates and should be used as a starting point for financial planning.
Local market conditions, regulatory factors, and specific business strategies can significantly impact actual costs.
Tips for Starting a Music Publishing Company
Get the Money You'll Need to Get Started
Beginning a music publishing company on a modest scale may not necessitate a huge initial investment of time and money,
But expanding to a larger operation will necessitate substantial initial funding.
Starting a large-scale music publishing company requires significant financial investment in things like:
A suitable office space, office equipment and furniture, a salary and utility bill budget covering at least three months, and the purchase of necessary musical instruments and gadgets.
You will need to come up with your own initial funding.
One of the first and most important steps in securing business finance is drafting a solid business plan.
If you have a solid company plan, you may not have to put in as much effort to win over your financial backers, family and friends.
Choosing the Right Location
Strategic location selection significantly impacts a business's success.
Considering factors like accessibility, the concentration of music publishing firms, local regulations, and proximity to recreational facilities is crucial.
A well-chosen location enhances the company's prospects for success.
Building a Competent Team
Recruiting high-quality staff with technical expertise in musical instruments and industry know-how is essential.
Careful consideration of financial resources determines the size of the initial workforce.
A streamlined team, including a CEO, administrative and human resources manager, business development and marketing manager, customer service manager, and an accountant, is crucial for efficient operations.
Create a detailed marketing strategy and plan.
Even while a music publishing company doesn't sell physical goods directly to customers, that doesn't mean it shouldn't make the most of every chance that arises.
You should establish a compelling personal and business's profile,
Which should include the profiles of your board of directors and management staff, while formulating marketing concepts and tactics for your music publishing company.
If your company's board and core management team are comprised of highly skilled, trustworthy,
And successful music publishing specialists, you will undoubtedly have an advantage in the marketplace.
Here are 30 Marketing Strategies you can use to promote your music publishing firm.
Formulate Plans to Raise Brand Recognition and Establish a Company Persona
The quality of your clientele and the variety of your music contracts are usually huge pluses when it comes to building a name for your music publishing company.
Consulting experts should be enlisted to help in the development of publicity and advertising plans that will ease entry into the target market.
In order to get your name out there and into people's minds, you need to be willing to collaborate with people from all walks of life.
Get only the most skilled professionals to work on your advertisements and jingles.
Tips for Starting a Music Publishing Company
Establish a System of Distributors and Suppliers
The collaborative aspect of the music business encourages its members to share information and tips in order to help each other succeed.
Maintaining a strong network within the industry is essential, since there will always be opportunities for music publishing companies to develop strategic alliances with one another.
Supplying musical equipment, organising a promotional event for a customer, etc., are all examples.
Advice on Managing a Successful Music Publishing Company
Truth be told, regardless of the type of business you manage, one of the keys you need to successfully run the organisation is your capacity to have all the members of your team on the same page at all times.
It is your job as the CEO/president of a music publishing company to steer the organisation in the right direction.
In order to provide clear and actionable instructions for running the business from scratch until a succession phase, you will need to be knowledgeable in the field of music.
You can run a more efficient business if you regularly evaluate and train your staff.
Also, you should encourage your staff to get certificates in their respective fields, since this will boost both the company's and the employees' reputations.
You can opt to pay for all of the certifications, or just a few of them.
Finally, always be receptive to feedback from both employees and customers.
In order to foster healthy competition within your organisation, it is crucial that you reward exceptional performance.
FAQs
What does a talent management agency do?
A talent management agency represents individuals with specific talents, such as actors, musicians, or athletes.
Their role is to secure opportunities for their clients, such as auditions, roles, endorsements, and contracts.
Additionally, they often provide strategic career planning, brand management, and long-term development support to help advance their clients' careers.
What are the Big 6 talent agencies?
The traditional "Big 6" talent agencies were:
Creative Artists Agency (CAA)
William Morris Endeavor (WME)
United Talent Agency (UTA)
International Creative Management Partners (ICM Partners)
Paradigm Talent Agency
The United Talent Agency (UTA)
Is talent management the same as a talent agent?
While related, talent management and talent agency are distinct concepts.
A talent manager typically takes a more holistic approach, guiding overall career and personal development.
They may handle aspects like image building, career strategy, and life management.
On the other hand, a talent agent is more focused on securing specific job opportunities, negotiations, and contracts for the talent.
Some individuals may have both a manager and an agent, working together to navigate different aspects of their career.
What are the main talent agencies?
The main talent agencies can vary based on industry and location.
The "Big 6" agencies mentioned earlier were prominent in Hollywood.
However, new agencies can emerge, and the landscape may change.
Always check for the latest information and consider specific sectors like entertainment, sports, or music for a more targeted list.
Do music publishers make money?
Absolutely! Music publishers can generate income through various revenue streams in the music industry.
They earn from mechanical royalties, performance royalties, synchronization licenses, print music, and streaming royalties.
Their role is crucial in ensuring that songwriters and artists receive compensation for the use of their creative works.
How do I set up a publishing company?
Setting up a music publishing company involves several steps:
Choose a legal structure (LLC, corporation, etc.).
Develop a comprehensive business plan.
Select a memorable name and create branding.
Obtain necessary permits and licenses.
Secure appropriate insurance coverage.
Safeguard intellectual property through trademarks, copyrights, and patents.
Build a network within the industry.
Collaborate with musicians, songwriters, and other professionals.
Why should I start a music publishing company?
Starting a music publishing company can be a rewarding endeavor for several reasons:
Supporting Artists: Contribute to the success and recognition of talented artists by promoting their creative works.
Business Opportunities: Explore diverse opportunities within the dynamic music industry, from licensing to live events.
Passion for Music: If you have a genuine love for music, starting a publishing company allows you to immerse yourself in the industry and make a meaningful impact.
How do you publish music and get paid?
To publish music and get paid:
Sign Contracts: Establish agreements with songwriters or artists to represent their music, clearly defining terms and revenue splits.
Register with PROs: Join performance rights organizations (PROs) like ASCAP, BMI, or SESAC to ensure you receive performance royalties.
Licensing: Secure licenses for music use in various media, negotiating fees for these licenses.
Royalty Collection: Monitor and collect royalties from diverse sources, including record sales, streaming, and performances.
These steps involve legal agreements, networking, and active involvement in the business side of the music industry.
Starting a Music Publishing Company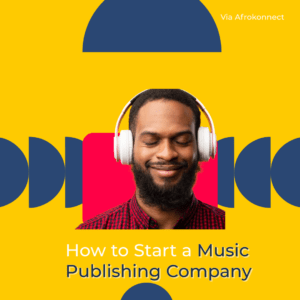 Conclusion
In conclusion, venturing into the dynamic world of music publishing requires a nuanced understanding of the industry's evolution, a diverse clientele, and the ability to adapt to changing landscapes.
The journey begins with comprehending the historical shifts in power, navigating through challenges, and recognizing the opportunities presented by globalization.
Exploring alternative avenues, choosing a market specialization, and staying attuned to the industry's key players lay the groundwork for a successful music publishing company.
Recognizing the significance of legal structures, protecting intellectual property, and obtaining necessary credentials solidify the foundation.
However, success in this competitive field extends beyond the theoretical framework.
Crafting a catchy brand name, consulting insurance professionals, securing permits,
And conducting thorough cost evaluations are vital steps in the practical realm of launching and sustaining a music publishing company.
As the venture progresses, building a competent team, formulating a robust marketing strategy, and prioritizing customer satisfaction contribute to sustained growth.
Establishing a strong brand persona, collaborating with distributors, and embracing effective management practices ensure longevity in the ever-evolving music industry.
Ultimately, the journey concludes with a focus on adaptability, resilience, and continuous innovation.
The music publishing landscape is one of constant change, and success lies in the ability to navigate these changes,
While staying true to the core values of quality, originality, and unwavering customer commitment.
By adhering to these principles, a music publishing company can not only survive but thrive in the vibrant and competitive world of music.