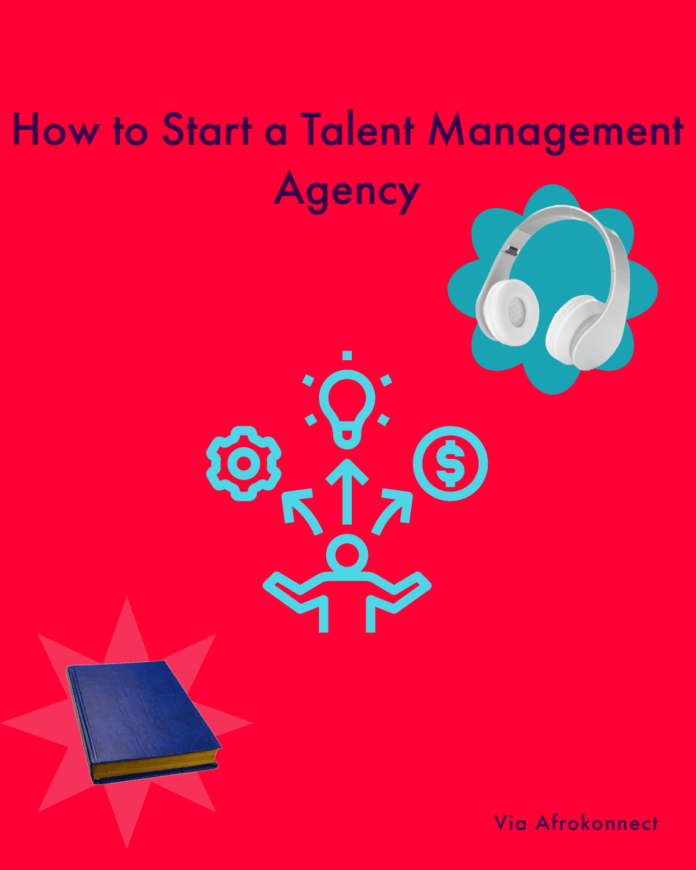 So, You're officially welcome to this post about How to Start a Talent Management Agency as a Business, Career or even a Hubby via Afrokonnect.
Consider this: wherever press or television advertisements are produced, the need to cast models, musicians and actors arises.
The allure of making a mark in Hollywood, Nollywood, Kennywood, or even Bollywood transcends geographical boundaries.
Many aspiring actors and models residing outside the traditional entertainment hubs, like Los Angeles or New York City, rely on agents to discover auditions and casting calls that might elude them otherwise.
While there is no mandatory degree or prior experience, certain jurisdictions may require licensure.
Before embarking on this venture, understanding the applicable regulations in your area is prudent.
Starting a Talent Management Agency
If your passion lies in aiding others in achieving their aspirations, pursuing a career as a talent agent could be your ideal choice.
The rewards extend beyond financial gains to include a profound sense of personal fulfillment.
This comprehensive guide navigates the intricate steps involved in starting a talent management agency,
Shedding light on the global demand for such services and the diverse avenues through which aspiring talents seek representation.
From the glittering stages of Hollywood to the bustling streets of cities worldwide, the need for skilled talent agents resonates far and wide.
Join us on this exploration as we delve into the intricacies of establishing a talent management agency,
Addressing key considerations, regulatory nuances, and the multifaceted approaches adopted by successful agencies.
Whether you're an industry enthusiast or a budding entrepreneur, this guide will serve as your compass, steering you through the exciting terrain of talent management entrepreneurship.
Get ready to unlock the secrets behind building a thriving talent management agency that not only transforms dreams into reality but also leaves an indelible mark on the ever-evolving landscape of the entertainment industry.
Steps to Starting a Talent Management Agency Business
Grasp the Dynamics of the Industry
The landscape of talent and modeling agencies is evolving, especially in regions where the industry is still in its nascent stages.
As the global entertainment sector expands, major US talent agencies are extending their reach, aiming to discover talent in emerging countries poised for stardom.
In the United States, the talent and modeling agency industry comprises around 3,900 businesses, generating a staggering $6 billion in annual revenue.
Many of these establishments operate as sole proprietorships, emphasizing the decentralized nature of the industry.
Within this dynamic field, agents focus on securing work for their clients, while personal managers specialize in sponsorship and endorsements.
Their services encompass arranging auditions, negotiating contracts, and even sourcing photographers, acting coaches, and endorsement deals.
In addition to the core services, ancillary offerings such as brand management and consulting contribute significantly to industry demand.
While overall industry growth is fueled by expenditures in entertainment, sports, and advertising, individual agencies thrive based on their talent's success in winning auditions and securing contracts.
From navigating the complex world of major studios and fashion designers to carving a niche in specific mediums or regions, agencies of all sizes can flourish by fostering a loyal client base.
Navigate the Terrain: Market Research and Feasibility Analysis
In the intricate universe of talent management, understanding the market and conducting a feasibility analysis are pivotal steps toward success.
Your major purpose as a talent agency should be to find chances for as many different types of clients as possible,
Whether those clients be actors, models, musicians, or other types of creative folks.
Developing Successful Networks as a Key to Success – Talent Management Agency
Your ability to handle the eccentricities of creative people while navigating the cutthroat environment of the entertainment business and the strength of your professional network are two factors that will determine how successful your artists are.
Your client base will span a broad spectrum of individuals from various walks of life, encompassing different skin tones, ethnic backgrounds, and creative pursuits.
3. Define Your Niche: Market Specialization Strategies
Embarking on the journey of opening a talent agency demands a keen understanding of the diverse specializations available to entrepreneurs.
Your choice of specialization can significantly impact your revenue potential, making it crucial to explore the various niches within the industry.
Here are some lucrative subfields to consider:
Navigate the world of music representation, connecting talented musicians with opportunities in recording, live performances, and endorsements.
Dive into the literary realm, representing authors and writers in negotiations for book deals, film and television adaptations, and more.
Associated Press Broadcasting Agencies
Explore the dynamic landscape of broadcasting, facilitating connections between talented individuals and media outlets.
Delve into the fashion and modeling industry, guiding models through auditions, photo shoots, and brand collaborations.
Theatre and Commercial Production Companies
Play a pivotal role in the theatrical and commercial production world, securing roles for actors and fostering partnerships with production companies.
How to Start a Talent Management Agency
Capitalize on the demand for voice-over talent, linking skilled individuals with opportunities in animation, advertising, and narration.
Bureaus that Arrange Cruises
Carve out a special place for yourself in the entertainment sector by acting as a liaison between different performers and different cruise lines.
Explore a broader talent brokerage approach, connecting creative individuals with diverse opportunities across industries.
Represent visual artists, such as painters, sculptors, and digital artists, in showcasing and monetizing their talents.
Provide customised talent solutions for business and industrial environments, with a primary emphasis on meeting the requirements of personnel administration.
By strategically selecting your market specialization, you position your agency for success by aligning with your passion and maximizing your revenue potential.
4. Franchising: The Strategic Decision
The decision to franchise or build from scratch is a critical juncture in your journey to start a talent agency and casting business.
This part of the article examines the circumstances in which selecting an existing agency by way of purchase or franchise might prove beneficial,
Hence increasing your chances of achieving the desired level of success as a business owner.
The Case for Purchasing an Existing Agency
There are compelling arguments in favor of acquiring an established talent agency and casting service rather than embarking on a new venture.
Choosing to operate your business as a franchise from the very beginning considerably improves your chances of achieving the level of success you have set for yourself.
Research and Explore Franchise Opportunities
Conduct thorough research to explore available franchise opportunities when considering the launch of your talent agency and casting business.
This strategic move allows you to tap into the proven systems and networks of established brands, potentially accelerating your path to success.
Financial Considerations and Autonomy
If your primary goal is maximizing personal income, purchasing a franchise from a reputable, established business is a prudent choice.
Taking this path allows you to enter the industry quickly and easily, with all the necessary resources already in place.
The choice to start from scratch, on the other hand, may be more in line with your business spirit if you value independence and want to leave a lasting legacy for your loved ones.
It offers the freedom to shape the agency according to your vision and opens the possibility of passing it on to future generations.
In the complex landscape of talent management, the choice between franchising and building anew hinges on your unique goals, financial considerations, and the legacy you envision for your business.
How to Start a Talent Management Agency
5. Navigating Challenges: Recognizing and Mitigating Risks
Recognising possible hazards is crucial for guiding your agency towards success in the ever-changing field of people management.
Unearthing fresh talent to enhance your market presence is an ongoing challenge, compounded by the prevalent issue of scams plaguing the industry.
Persistent Challenge: Talent Discovery
The perpetual quest for new talent is a central challenge in our sector.
Successfully navigating this landscape requires a keen eye for emerging artists and a proactive approach to scouting potential stars.
Guarding Against Scams: Industry's Foremost Challenge
Presently, fraud poses a serious risk to the credibility of the talent management sector.
Vigilance is paramount to safeguarding both your agency's reputation and the aspirations of budding talents.
Studies underscore the prevalence of fraudulent individuals who exploit the enthusiasm of new and unsuspecting talent by posing as legitimate agencies.
Building a Trustworthy Reputation
Devoting time and energy to cultivating a reputable business model is a fundamental step in mitigating risks.
Your agency will not only be protected from being associated with frauds if it has a stellar image in the market, but it will also encourage trust among clients, talent, and industry players.
By actively addressing these challenges, you fortify your agency against potential pitfalls and contribute to the overall integrity of the talent management landscape.
6. Structuring Success: Choosing Your Business Entity
The foundational step of determining your business structure—be it an LLC, C Corp, or S Corp—is a critical decision when launching a talent agency.
Because regulatory compliance is of the utmost importance,
It is necessary to organise your company in a manner that is consistent with the laws of the municipality and the county.
Navigating Regulatory Waters
Before embarking on your entrepreneurial journey, thorough adherence to city and county ordinances is a strategic move.
Ensuring compliance with regulatory frameworks not only establishes a solid foundation for your talent agency but also instills confidence in clients and stakeholders.
Incorporating as a Legal Entity
Choosing the right business entity is particularly crucial when planning to engage with both corporations and individuals as clients.
Incorporating your business as a legal entity not only demonstrates professionalism but also addresses potential concerns clients might have about the stability and longevity of your agency.
This distinction is especially relevant if you aim to move beyond sole proprietorship, as it enhances your credibility in the eyes of prospective clients.
LLC, C Corp, or S Corp: Decoding Your Options
Each business structure—Limited Liability Company (LLC), C Corporation (C Corp), and S Corporation (S Corp)—comes with distinct advantages and considerations.
Understanding the nuances of each option allows you to tailor your business structure to your specific goals, risk tolerance, and growth plans.
As you embark on this regulatory journey, consider seeking professional advice to ensure that your chosen business structure aligns seamlessly with the unique needs of your talent agency.
7. Safeguarding Creativity: Intellectual Property Protection
As you embark on the journey of launching a talent agency, strategic consideration of intellectual property protection becomes a vital aspect of your business plan.
This extends beyond preserving the company logo and documents—it involves safeguarding your investments, patents, and, crucially, your agency's name within the industry.
Comprehensive Intellectual Property Protection
In light of the fact that IP covers a wide range of assets, not just logos and other graphical representations,
Your efforts should cover the full breadth of your agency's creative resources.
This includes protecting your business name, a cornerstone of your identity in the competitive industry landscape.
How to Find Your Way Around the United States Patent and Trademark Office (USPTO)
For those aiming to register trademarks in the United States and secure intellectual property protection, the United States Patent and Trademark Office (USPTO) serves as the primary gateway.
To get a trademark registered, however, you have to go through a legal review procedure, which highlights how important it is to pay close attention to every detail and conform to the rules set forth by the law.
Preserving Investments and Industry Standing
Protecting your intellectual property is not just a formality; rather, it is a strategic move that may help you maintain the value of your investments, build recognition within your industry, and strengthen your agency's reputation in the highly competitive field of talent management.
In navigating this realm, engaging with legal professionals versed in intellectual property law can provide invaluable guidance to ensure your talent agency's creative assets are comprehensively protected.
8. Elevating Expertise: Credentials in the Talent Management Field
While launching a talent agency doesn't necessitate a formal degree or specialized training, the ability to conduct thorough research, identify exceptional individuals, and cultivate them into industry leaders is paramount.
However, obtaining professional certification can provide your agency with a competitive advantage and distinguish it in the competitive landscape.
The Power of Professional Certification
Although there isn't a specific industry-wide accreditation for talent management, securing professional certifications can significantly enhance your agency's credibility.
These credentials act as a testament to your commitment to excellence and industry best practices.
Educational Background: A Stepping Stone
While not mandatory, having a degree in human resource management or sociology can be advantageous.
This educational foundation can deepen your understanding of human behavior, organizational dynamics, and talent development strategies—essential components in the intricate world of talent management.
Gaining an Edge in a Competitive Field – Talent Management Agency
Earning credentials in your field not only demonstrates a commitment to professionalism but also instills confidence in clients and industry stakeholders.
Consider exploring relevant certifications and educational opportunities to equip yourself with the knowledge and skills needed to navigate the dynamic landscape of talent management successfully.
How to Start a Talent Management Agency
Create a detailed marketing strategy and plan
In the dynamic landscape of talent management, a well-crafted marketing strategy is the linchpin for success.
By contrasting the short-lived popularity of promotional fads with the long-term benefits of a thorough and consistent strategy,
This section shows how strategic marketing may help smaller agencies compete with industry giants.
a. Cultivate Your Fan Base: Social Media and Offline Media
Slow and steady is the key to winning the race. Establishing a robust social media presence is pivotal for gaining recognition.
Harness the power of standard marketing strategies, steering clear of short-lived promotional fads.
Leverage communities and networks through direct mail campaigns, utilizing reputable mailing lists to expand your consumer base and amplify your social media footprint.
b. Information is Power: Accurate Product Presentation
In the talent agency business, nothing resonates more than a confident sales pitch from an agent who believes wholeheartedly in their product.
Precision in presenting the finer points of your services becomes the bedrock for compelling arguments, setting your talent agency apart from the competition.
Ensure that your product information is accurate, detailed, and presented with utmost conviction.
c. Sponsorship Dynamics: Fostering Relationships
Sponsorships emerge as a potent advertising tool for talent agencies and casting services in the entertainment industry.
Effective sponsorships go beyond mere promotion; they cultivate enduring relationships with clients.
Conversely, inefficient sponsorships not only repel clients but also squander valuable marketing resources.
Carefully selecting and nurturing sponsorships can propel your agency into the spotlight, creating lasting connections with your target audience.
In the intricate dance of talent management marketing, the fusion of consistency, precision, and strategic sponsorships forms the bedrock of a compelling strategy.
Nigerian Nollywood Talent Agencies
The Nigerian film industry, popularly known as Nollywood, boasts a vibrant array of talent agencies dedicated to nurturing and promoting actors within this dynamic entertainment landscape.
These agencies play a crucial role in connecting actors with opportunities, auditions, and collaborations in the thriving Nollywood scene.
While the popularity and success of these agencies may vary, several have garnered recognition for their contributions to the industry.
Top 10 Talent Management Agencies in Nigeria
Here are a few notable Nollywood talent agencies:
Waka Talent Agency
Afrinolly Creative Hub
Rok Talent Management
Olumide Iyanda Initiative (OII)
Emem Isong's Royal Arts Academy
ROK Studios
Dioni Visions Entertainment
Diamond Celebrities
Nollywood Talent Management Agency (NTMA)
Samuel Olatunji Company (SOC)
These agencies play a pivotal role in shaping the careers of Nollywood actors, facilitating collaborations, and contributing to the overall growth of the Nigerian film industry.
These agencies have demonstrated a commitment to excellence, contributing to the success and growth of the Nigerian entertainment industry.
How to Start a Talent Management Agency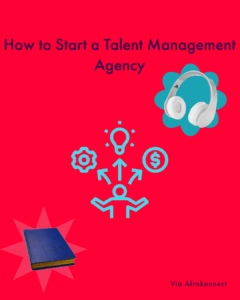 Conclusion
In the labyrinth of dreams and aspirations, the journey to start a talent management agency unveils itself as an odyssey of creativity, resilience, and strategic foresight.
From the glimmering lights of Hollywood to the vibrant tapestry of Nollywood,
The allure of shaping stars beckons entrepreneurs to venture into the realm of talent management.
Our exploration has threaded through the essential steps, from understanding the industry nuances to researching the market, choosing specializations, contemplating franchising, recognizing risks, determining business structures, earning credentials, safeguarding intellectual property, and crafting a robust marketing strategy.
Each facet contributes to the intricate dance of launching a talent agency, where success hinges not just on financial gains but on the fulfillment of aspirations and the empowerment of creative individuals.
The heartbeat of this conclusion resonates with the understanding that a talent agency is not merely a business;
It is a conduit for dreams to find expression, for aspirations to take flight.
It's about recognizing the potential in others and steering them toward the spotlight where their talents can illuminate the world.
As you embark on this entrepreneurial voyage, remember that the path may be challenging, but it is also laden with opportunities to make a lasting impact on the lives of artists and the entertainment industry.
Whether you choose to delve into the glitzy realms of Hollywood or the vibrant narratives of regional cinema, the essence of starting a talent management agency lies in being a catalyst for talent to bloom.
May your journey be marked by creativity, resilience, and the joy of seeing the stars you nurture illuminate the vast expanse of the entertainment sky.
As the curtain falls on this guide, it rises on a new chapter of possibilities for those daring enough to step into the world of talent management and shape the narratives of tomorrow's stars.