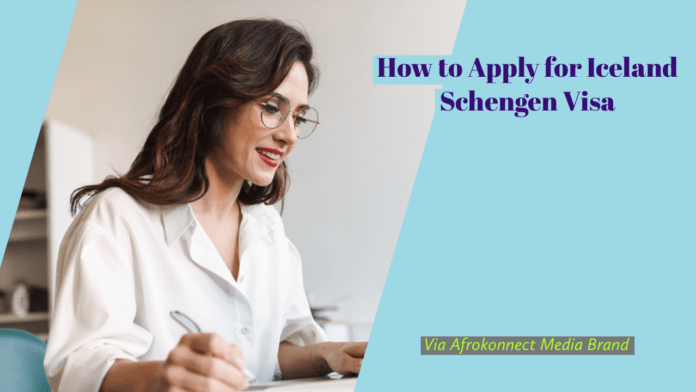 Welcome to this article about How to Apply for Iceland Schengen Visa From Nigeria or anywhere else via Afrokonnect.
Mountainous terrain can be found in many parts of Europe, including Iceland.
It is situated in the uppermost region of the Atlantic Ocean.
Due to the fact that Iceland is situated in the middle of the Atlantic Ocean between Europe and North America, its precise position is often misunderstood.
It is interesting to note that the term Iceland does not necessarily describe the state that the country is in,
Especially considering the fact that only 10% of the island is covered by ice.
How to Apply for Iceland Schengen Visa
Type of Visas
It is necessary for you to be in possession of a Schengen visa in order for you to be able to go to this particular nation.
You can pay a visit for either a short period of time or a longer period of time depending on the type of visa you have,
Visits for business, tourism, or to see family and friends fall under the purview of short-term visas.
During your short-term visit, you won't be required to work in any capacity.
You are going to need to apply for a work permit visa if you plan on working while you are in this country.
Long-term Visa
On the other hand, you can get a long-term visa for things like studying, staying with relatives, working, getting married, or getting medical treatment.
Visas that are valid for longer than ninety days are typically referred to as national visas.
They are distributed to citizens of the member states in accordance with the laws of those governments.
You can submit your application at the Joint Visa Application Centre in Lagos, Nigeria,
If you are planning to travel to any nation in Europe for an extended period of time.
Iceland Schengen Visa
After arriving in the country, you might make the decision to remain there for a significantly longer period of time.
In this scenario, you will be required to obtain a long stay visa,
Which will allow you to remain in the country for up to six months.
You also have the option to submit an application for a residence permit.
You should discuss the matter with your travel agent to determine the most efficient path to pursue.
Documents Required
When applying for a visa to enter Iceland, you'll need to provide a number of different documents, some of which are listed below.
These documents are organized into the seven categories listed below;
Financial support documentation
Evidence of the business or the assets.
Reports and disclosures pertaining to taxes
Your employment letter
The letter of sponsorship (if applicable)
Your date of birth and country of birth should be listed on the passport page.
The Sponsorship Documents for the Organization (If applicable),
And a bank statement of the sponsor(s) dating back at least six months is required.
Evidence of ownership of assets or of a business,
An employment letter Tax reports or statement are all essential documents you will be needing.
If you are invited by your spouse, you must bring a copy of your marriage certificate and a statutory declaration of a legal union.
If your child has extended an invitation to you, you will need to bring both your birth certificate and an official document that verifies your parental status.
Proof of the reason for the trip is required.
If you are traveling for medical reasons, you are required to present proof that you have a medical appointment.
Your planned schedule for the trip
Invitation letter
If you are being invited from the country that you will be visiting, the letter should be prepared by the host,
Who should also indicate the purpose of the visit as well as the length of time it will last.
You are required to be given a letter of invitation on the letterhead of the firm that is inviting you to participate in a business activity.
This letter must be delivered to you if you are being invited by a corporation.
In this letter, you should also include the whole name of the business that will be hosting you,
In addition to their business contact information.
Applying for Iceland Schengen Visa
The following is a checklist of some additional information that can be of use to you,
As you go through the process of applying for an Iceland Schengen visa take note of the following:
The visa application form that has been appropriately filled out and signed by the applicant is the first requirement and step,
A Nigerian passport: if you're traveling from Nigeria, which must have at least six months left on its expiration date.
A photograph in the format of a passport will also be required,
Photocopies of the passenger's passport as well as any other forms of identification they may possess.
A bank statement that covers the previous four to six months' worth of transactional details.
Your bank statement has to demonstrate that you have sufficient funds to cover your expenses for the duration of your trip,
At an average rate of sixty dollars (60 USD) each day.
Iceland is a country with a very high standard of living, especially if you're visiting from a third world country.
Similarly, you can consider the cost of living in Countries like Canada, Australia and United Kingdom.
The next requirement is a letter on business letterhead from your employer informing you that your request for a leave of absence has been approved,
Indicating that you will be returning to your previous position once you have completed the leave.
While applying for the Iceland Schengen Visa don't forget to include a copy of your business license and tax return if you are self-employed and working for yourself.
Remember you will also provide verification that you have a retirement fund if you are retired.
RECOMMENDED:
Cost of Iceland Schengen Visa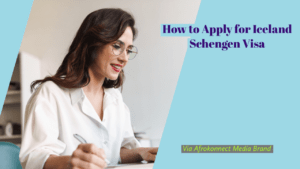 The price of a visa changes depending on its purpose; nevertheless, the rate for a visa valid for a short period of time is N21900, which is comparable to €60.
The process of obtaining a visa typically takes between 2 and 14 days.
On the other hand, it could take up to two months if there are unusual circumstances involved.
When you arrive in Iceland, you should have it in mind that you will need to walk through a security checkpoint.
The screening happens prior to the time when passports are checked.
You also have the option of going to the British Embassy in Nigeria in order to get your Iceland Visa processed there.
How to Apply for Iceland Schengen Visa (Complete Guide)
The video below is about how to fill out the Schengen visa application form, watch and have a clear insight of the process;
This brings us to the end of this publication about How to Apply for Iceland Schengen Visa From Nigeria via Afrokonnect.
Thank you for reading through, let us know what you think via the comment section below.