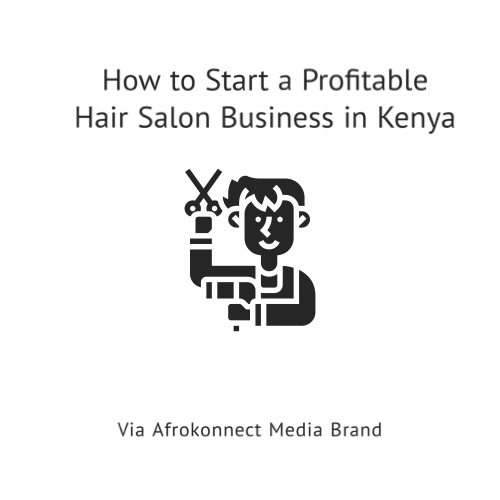 Welcome to this article about How To Start a Profitable Hair Salon Business in Kenya via Afrokonnect.
Thinking of venturing into the business world this year?
If so, maybe a profitable hair salon in Kenya is the way to go.
Fortunately, if that's the case, you'll find everything you need to get going and succeed right here.
Both sexes take pride in their hair, and although most guys do look excellent after getting a haircut,
Whether or not they emerge looking like a complete knockout is ultimately up to their barber.
If you want to increase the number of clients you serve as a stylist,
It is imperative that you first establish a stylist saloon. This is true regardless of how skilled you are.
How to Start a Profitable Hair Salon Business in Kenya for Men and Women
Pick an Appropriate Setting/Location for Your Business
When you are planning to open a fashionable saloon,
The location of the establishment is the very first thing you will need to think about.
Be careful to choose a visually appealing setting, since frequent visitors will be staying there.
Even if your business is excellent, no one will visit if it is in a poor or inconvenient location.
Find a great spot for your new barbershop or hair salon.
You don't expect clients to visit a barber shop if it's located in a sketchy or dirty part of town.
What equipment is needed in a hair salon?
Purchase All Necessary Tools
Acquire all of the essential barbering equipment,
Necessary equipments such as barber chairs and chair parts, barber poles, barber wet stations, cutting stools, shoe shine stations, sanitizers, sterilizers, hot towel cabinets, scissors/shears, electric clippers, straight razors, combs, brushes, neck dusters, mirrors, etc.
Another key aspect is that you should not forget to buy all of the necessary barbering equipment,
This includes things like scissors/shears, Possessing these essential tools demonstrates seriousness.
You Should Decorate and Furnish Your Salon
This third component need to be treated carefully since it is the factor that draws in a large number of people.
Furnishing your barbershop is essential if you want regular customers.
Getting a haircut in a clean, well-kept, and respectable salon is a treat for most guys.
Personally, I wouldn't want to visit a barber shop that doesn't take hygiene serious,
Make it more presentable by tiling the floor, painting the walls a pleasant color, and installing glass doors.
Because power is unreliable in most African countries including some parts of Kenya, a backup generator is essential.
It is not a terrible idea to have a television set, a decoder such as DSTV, GOTV, or even StarTimes,
You might as well get a home theater, an executive chair for waiting customers, an air conditioner or fan,
A magazines, and a newspaper on the table for waiting customers is not a bad idea too. All of these things should be found in-your saloon.
How to Start a Profitable Hair Stylist Salon Business In Kenya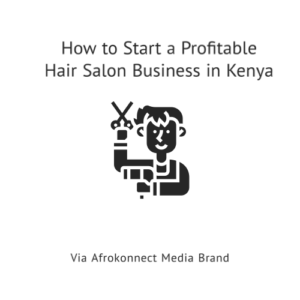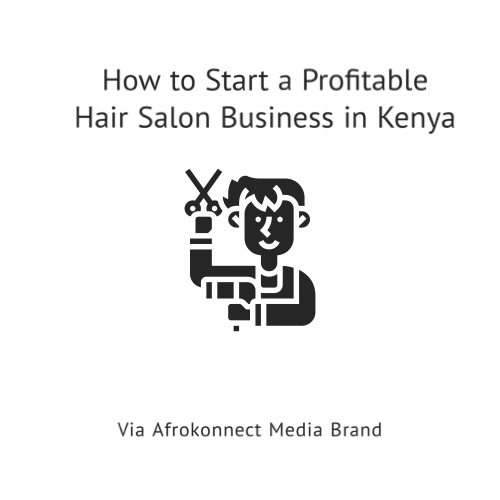 Recruit Skilled Individuals
To add to this, you should hire expert stylists to assist you.
It's impossible to succeed without assistance from others.
Who might provide a hand to you in your time of need? Of course only your staffs,
Employ a qualified stylist at a fair rate so your clients can get the best cuts,
Also, by employing the right barbers and stylist you don't need to engage in the process yourself,
You can just assign tasks and roles to your employees even when your not available,
Both the number of customers who buy things and the amount of work that gets done will go up as a result of this.
Customers will wait less time overall, before being called in for a haircut.
Since you're planning to make money from your salon business it is only right for you to register it,
Follow all the necessary procedures to register your business in Kenya to avoid harassment by government.
Without the legal permit and necessary documentation your business will end up in the mercy of government officials once they come around,
So, it is better to register it even before they come knocking on the door.
The Business Registration Service (BRS) is a semi-autonomous entity that operates under the Office of the Attorney General and the Department of Justice.
This body was established by the Business Registration Service Act of 2015.
As a last point, I want to stress the need of raising people's awareness.
Post fliers throughout town to let locals know you're open for business.
Playing music in your barbershop every time it's open is another great way to get the word out there.
Additionally, you can use social media platforms like Twitter, Instagram and Facebook to reach more audience.
RECOMMENDED:
How to Start a Profitable Hair Stylist Salon Business In Kenya
The video below is about how to run a successful salon business in Kenya, these are things you need to know;
FAQ
How much does it cost to open a salon in Kenya?
To open a simple salon, you will need approximately Ksh. 60,000 ($500) to get things started,
You also have the option of investing more money in order to build a larger salon that is also more technologically advanced and well-equipped.
Conclusion
In sum, how you show yourself to potential clients will determine whether or not you find success in any given career.
Make sure your stylist store has an inviting atmosphere to bring in consumers.
In addition to that, employing the right staffs will also has a huge impact on your business success.
If you follow the instructions given above then you should be able to start your own salon business either for men or women,
Basically, you need Location, necessary equipments, staffs and promotion,
After putting all these in place you're good to go. Before you leave, you can check out How to Start a Cosmetics Business In Kenya,
Another thing you can also make from home is the Hand Sanitiser,
On that note, this brings to the end of this publication about How To Start a Profitable Hair Salon Business in Kenya via Afrokonnect. Good luck