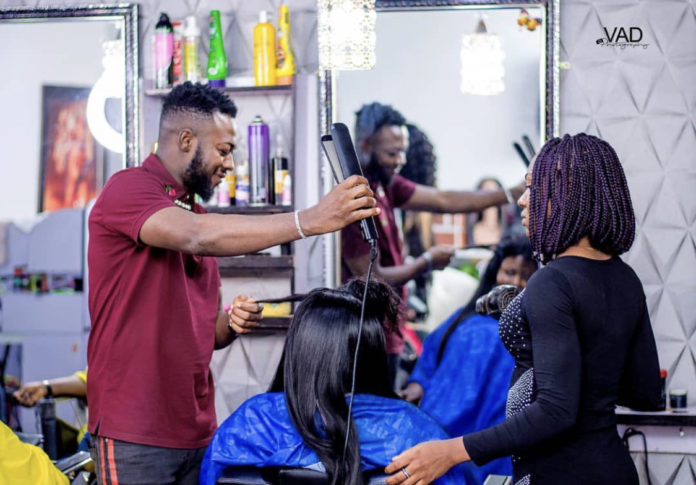 In this article we'll guide you through on how to start your next beauty salon business from nothing to a profitable venture.
The simple but important steps would be reveled to you so read on!.
Weather you're a Fashionista or not and would love to start a profitable beauty salon business,
Kindly read this article to the very end as it promise to discuss extensively all the necessary things needed to put the business in place.
You'll agree with me that one of the few businesses anywhere in the world that customers often patronized every now and then is the hair and beauty salon business.
Being a business meant for bringing the best out of male and female, both old and young derive pleasure in looking good and beautiful all the times.
Hence, making the beauty parlor a profitable business venture.
Arguably, the beauty salon is the second home for most ladies.
However, even the gentlemen also love visiting the Barbershop.
So let's dive into the main topic of the day.
Beauty salon business plan
In every startup, the importance of a business plan can never be overemphasized hence,
This tutorial on how to start a beauty salon business will discuss about it in brief.
Hence, you'll need to put your business plan in place if you want the business to go as you wanted.
In your beauty salon business plan, make sure you put in the necessary marketing strategies that will grow the hair salon parlor in place.
Plus, identify who your target audience are, where they are and how your beauty salon can solve their problem.
Also, make sure there are alternatives plan on ground in case any challenge face your business enterprise.
Your beauty salon business plan will be the foundation where your business will be built on. Thus, make it worthwhile.
However, your ability to put in an efficient business plan will mean a lot to your business.
In case you can't do it on your own; you can always engage the service of a professional consultant.
How to start hair salon business
Without much ado, this article will be dealing with the necessary requirements on how to start a beauty salon business.
For you to make your hair and beauty salon a profitable venture that'll be making a steady flow of income daily.
You'll have to invest your time, fund and energy in the business.
After all, the beauty salon has been listed on the list of the top businesses that generate an instant and regular revenue on a daily basis.
So if you are passionate to learn how to start a beauty salon business but don't know what it takes to get the business up and running, relax and study the following carefully.
How do I start a beauty salon business?
1. Acquire the training.
What makes a beauty parlor competitive to the other is the ability to possess the best skills, experience and know-how.
Take note of this, it's very essential on how to start a beauty salon business from the scratch.
Thus, if you want your beauty salon business to be one of a kind, you need to go for the basic training in hair dressing, manicure, pedicure, etc.
However, you may want to employe expert in each field to man each position, then no harm is done.
What is important is, endeavor that you have competent hand to work in your beauty salon empire.
Remember, your business deals with bringing out the best look out of young and old individuals.
The hair salon business is not only lucrative but also comes with lots of fun.
2. Capital
No business can succeed without a capital investment. Even, if it'll be a dime.
So you'll need to put in some cash in other to grow your salon.
Note that, there's no definite startup capital required for starting a beauty salon business, it all depends on how much you have.
So if your investment capital is not that much, you can start small and grow the hair salon subsequently.
SEE ALSO – How to Raise Capital for a start up business 
3. Location
Since you'll not be starting a home service or mobile hair and beauty salon business, then location is a must.
Essence, look around your environment and find a perfect location where your potential customers reside.
Better still, if you don't have much to buy or rent out a location for your new business venture, you can rent out a shop for the time being.
What's more important is that you should have a definite location where your target audience can always find you.
However, your journey to learning more about how to start a beauty salon business will be incomplete without proper understanding of location to hair or beauty salon business.
4. Furnish your shop.
After you must have gotten a perfect location for your beauty parlor, the next thing is for you to furnish it.
Accordingly, look for a veteran carpenter to fix the chair, table cabinet and other furniture for you. You'll also need to fix fans and Air conditional, too.
Plus, paint the wall and let both your salon interior and exterior view be well furnished.
How much does it cost to set up a hair beauty salon business ?
5. Get all the needed equipment.
You are getting closer to starting your beauty salon business in style. But before then, you'll have to get all the needed equipment ready.
Basically, there are many important equipment that you'll need to get if you want to be operating a standard beauty salon.
But recourse has to be made to your startup capital, too. So if you are going to start this business in a small scale, you may consider the following basic tools.
I don't need to tell you the function of a dryer to your proposed hair salon business. You can get this as much as you want.
But if you are on a low budget, it is ideal you have 3 dryers available before you kick start your beauty business.
You will need to get at least five towels ready prior to opening your business fully.
This is another basic hair salon tool you need to have in your possession before you open the business door.
With your low startup budget, you should be able to afford nail accessories, too.
Even if it is the smallest size, it is very important you have one for your beauty salon business.
6. Get A License.
It is very important to do all the necessary legal basics that will recognize your salon business as a legitimate venture.
Apply for the necessary license and certificate where applicable to avoid any kind of mess and embarrassment from the trade union and government agencies.
7. Join the trade union.
After your salon is set and ready to go on air, it is very important you inquire about the beauty salon trade union if there's one in your state.
Although it depends on where you'll be setting up the salon, there are some places in the US that you wouldn't be allowed to practice without joining the union.
So join them if you have them in your area, you can network through it and there are lots of opportunities that lies there too.
8. Grand opening.
The points explained earlier on are the key component on how to start a beauty salon business, observe and follow them well and your beauty parlor will be a success.
Now, nothing is stopping you from giving your hair and beauty salon business a grand opening.

Market your salon during the opening ceremony.
Let people know the kind of service you'll be offering and the available discount for your new customers.
Putting in some marketing strategies will help you grow your business to the standard you've always wanted.

Promise them discounts or commission on any referral they bring to you.
Hair beauty salon business equipments
The hair salon equipments are not too expensive to buy.
With an estimated budget of #50,000 you are good to go though prices may differ depending on Location and currency.
Dryers

Sterilizers

After shelve

Comb and brush

Towels

Electronic Sterilizers/ sterilizer kits

Standing fans/ Air Conditioners

Cover Clothes

Hair creams

Sprays

dyes Relaxers

conditioners

Head washing basin

Waiting chairs

Generator etc.
End note | What type of business is a beauty salon?
Starting a beauty salon business comes with a lot of effort, so your ability to put on an entrepreneurial spirit will help you greatly in growing the business exponentially.
Plus, there are more on how to start a beauty salon business to the above seven points, other things are your ability to take risk, relate with your audience and more.
Doing all these will grow your beauty salon business exponentially within a very short period of time.
Thank you for reading through, Don't forget to share this article if you enjoyed and learned something from it.