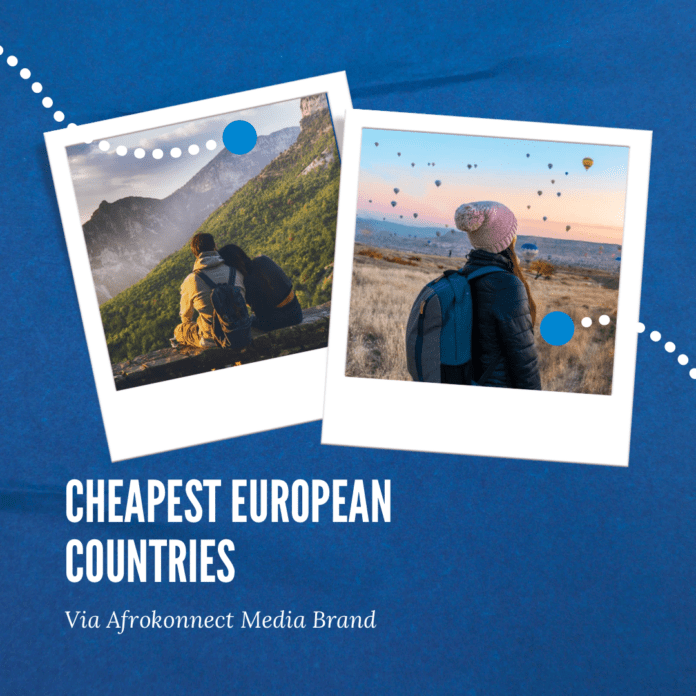 Welcome to this article about top 10 Cheapest European Countries to Visit or Live permanently in 2023 via Afrokonnect.
Europe is a common destination of choice for those who want to start new lives elsewhere in the world.
As a whole, there are 50 countries in Europe, with 28 of them belonging to the European Union (EU).
It is common knowledge that travelers, expats, and permanent residents alike will find the cost of living in Europe to be quite high.
This is especially true in Western Europe, the Nordic countries, and countries that use the Euro.
However, this isn't always the case. Although the cost of living is higher in some European countries than it is in others,
Overall, the cost of living in Europe is far lower than it is in the United States.
Factors to Consider Before Traveling to Europe in 2023
In this article we have listed some of the finest and cheapest countries to live in or just visit in Europe,
Other sources also contributed to the process of creating this publication.
Whether you're a retiree or an expat moving for job, tourism or fun, these lists can be a great resource.
There are a variety of elements taken into consideration when determining the affordability of a place to live,
Including but not limited to the cost of healthcare, entertainment, safety, and other cultural considerations.
Top 10 Cheapest European Countries to Visit or Live in 2023 for Expats
1. Bulgaria
Bulgaria, a Slavic country, is one of Europe's best-kept secrets for both tourists and expats,
It is frequently included on Europe's most affordable countries lists.
Bulgaria is home to a number of cities that are steeped in history, and the country also boasts a number of breathtaking natural settings,
Such as beaches that line the Black Sea in the summer, and mountains that are perfect for skiing in the winter.
Starting at $600 a month, a person can afford to live in Bulgaria.
In Bulgaria, both long-distance train tickets and dinners that include a drink may be purchased for less than ten dollars ($10).
This makes both modes of transportation and dining relatively reasonable.
Although not all EU citizens are allowed to legally reside in the country, it is not difficult to obtain a residence permit.
Despite the fact that it is the EU member state with the lowest per capita income,
And the fact that it is currently attempting to improve its infrastructure, raise its overall standard of living, and reduce instances of corruption,
Bulgaria continues to be one of the most highly recommended destinations in all of Europe.
2. Ukraine
Expats will find enough to do and see in Ukraine, which boasts stunning scenery and a thriving cultural scene.
High-quality housing is available at reasonable prices no matter where you wish to reside in the country:
The capital city, the seaside, or even a city in the suburbs.
In addition to a mild climate, low cost of living and comforts like contemporary conveniences and health care,
Ukraine has a strong indigenous culture that attracts visitors.
If you're hoping to retire in Europe on a budget, this is the place to go.
Ukraine Tourist Attractions and Activities
The Black Sea shoreline, gorgeous churches, and fantasy castles are just a few of Ukraine's treasures.
Whether you're looking for stunning architecture, fascinating history, or mouthwatering cuisine, Ukraine has it all.
How Much Does It Cost to Live in Ukraine?
Despite not being the cheapest city in Europe to live in, Kyiv's capital city is nonetheless affordable.
The average monthly cost of living in Ukraine is about $800, so budget accordingly.
In order to save money (about $650-$700), you should stay farther away from the capital.
More so, Ukrainians can get their hands on a lot of cheap booze,
Craft beer can be found in cans for roughly $2 per bottle if purchased from a retailer.
Apartment for one person: $300-$400
Dinner for 4-6 people: $5-6
Eggs: $1.5/dozen
Internet access costs $8 per month.
Cheapest European Countries in 2023 – Affordable European Country (EU)
3. Montenegro
With an average monthly cost of living of about 700 Euros per person,
Montenegro, much like Bulgaria, is deemed to be one of the greatest and most affordable nations in the world to live,
Largely it is because of it's low average cost of living. All of your basic needs are taken care of in this budget.
The country of Montenegro is well-known for its picturesque scenery, warm residents, and wide open spaces,
All of which make it an attractive place to buy a home.
However, the expense of living can rise as you get closer to the ocean.
The absence of infrastructure and flights are some of the disadvantages of Montenegro,
Especially for people that love to travel regularly.
RECOMMENDED:
4. Romania: Cheapest European Countries
The fourth country that nearly everyone agrees is worth visiting is Romania,
Which has stunning scenery, vibrant cities, and a low average cost of living.
The cost of living in Romania's capital, Bucharest, is significantly higher than in the country's northern regions,
Where a person's monthly budget begins at around 600 Euros.
In Romania, eating out is incredibly affordable, with lunch menus starting at just $4,
While travelers wishing to stay in hotels, hostels, or apartments may do so for as little as $7 per person per night.
In Romania, obtaining a residency visa for someone who is not from Europe is not overly difficult.
Despite it's EU membership, Romania does not utilize the Euro,
Which is another factor that contributes in part to the country's cheap cost of living.
Nevertheless, there is a persistently high level of corruption throughout the various branches of the government.
The Average Cost of Living in Romania
Living costs in Bucharest are comparable to Kyiv, but if you care about the ecology and natural beauty, Romania is the greatest option.
In Romania, the average monthly cost of living is approximately $1100.
Budget between $300 and 350 per month for a one-bedroom apartment.
Dinning costs between $5 and $6
Bread: $.5
Internet access costs $8 per month.
Cheapest European Countries for Expats in 2023
5. Hungary
The average monthly cost of living in rural areas of Hungary is roughly 900 Euros,
While the average monthly cost of living in Budapest is approximately 1,400 Euros.
Hungary is also one of the best countries in the world to visit, not just because of it's affordability but also because of its location in the center of Europe,
Hungary provides easy access to the Adriatic Sea as well as to neighboring nations such as Austria, Slovenia, and Slovakia.
It's also reasonably priced to eat and stay in a hotel.
There may be a bigger language barrier in Hungary than in other EU countries because Hungarians speak a language that is not Indo-European.
6. Czech Republic
Even though the Czech Republic's major city of Prague has more expensive housing,
The country's countryside has stunning landscape and plenty of options for more cheap housing.
A person residing in the Czech Republic will need approximately 950 Euros to cover their expenses every month.
Because of its location in the middle of Europe, the Czech Republic is quite convenient for traveling to neighboring countries like Germany and Austria.
This country has a similar standard of living to Germany, but at a fraction of the expense.
The cost of a dinner can be as low as $3 to $5 (US dollars) and a stay at a hostel can cost as little as $15.
In addition, the Czech Republic is consistently ranked as one of the world's happiest countries.
7. Portugal: Cheapest European Countries
Portugal is the most affordable nation in Western Europe,
Despite having a cost of living that is higher than that of several of the countries located in Eastern Europe on the list.
Portugal has a pleasant year-round temperature, easy access to the sea, and a good level of personal security at a monthly cost of roughly 1,200 Euros.
If you don't plan to live in Lisbon, prices in Portugal are half or even a third of what they are in other Western European countries.
The popularity of Portugal, particularly among seniors, has resulted in rising costs, despite the country's low cost of living.
Immigration to Portugal is likewise a relatively simple process.
Most Affordable and Cheapest European Countries in 2023
8. Georgia
Georgia is one of the less-known European places but strongly recommended,
With a monthly budget of 600-1000 Euros you can live Comfortably in this country.
People who want to become citizens of Georgia can easily obtain residency cards,
Luckily, this country is also one of the simplest places in the world to do so.
The only other nations in Europe with which Georgia shares borders are Russia, Azerbaijan, Armenia, and Turkey.
Georgia's location in the very southeastern corner of Europe gives it a very unique feel.
In spite of this, Georgians are becoming more accessible to Europe as a whole because of more affordable travel choices.
RECOMMENDED:
9. Poland: Cheap Country to Live in Europe for Expats
Expats will find plenty of work in Poland's numerous top sectors, notably in multinational enterprises.
Warsaw, the capital of Poland, is a beautiful city and one of Europe's most affordable places to live.
There are 30 percent of Poles who are fluent in English, yet Polish is the official language.
Therefore, being able to work abroad as an instructor of the English language might be an excellent career choice.
In comparison to other European countries like Germany, Italy, and Switzerland,
Poland's major cities provide remarkably low average cost of living.
Even in big cities like Warsaw and Krakow, food may be reasonably priced.
It's easy to get around the city by taking the Polski bus or the PKP intercity rail, which are both reasonably priced.
Poland is unquestionably one of Europe's safest and most affordable countries to live in.
Tourist Attractions and Activities in Poland
Poland is still not a very well-known tourist destination in Europe,
Despite the fact that it has some of the most magnificent sea beaches, mountains, lakes, and national parks in the continent.
In Poland, you can travel back in time by seeing the country's medieval old towns,
As well as by going to the country's cathedrals, castles, and other historical sites.
The Average Cost of Living in Poland
The country of Poland can be found in the middle of Europe.
Even though Poland is located in a strategic location, the cost of living is not too high.
Everything from one-bedroom flats to meals, utility bills, and the internet is reasonably priced in Poland.
You may anticipate spending less than $1100 a month to live here.
A one-bedroom apartment costs between $400 and $500.
Dining: $5 to $6 per person
$5 for a loaf of bread
The cost of using the Internet is around $10.
10. SLOVAKIA – Most Affordable and Cheapest European Countries in 2023
Because of it's low cost of living and safe environment,
Slovakia has become increasingly popular among European expats and tourists.
The cost of living in Slovakia is among the lowest in Europe for Americans,
So you won't have to break the bank to call Slovakia home.
Although Slovakia is more expensive than Bulgaria or Hungary,
It provides superior quality of life, health care, and education for the money.
At a fraction of the expense of the countries to the west, you can feed well, drink well, and see a wide variety of tourist sites.
Slovak tourist attractions
Traveling through Slovakia is a memorable experience thanks to the numerous hiking paths and UNESCO World Heritage Sites to be found.
Bratislava, the capital of Slovakia, is a small city with a rich cultural and historical heritage.
This is a city that requires a few days to fully explore. Bratislava Castle, Bojnice Castle, and Spis castles are the most popular in Slovakia.
How Much Does It Cost to Live in Slovakia?
If you budget roughly $900 per month, you will have enough money to meet all of your essential expenses in Slovakia.
In a neighborhood restaurant, a three-course meal and a glass of wine will run you less than $10.
Starting at about $0.70 a ride, transportation in the city is quite affordable.
Apartment for one person: $300-$400
Having a meal: $7 to $10 Cost of bread: $0.05-$0.60
Internet: $8 to $10 per month
Cheapest European Countries to Visit or Live in 2023
The video below is about the Cheapest Cities  in Europe for your dream Holiday;
Conclusion
This comprehensive study identifies nations around the world as places where newcomers can frequently lower their living expenses,
Without compromising their quality of life or level of living.
Many of these countries are also among the simplest to relocate to, including Bulgaria.
Before you leave, you can check out the top 5 European Countries that give work Visa and Permit Easily.