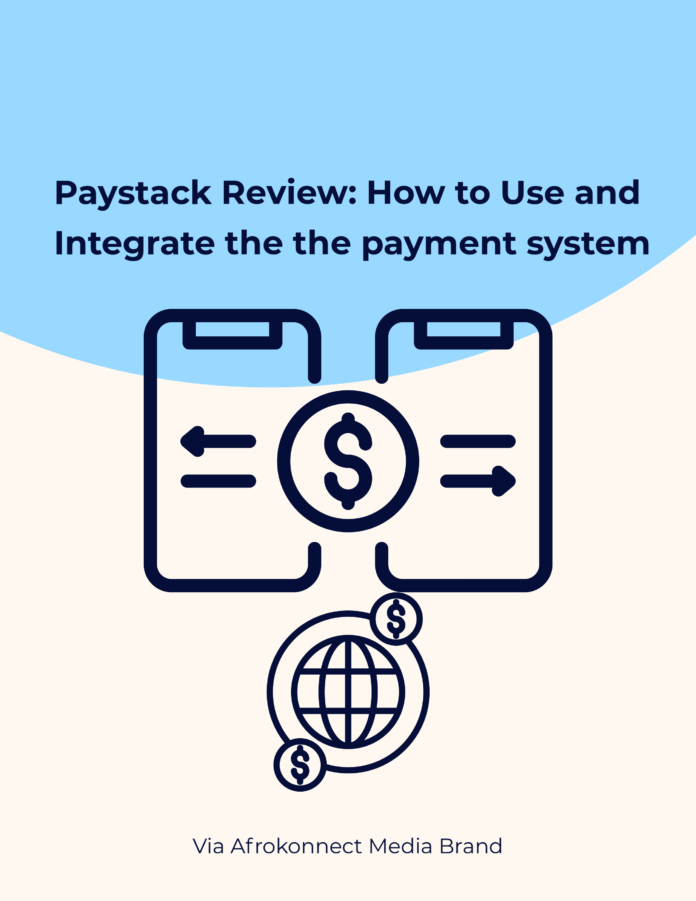 This article is about Paystack Review in 2023, we will explore How to Use and integrate Paystack payment system via Afrokonnect.
Because the internet knows no geographical boundaries, neither should you nor your company.
Paystack makes it possible for merchants located in Nigeria, Ghana, Kenya, South Africa and host of other African Countries to receive  payments online instantly.
Customers from all around the globe, no matter where they happen to be can make purchases for your business goods and services using Paystack,
You are able to receive payments from cards issued in other countries,
As well as local African mobile money payment alternatives and USSD transactions.
You can even list the pricing in USD and be paid in USD if you want to do so.
What exactly is a Paystack?
Paystack is a technology startup based in Africa that makes it simpler for individuals and companies to collect payments.
It is a payment gateway that can be used online which makes it simple for businesses to accept payments,
Including payments made through credit and debit cards from users or customers transacted over the internet.
The firm was established in 2015, but it wasn't until 2016 that it's products were made accessible to the general public.
The headquarters of the firm is located in Lagos, and it now employs more than 150 people in total.
Paystack enables global companies to take payments from customers located anywhere in Africa.
Accepting local and international payments in a safe manner is crucial for entrepreneurs who are just getting their businesses off the ground,
Or those who want to expand their their businesses over time.
This payment mechanism is also used by large business organizations in addition to governmental bodies for the purpose of safely collecting payments.
How Dependable Is the Paystack Platform?
You should be able to judge Paystack's dependability based on the fact that it has more than 60,000 users,
Which processes more than one billion dollars worth of transactions each month.
Stripe have just completed the acquisition of the firm for $200 million.
Despite this, the corporation will go on with business as usual.
Without any influence or participation from Stripe.
Who owns Paystack?
Shola Akinlade and Ezra Olubi are responsible for the launch of Paystack as a company,
Shola Akinlade is one of the company's co-founders and serves as its CEO.
After completing the acquisition of Paystack in it's entirety, Stripe is now the owner of the firm.
What is the function of Paystack?
Paystack provides it's customers in Nigeria, Ghana and other African countries with a safe and secure payment gateway,
That can be used to accept payments made through their websites, online storefronts, payment links, and even electronic invoicing.
How secure is Paystack?
Paystack is an online payment gateway that is reliable and trustworthy,
The Payment Card Industry Data Security Standard, or PCI DSS, has validated it's compliance.
It's the pinnacle of security accreditation.
Every single payment that is processed via this platform is kept safe by a token system that works like a cryptographic generator, producing both public and private keys.
The protection of card information, the prevention of fraudulent transactions and Avoidance of account hacking are some of the security measures that have been added on this platform.
An additional layer of security, provided by AES-256 GCM encryption, is applied to the customer's card information.
Even workers of the firm do not have access to the sensitive information stored on customers credit cards.
How does Paystack operate in Nigeria, Ghana, South Africa etc?
Nigerians and other Africans may now receive paid online from any location in the world using this streamlined and user-friendly payment platform.
The creation of a Paystack account does not cost anything at all.
You can join up in less than 15 minutes and immediately begin getting income.
Every time there is a transaction on your account, you will only be charged a nominal fraction of the total.
Whenever someone makes a payment to you using this platform for online payments,
The charge is collected by the firm. This means that they will only earn money if you do.
Similarly, there is no cost associated with registering with the firm.
They do not assess any fees for the upkeep of the facility either.
When you utilize Paystack's commerce solutions or integrate Paystack into your website,
Your consumers will immediately be able to experience seamless payment processing.
Customers have the option of paying using a card, their bank account, a bank transfer, mobile money, USSD, or a Visa QR code.
This organization makes it their mission to guarantee that each and every transaction that takes place on their platform is fruitful.
You and your customers are shielded against fraudulent transactions and the chargeback claims that are related with them,
By the automatic and human fraud safeguards that are provided by this platform.
You may also design bespoke payment experiences using Paystack's well-documented APIs.
These APIs can be used for everything from simple applications to intricate financial and consumer goods servicing hundreds of thousands of clients.
You are able to develop whatever you can think of using these application programming interfaces (APIs).
Paystack Review
Aside from taking one-time payments, the Platform enables you to:
Make it possible for users of your website or app to make recurring payments (such as subscription or membership fees).
Make quick transfers
Collect all of the information on your transactions and your customers.
Make sure that the customers' identities are authenticated.
You and your team should constantly be on top of business by always having access to precise reporting, alerts, and exports,
So that you can always understand exactly how your company is operating.
Extremely simple and easy reconciliation
Detailed information on transactions that were either successful, abandoned, or unsuccessful
Granular user permissions that enable you to exercise control over the information to which each individual member of your team has access.
Notifications of chargebacks that are automated
After the payment has been processed, your money will be sent into your bank account in a period of one day automatically.
Every morning before 10am, the settlement process for all account holders and merchants on the platform is completed.
Is Paystack a Payment Gateway?
Simple answer, Yes, it is a well regarded online payment gateway in Africa that accepts payments from consumers all over the globe,
They accept payment using major credit cards like MasterCard, Visa, and Verve.
Can I use Paystack for my business as well?
Definitely Yes, If your company has not yet been formed and you do not have a Corporate account with Paystack,
You are able to make use of the Paystack beginner plan.
Your account will, nevertheless, be subject to certain restrictions and limitations.
If you already have a certificate of incorporation and a bank account in the name of the company.
There will be no restrictions placed on your account.
Paystack Review: How much does Paystack charge each transaction?
Paystack has a fixed cost of 100 for local cards in addition to a transaction fee of 1.5% of the total amount.
The price that the firm assesses for using overseas credit cards is 3.9% in addition to a flat fee of £100.
On the other hand, the 100 charge is not assessed to transactions that total less than 2500.
In the event that the cost is a concern for you.
You may simply compensate for it by increasing the cost of your products to reflect the fee.
Visa, MasterCard, and Verve are the types of cards that may be used on this platform and are all supported.
Does Paystack support the use of dollars?
With Paystack, you are able to take payments from clients located in any part of the globe,
Including international consumers from USA, Uk, Canada, Australia and anywhere you can think of,
You are able to take payments using cards that were issued in other countries too.
You will be able to both show your pricing in USD and get paid in USD for your goods and services.
What is Paystack's payment method?
This payment platform supports a variety of payment ways,
Giving your consumers a variety of options for how they may pay,
Include things like credit cards, debit cards, business cards, mobile money accounts, QR codes, USSD, and wire transfers.
When a consumer pays, all of the payment options that are set up on your dashboard will be shown to them.
Paystack Review
Commerce on a Paystack
This is a tool package for those living in Africa who wish to make selling online easy,
The following are some of the features that come with this tool kit:
The ability to sell many product versions, along with the capacity to upload stunning photos, GIFs, and videos for each of these goods
Take one-time payments
Invite consumers to join a membership or subscription plan that you provide
You may request payment from a consumer by sending them an invoice or by using a specialized product URL.
Obtain payment for the delivery costs and delivery information
Warnings about low stock levels as well as Min/max order limitations
Use your brand colors for dashboard customization
Guide consumers in the right direction once they have paid
Handle orders received through the web and mobile devices
Receive push alerts about new purchases
Update order fulfillment status
Handle refund requests from consumers
Bring your shipping details up to date.
Conduct searches and apply filters to orders
A simple but effective management system for inventories
You may upload an infinite number of goods
Sort results based on price and number of units sold
Store obsolete items in an archive
Check out the financial report.
How can I create a Paystack payment page or Payment link?
You can collect payments from clients via the use of a simple web form that is known as a Payment Page.
Setting up a payment page is simple, and you need not even need a website in order to utilize it.
When you sign in to the dashboard of your Paystack account.
To create a Payment Page, choose the Payment Pages option from the menu.
You have the option of using this page to set up either a one-time payment or (repeated) subscription payments.
After you have created your payment page,
You can now provide customers or anybody else with a link to it in order for them to make a payment.
Paystack Review: Invoices
Without a website, an invoice is still another simple method that may be used to collect payments directly from clients.
Because of this functionality, you are able to make a payment request to anybody.
When you send this invoice to anybody, they will be able to pay you straight from it when they access it online after you send it.
Paystack Review: Product Links
You can sell a single product or service via the use of something called a product link.
You can utilize items on payment pages in order to sell many things at once if that is something you want to do.
A single item or service that is offered for sale by your company is referred to as a Product.
You have the option of selling just one thing by utilizing Product Links, or you can use Goods on Payment Pages to offer numerous products all at once.
You are able to check and manage your product orders, manage your inventory, set up your shipping choices,
And even determine what occurs once a consumer purchases a product with the use of a product link.
RECOMMENDED:
How Can I Make Use of Paystack If I Don't Have a Website?
You need not need a website in order to utilize Paystack.
Paystack pages, invoices, and product links may be used to collect payments online in the absence of a website after you have signed up for the service,
First create an account with Paystack, and have your account authorized.
If you run a freelancing company or a small business and want to collect payments online but don't have a website,
Invoices and Payment Pages are the appropriate solution for you.
Paystack Review: How can I integrate Paystack onto my website?
If you already have a website or are planning to establish one in the near future and want to collect payments from visitors to your site, read on.
Integration with website and e-commerce website builders such as Magento, Shopify, WordPress, Prestashop, Drupal, Abantecart, Shopify, and Opencart is possible with Paystack.
Paystack's application programming interface (API) and software development kit (SDK) are available for integration if you are working with a developer to design a bespoke website.
Paystack Review 2023
Paystack Go
In light of the fact that you won't be able to take a laptop with you wherever you go,
This is a mobile app that allows you to access your dashboard.
You are able to keep track of your orders and payments at any time and from any location.
Along with other tasks related to insight and reporting,
This app also gives you the ability to monitor how well your items are doing.
Does Paystack need BVN?
It is necessary for them to have your Bank Verification Number also known as BVN,
This will enable paystack verify your identification and authorize your account as quickly as they possibly can.
Your BVN information will never be distributed to any third parties,
Or used for any other reason outside the verification of your identification via this platform.
Paystack is a monetary establishment that has a license issued by the CBN (Central Bank of Nigeria).
Therefore, they will keep your information private.
Paystack: A Review Recap and Analysis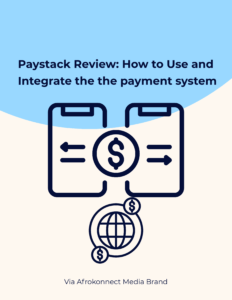 Conclusion
In terms of overall performance, Paystack earns a perfect score of five stars.
More than 60,000 companies in Nigeria and Ghana utilize this firm as their physical and internet payment processor.
The monthly transactions at this firm total over one billion dollars.
With the help of the technology, companies and African producers may effortlessly receive money made online.
This brings us to the end of this article about Paystack Review in 2023, we've  explored How to Use Paystack via Afrokonnect.
Let us know what you think via the comment section. Good luck