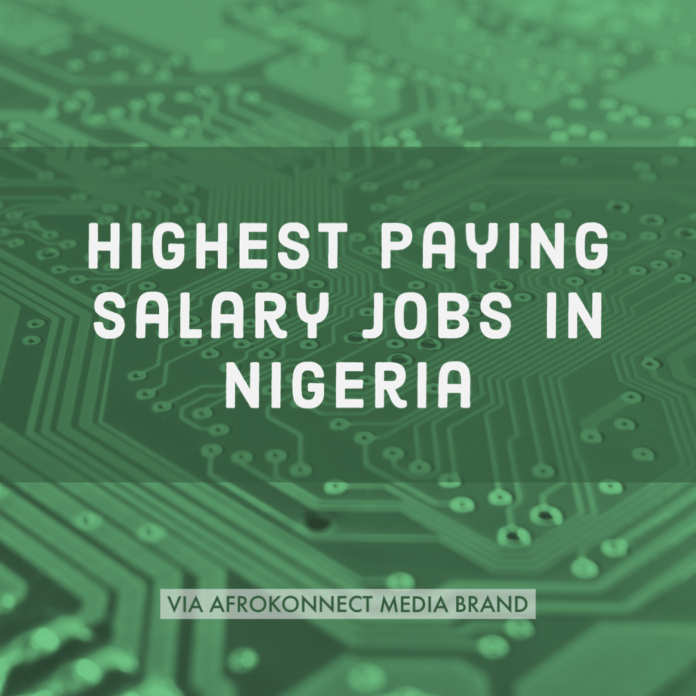 This post contains information about the highest paying career jobs in Nigeria for the 2023 via Afrokonnect.
In spite of Nigeria's reputation as one of the world's poverty capital,
The country's best paid employment reveal a different picture.
Consider these high-paying occupations in Nigeria if you're sick of using Nigerian loan apps,
And you want to support yourself and your family comfortably, But first.
What would you consider a reasonable salary in Nigeria?
Salary ranges for similar jobs across the country may differ to reflect the higher cost of living in some regions.
A decent wage in Nigeria is one that enables one to keep up with the cost of living there.
The Average Cost of Living in Europe is higher than most African countries,
But if you analyze most of the Countries with Highest Salary for Workers in the world,
You will realize most of them are either in Europe or America.
A monthly salary of 150,000 NGN may not be sufficient,
When taking into account the higher cost of living in urban regions like Lagos, Port Harcourt and Abuja,
As well as the deplorable situation of the naira as a currency.
On the other hand, a monthly wage of 50,000 to 100,000 NGN can be seen as appropriate,
Especially in places with a more rural setting, such as Bauchi and Sokoto.
In these areas, the cost of housing and transportation is relatively low, and the cost of transportation is lower as well.
What are the most in-demand jobs in Nigeria in 2023?
No matter how much you earn as salary if you don't save your money you'll always be broke,
The "50-30-20" guideline might help you determine if your current lifestyle is sustainable,
Spend half of your income (50%) on basics including housing, medical care, food, child care, and transportation;
Set aside 30% for discretionary expenditures; and put away 20% for savings.
Find out what others in similar positions to yours in your area make.
If you're having trouble making ends meet, you may need to reconsider your spending habits or seek additional sources of income.
The need for digital industry employment has skyrocketed since the Corona shutdown.
In response to the growing need for work in the digital sphere, many fields,
Such as web development and social media marketing, have opened up.
The following are some of the jobs that are now in most demand in Nigeria:
These professionals are accountable for the development and upkeep of websites.
Since the lockdown, online work has become the favored method of employment across industries,
And this role has been increasingly in demand not only in Nigeria but worldwide.
You might enter this field if you're keen on coding and have some familiarity with languages like Java, CSS, Python, etc.
This is the ideal job for you if you are creative and interested in marketing,
Particularly in the process of developing brands.
Together with the rise in demand for remote workers, digital marketing's importance has skyrocketed in recent years.
Highest Paying Salary Jobs in Nigeria in 2023
Below are Jobs in Nigeria with the highest average salaries:
Marine engineer
Marine engineers come in on our list of the top paying jobs in Nigeria.
These professionals may make as much as 7 million Nigerian naira per month and do not necessary require a postsecondary degree in order to work in this field.
Commonly referred to as "boat mechanics" in Nigeria,
These experts are responsible for the development, testing, and maintenance of boats and other watercraft.
In broader senses, they may also be responsible for directing the improvement of the coast,
Such as the building of new beaches, marinas, ports, estuaries, and offshore oil platforms.
As one of the best paid industries in Nigeria, marine construction requires a lot of hard work and a strong sense of teamwork.
Skills sets to become a marine engineer
The marine engineer's skillset includes team leadership, solid communication, and the ability to impart knowledge to others like;
Ability of thinking critically, be creative, be careful, and be imaginative
He or she needs to be able to use the most sophisticated computer tools
Must be able to take on a significant amount of responsibility
Must have a solid understanding of logic, science, and technology.
Highest Paying Jobs in Nigeria in 2023
Nurse anesthetist
It is common practice for the resuscitation anesthesiologist to be assisted by an anaesthetic nurse during surgery.
Nurse anesthetist is one of the highest-paid professions in Nigeria,
The anesthetic nurse's role is to reassure patients and keep them updated on the intervention's development.
Once the patient is in the operating room, the anesthesiologist administers the anesthetic and continues to check their vital signs throughout the surgery.
Helping out their teammates in the operating room, anesthesiologists' nurses provide medications and take care of any medical needs that may arise.
After surgery, it's their job to make sure the patient gets the care they need and adjust the treatment plan accordingly.
Experts in this field may also be called upon to assist patients while in transit by ambulance.
Submarine welder
In order to keep submerged objects in good working order, examine them in depth, and ensure their security,
An underwater welder performs technical interventions in the underwater environment.
One of the highest paid careers in Nigeria is underwater welding, which is one of the most difficult and complex forms of welding.
Welders who have completed scuba training can find work in a variety of sectors,
Including public works corporations, industrial enterprises, emergency structures, and even the military,
For context, the first two provide far higher wages in Nigeria.
Underwater welding may require a lengthy absence from home,
Anything from several days to many months, depending on the specifics of the intervention.
Performance varies depending on the industry, whether it be construction or manufacturing,
As well as the kind of interventions that are carried out and the job that is done.
When welding underwater, you'll often have to work late at night, on holidays, or even be on call.
It is important to remember that this work is being done in a potentially hazardous environment,
Such as a high-pressure setting or an enclosed or controlled environment.
As a consequence of this, underwater welding is not only one of the occupations in Nigeria that pays the most, but it is also one of the jobs that poses the most risk.
Highest Paying Jobs in Nigeria in 2023
Biomedical engineer
A biomedical engineer's area of expertise is in developing cutting-edge tools and technologies for use in healthcare settings.
Professionals in this sector earn some of the highest salaries in Nigeria and use cutting-edge tools and techniques for diagnosis, treatment, and humanitarian help.
These highly compensated experts are in charge of everything from the scanner to the knife, as well as the MRI, prosthetics, and pacemakers.
Biomedical engineers work in interdisciplinary teams to design, implement, monitor, and improve medical technology.
They also advise hospital management on technical matters, such as the purchase of new equipment.
Biomedical engineers often make themselves available for training sessions to make sure doctors and nurses know how to use the equipment properly.
Professionals in the field of biomedical engineering in Nigeria earn some of the highest salaries in the country,
When settling petitions from other divisions, their input is taken into account,
Which expands their range of influence to the establishment's financial decisions.
It's possible for biomedical engineers to work in R&D for medical device companies.
Highest Paying Career Jobs in Nigeria in 2023
Aviation maintenance engineer
Aeronautical maintenance engineers have the one of highest salary job in Nigeria.
They are responsible for repairing commercial and military aircraft, helicopters, space launches, satellites, and missiles.
Other responsibilities include servicing space launches.
If you're keen on this job then you should consider going to Aviation Schools In Ghana or any of the aviation schools in South Africa.
Teams in today's globalized industries are often international, meaning that individuals must constantly learn new information in order to stay at the forefront of their fields.
Musician – Recording Artist
Nigeria's music business is both very lucrative and one of the world's fastest-growing non-governmental sectors.
The average income from this occupation is $2,200 per million views/plays on streaming platforms alone,
While the highest-paid musicians can make several multiples of this amount when factoring in extras like bonuses and endorsement deals,
Non of the top 10 richest Nigerian musicians charges less than a million Naira for performance.
Most musician in Nigeria focus on a certain genre, the regionally distinctive afrobeat.
Well, it is also worthy of noting that music is not a get rich quick scheme,
Musician has to engage in daily practice in order to preserve and further develop their vocal range, expressiveness, vocal tone, physical resistance, and skill.
Their time is divided between rehearsals, recording sessions, live shows, and promotional activities including interviews, appearances, and more.
Nigerian musicians who want to make the most of their careers need to evaluate their work on a regular basis,
And also dedicate themselves to improving their craft and their artistic sensibilities.
Start by educating yourself with this Upcoming Artist Guide – Advice to all Upcoming Artists.
Participating in recitals, television shows, and festivals are all part of a musician's regular schedule.
Which job is the best job in Nigeria?
Working from home – Online Job
The capacity to carry out one's duties in a place that is not affiliated with a particular company is emerging as one of the most important occupational trends of the 21st century.
The highest paid careers jobs in Nigeria may be found in fields that allow for remote work,
Such as software development, programming, journalism, blogging and writing.
Nigerians working from home can compete for jobs in Europe, New Zealand and the United States, which offer the highest pay in the world.
The average yearly salary for a journalist at a web-based organization like the Daily Mail or the BBC is 38 million NGN.
For instance, even the smallest foreign businesses pay its programmers and software engineers more than 45 million NGN each year.
It has been proven by a large number of corporations that having all employees physically present at the same time is no longer necessary for daily operations.
This has led to the widespread adoption of remote work arrangements.
Telework, or remote work, is the practice of performing professional duties while physically located in another location.
Housewives, for example, in Nigeria who are limited by their schedules and ability to travel have found this to be a lucrative option.
Companies and workers alike are increasingly embracing remote work not just because it's more flexible but also because it helps them save money.
The ability to choose one's own schedule is another perk that is becoming increasingly important to workers throughout the world.
Highest Paying Career Jobs in Nigeria – Entry Level Job for Nigerians in 2023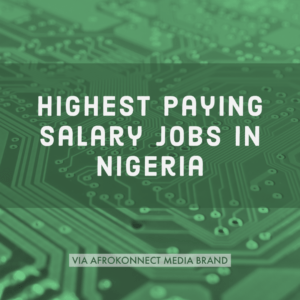 Entrepreneur
Considering that Aliko Dangote, the richest man in Africa, amassed his money as a businessman, starting a business is the second highest paid profession in Nigeria.
Micro, Small, and Medium-Sized Enterprises (MSMEs) account for almost 80 percent of all jobs in Nigeria, according to the country's National Bureau of Statistics.
A person who works for themselves and takes on the responsibilities of running a business is an entrepreneur.
The funds are available, but they must be used for projects.
Currently, the richest men in Nigeria are mostly entrepreneurs,
Further proving the fact that the profession is one of the highest paid professions in Nigeria.
In order to go forward each day, this expert must amass the personal, monetary, and material assets necessary for success.
An entrepreneur has to do market research to ascertain the potential and viability of his venture before launching it or purchasing an existing one.
After that, he formulates a plan for his company's operations, which includes the following components:
The organization's administrative status from a legal perspective
Competitive assessment
Strategy for promotion and marketing
Economic forecasts
The entrepreneur will pitch his project's concept to financiers including banks, prestigious VC companies, and potential business partners,
Or he may directly approach lending platforms to acquire finance.
There's a chance the project will be rejected, fail, or go bankrupt in the beginning, and there could not be much money coming in.
If you can keep going, you'll be rewarded with one of the highest paid jobs in Nigeria and a respectable return on your investment.
RECOMMENDED:
Petroleum engineer – Highest paid government jobs in Nigeria
Petroleum engineering, which comprises finding and producing oil reserves, is the highest paying employment in Nigeria,
No surprises since oil and gas form the backbone of the economy.
Due to Nigeria having the highest oil output in Africa (at 1.49 million barrels per day in Q1),
The highest earners in this industry might potentially take home as much as 6 million NGN per month.
Offshore (sea) or onshore (land) facilities are where they are most often requested to work.
Aspects of oil extraction such as deposits, drilling, installation, production, research, and processing are the primary emphasis of their work.
Highest Paying Salary Jobs in Nigeria in 2023
Conclusion
So many jobs in Nigeria pay their staffs reasonable salaries and compensation,
Technical managers in Nigeria are among the highest paid professionals in the country because of the responsibility they are entrusted with:
Planning operational program, designing and managing equipments, researching the best methods, and keeping an eye on compliance with safety requirements are some task that comes with a high paying job in Nigeria.
Additionally, the Nigerian petroleum sector is very competitive,
It is incredibly difficult for average people to get employed by the highest paying companies in Nigeria, regardless of how well educated they are.