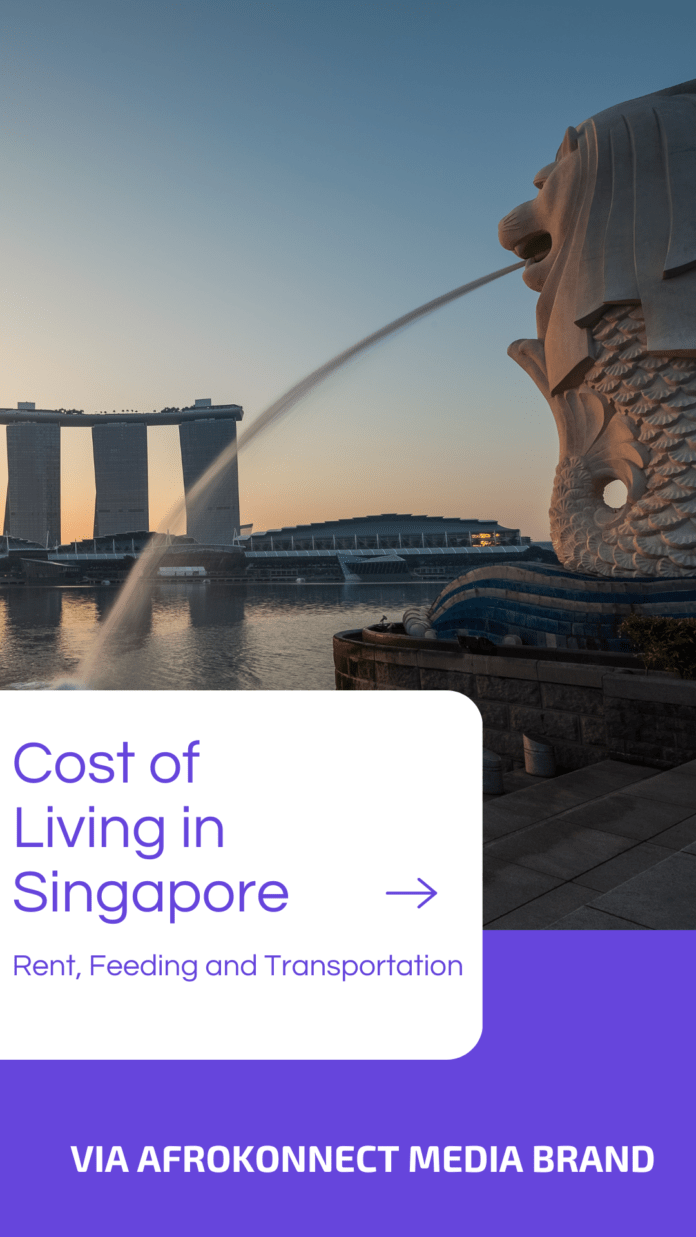 This page is about the Cost of Living in Singapore in terms of Rent, Feeding and Transportation in 2023 via Afrokonnect,
These expenses applies to both international students, Families and anyone planning to relocate to this country.
Singapore is often considered to be both one of the safest countries on earth,
It is home to one of the most advanced legal systems in the world.
Because of this, the national crime rate has remained at a historically low level ever since the year 2012.
The country's highly regarded educational system, superior level of life and well-developed healthcare infrastructure draw in countless students from all over the world.
It is imperative that we have a fundamental understanding of the Singapore dollar,
Before we can proceed with learning more about the cost of living in Singapore.
The currency used in Singapore
After Singapore attained its independence from Great Britain in 1967,
The country decided to adopt the Singapore Dollar as its official currency.
Initial set of coins included different denominations, including 1, 5, 10, 20, and 50 cents, as well as one dollar.
This currency is also referred to as "Sing," and it is frequently denoted with the dollar sign ($) or the symbol "S$."
The banknotes and coins used to represent the Singapore dollar are produced by the Monetary Authority of Singapore.
According to the latest recent figures, the Singapore dollar has ranked thirteenth among the most traded currencies worldwide in terms of value, every year since 2019.
In addition to this, the information that you need to know about Singapore's currency may be found below;
Name of the Currency: Singapore Dollar
Abbreviated Form: SGD
S$ is the symbol.
Unit 1/100, Cent
Cost of Living for International Students in Singapore 2023
The cost of living can be broken down into the following components: housing, utilities, the cost of transportation, and the cost of food.
Average cost of living in Singapore varies depending on the city you choose to reside in;
However, the following provides an estimate of the typical costs associated with several aspects of daily life in Singapore.
On-campus housing costs range from $293 to $565 per month.
The cost of living off campus ranges from $1,616 to $4,849 per month.
Monthly service fees range between $ 117 and $ 146.
Costs associated with food and groceries range from $257 and $404 a month
The cost of transportation is $110 per month.
According to the information presented in above,
The cost of on-campus housing for students in Singapore ranges from approximately $293 to $565 per month.
On the other hand, the cost of renting an apartment off-campus is significantly higher and ranges from $1,616 to $4,849 per month.
Students might find apartments on the periphery of the city at prices that are more affordable,
The minimal monthly utility budget for students who opt to live off-campus should be between $ 117 and $ 146.
Students should plan on spending between $257 and $404 a month on food and groceries if we are talking about the costs associated with this category.
Transportation expenditures are an additional component that are included in the overall category of living expenses in Singapore.
Students are required to purchase a monthly pass for public transportation that costs approximately $110 in order to move freely within the city.
Comparing Singapore's Cost of Living to that of India & Nigeria in 2023
| | | | |
| --- | --- | --- | --- |
| Category | Singapore (S$) | India (INR) | Nigeria (NGN) |
| Accommodation | 1,410.37 to 2,167.9 | 80,325 to 124,331 | 426,460 to 655,418 |
| Transportation | 90.39 | 5,163 | 27,220 |
| Feeding/Food | 1.75 to 9.61 | 516.38 | 3,024 |
| Childcare | 500 | 28,687 | 151,227 |
Average International Student's Expenses in Singapore 2023
The following are some of the components that are included in the cost of living in Singapore for foreign students:
An annual tuition expense of S$20,000 (about 11.20 lakh Indian Rupees);
This has a significant impact on the overall cost of living situation for Indian students in Singapore.
One month's worth of meals at the hostel will cost you S$350 (about 19-20,000 INR or NGN 105,782).
Public rail expenses of S$45 (about INR 2,520 or NGN 13,600) per month with a subsidized pass.
The cost of a lunch for two persons at a restaurant is approximately S$50 (INR 2,800 or NGN 15,111.84).
Price of a single ticket to the movies is approximately S$10 (approximately INR 560 or NGN 3,022).
You will need between S$300–500 each month to cover sporadic expenses like eating out, going to the movies, and buying coffee.
This amounts to anywhere between 16,000 and 28,000 INR on average,
Which equals around 90,671 to 151,118 Nigerian Naira if you're a Nigerian traveler.
Internet access will cost you $40 Singapore dollars (2,240 Indian rupees or NGN 12,089) each month.
The cost of books and stationary peaks at S$150, which is equivalent to 8,400 Indian Rupees or 45,335 Nigerian Naira.
Expenses and Costs Relating to Healthcare
The standard of medical treatment in Singapore is very high,
Even though citizens and permanent residents are eligible for insurance, paid for by the government.
Those who plan to make Singapore their permanent home should strongly consider purchasing private medical insurance.
A primary medical exam will run you about $50 Singapore dollars, which is equivalent to about 2,800 Indian rupees (NGN 15,111)
How to Cut Costs in Singapore
Obtain a mobile phone plan that is SIM-only.
Prepare your own meals and pack them.
Collaborate with other tenants and friends to split the cost of monthly membership plans.
Start your mornings off well by hopping aboard MRT trains.
Make use of applications that provide savings on a variety of purchases, including food, groceries, and other items.
Keep an eye out for sales so you may stock up on necessities in large quantities at enticingly low prices.
If you find that you are unable to refrain from going out to eat, keep an eye out for unique credit cards and other deals on the Fave, Burpple, and Chope platforms.
When not in use, you are required to turn off all appliances and electrical points.
If you want to save money on rent, you can look for an apartment in an area that is convenient but not as upscale.
Average Salary and wages in Singapore 2023
If you are considering a relocation to Singapore on work related basis then you should consider the top 10 Countries with Highest Salary for Workers in the world,
Similarly, here are the top 20 Highest Paying Career Jobs in the World.
There is a significant disparity between occupational roles and the average income offered in Singapore.
The following table provides an overview of the salaries associated with some of Singapore's most in-demand job profiles.
Pay Rate on Average for Each Role in Singapore
A Software Engineer earns around 57,867 Singapore Dollars
Account Executive salary is around S$34,158 per year
The salary for the Marketing Executive is estimated at S$35,452
The salary of the Operations Manager is S$63,788
Accountant: S$49,678
Source: payscale
Questions That Are Typically Asked (FAQ)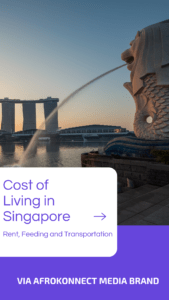 How much does it cost to live in Singapore on a monthly basis in 2023?
The average monthly cost of living in Singapore is approximately S$1100-1400,
Which is equivalent to approximately INR 60,000-75,000 or NGN 332,460-423,131 for Nigerians.
This does not include rent. For a family of four, this can easily reach a monthly cost of nearly S$4,400,
Which is equivalent to approximately INR 2,464,000 or 1,329,841 Nigerian Naira.
RECOMMENDED:
How much does it cost to rent an apartment in Singapore 2023?
The monthly rent for a nice studio apartment measuring 480 square feet and fully equipped will come to S$3,078,
Which equals about 1.72 lakh Indian Rupees or 906,710 Nigerian Naira.
The monthly rent for an apartment of the same size in a typical neighborhood is approximately S$2,026,
Which equals around 1.13 lakh Indian Rupees or 604,473 Nigerian Naira.
Your monthly expenses for utilities will come to approximately S$114 (INR 6,384 – NGN 34,454)
Is Singapore a costly place to live in 2023?
Many students find that the cost of living in Singapore is significantly higher,
However, when compared to many other nations, the tuition payments that are required of international students are far lower.
According to reports, Singapore is 17.20 percent less expensive than New York City, disregarding the cost of rentals.
According to many studies, rental prices in Singapore are approximately 34.97 percent lower than those in New York City;
Yet, Singapore is 1.4 percent more expensive than Canada,
And it is 27.6 percent more expensive than the United States of America overall.
A minimum monthly income of S$9,700, which is approximately equivalent to INR 5.43 lakh (NGN 2,931,696) is required to maintain a high-end lifestyle,
Comfortable lifestyle on the island nation requires a monthly income of at least S$5,000,
Which is approximately about INR 2.8 lakh(NGN 1,511,183).
Is it more expensive to live in Singapore than India in 2023?
Before we proceed, here is How to Make Money Online in India for international Students.
Let's examine the difference in the cost of living in Singapore and India,
When compared to the costs of living in Singapore, the average cost of living in India is 71.1 percent lower.
This includes savings in areas such as housing, transportation, clothing, and food.
Cost of Living in Singapore: Rent, Feeding and Transportation in 2023
The video below is about the average cost of living in Singapore for Expats;
Congratulations, you've made it to the end of this publication,
So is Singapore in your Budget? If not you can still consider Average Cost of Living in Europe in terms of Rent, Transportation and Feeding.
Good luck with your journey to Singapore, make sure you have the appropriate Singapore Visa Requirements,
If you're traveling as a tourist then check out How to Apply for Singapore Tourist Visa.