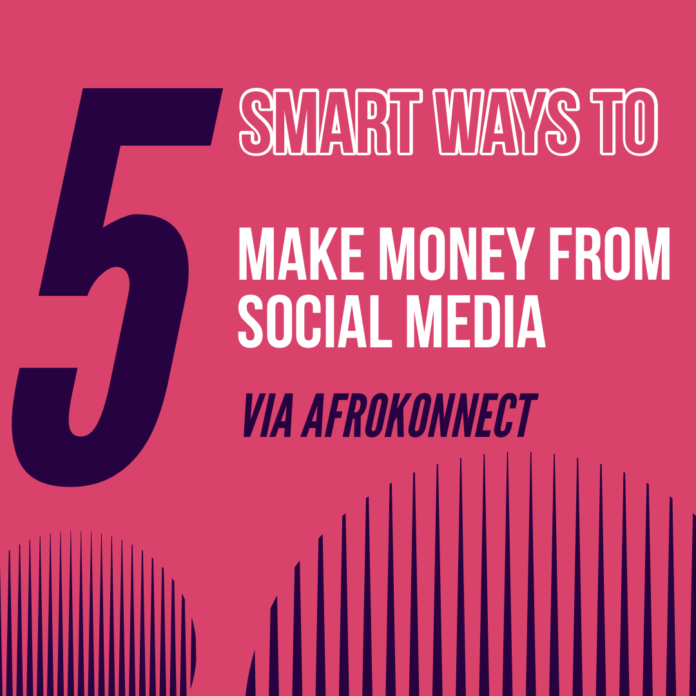 5 smart ways to Make Money From Social Media Easily in 2023 via Afrokonnect.
Millions of people from anywhere and everywhere in the world are connected to the internet every single day,
Today people use social media to watch videos, chat with friends, make video calls, have virtual meetings, meet with new people, network with potential partners or customers or just to keep up with happenings worldwide.

Social media applications like Twitter, Tiktok, Snapchat, Instagram, Youtube, Facebook, LinkedIn and plenty others are used to make this all happen.
According to Oberlo; about 1.84 billion users visit their Facebook app each day,
Statista says Twitter records approximately 187 million users each day with about 6000 posts getting tweeted every second,

Oberlo also reports that 500 million people use Instagram stories day in day out,
Tiktok boasts of over 600 million active users daily,
YouTube, the most popular app for watching videos, generates over 1 billion hours of views day by day.
Huge figures right? With these figures it's no wonder that the creators and owners of these apps are swimming in money.
Don't forget to check Out our article about: 10 Online Jobs you can start from Home.
Smart ways to Make Money From Social Media in 2023
If you are reading this article, you're probably considering making money from social media and you need information on what to do and how you can go about it,

Well, you're in luck because this article was written just for you,
We've done the research so you don't have to, Continue reading to find out:
How to make money from social media

Top 5 ways of making money from social media

How much money can you make from social media?

Which social media is best for making money?

How do you get paid for social media?
Top 5 ways of making money from social media in Nigeria
Now, let's talk about the point we have for you one after the other for better understanding;
1. Create a YouTube channel
Currently, YouTube is the most popular video sharing app,

Owning a YouTube channel is a pretty easy process,
The real work is posting good enough content to generate a lot of views and get a lot of subscribers because only then can you make money from your YouTube channel.
Getting a lot of views and subscribers on your YouTube channel is no easy task because you have to keep posting consistent content that would keep your subscribe coming back for more,  
YouTubers like Taaooma, Maraji and Twyse got a lot of subscribers by posting short comedy skits with a person playing the part of different characters,
Adi Fishman and Jatie vlogs generated lots of views by posting Q and A videos, pranks and challenges videos,
Trevor Noah in The Daily show built his channel by reporting real-life news in the funniest ways possible,
Talk Fishman in Reaction Time got his subscribers by consistently posting his reactions to various types of videos,
David Dobrik built a large fanbase by vlogging his daily life with friends and putting it on YouTube,
Dr Mike shares valuable medical information in a fun way,
Other YouTube channels and YouTubers post fashion content, educational content, gaming content and various other stuff.
If you've heard about any or some of the above mentioned YouTubers, you'll notice that they all have one thing in common,
They post consistently, They also post related content all the time.
MUST READ:How to make passive income online while Traveling
Your subscribers should have a general idea of your channel is about,

You shouldn't just post random stuff if you want your views and subscribers to increase.
Once you're already generating a lot of views and you have a lot of subscribers,
Then you can start thinking of ways to monetize your YouTube Contents.
How to monetize your YouTube channel
You can choose to make money from one of two ways or even choose to do both:
A – YouTube ads
B – Partner with brands and advertise their products
One, YouTube ads: Once you've gotten a reasonable amount of subscribers,
You can apply for the YouTube Ad program where they'll place ads on your videos and your pay depends on the number of views you get on the videos.
The second option: is to partner with brands and advertise their products either by wearing them in your videos, using the items or just talking about them and then putting the link to the brand's website in the video description.
5 smart ways to Make Money From Social Media in 2023
2.
Run an online shop
Running an online shop entails advertising your products and services on your social media pages,
Customers can then view your products and order some of them by contacting you.
Luckily, there are various social media apps that connects sellers to the buyers,
Apps like WhatsApp business allows you to catalogue your products according to type,
Customers can view them by clicking on your contact information.

On Instagram, you can advertise your products and keep them permanently on your story highlights,
That way, customers can view it whenever they please.
A quick business tip that would help you run your online business efficiently is this;
"Always state publicly, the price of the item you are selling.

Also, indicate if the price is negotiable or not,
Do NOT ask customers to slide into your DMs for the price of any item".
That way, it shows you're not trying to cheat customers by giving them different prices,
You can also Read this full article we wrote about: 5 easy ways to Succeed doing your own Business.
3.
Copywriting
Do you have perfect writing skills? Do you have a sizeable understanding of English grammar? Can you speak and write English well?

If your answer to any of these questions is yes, then copywriting might just be for you.
To make money off your copywriting skills from social media,
you will need to show off your writing skills by posting intelligent and well written write-ups on your various social media pages,
Twitter, Facebook, Instagram and LinkedIn are great apps to do this.
Posting your write-ups on these platforms gives you the opportunity to network with publishers, website and blog owners, etc.
They'll reach out to you, you'll write some articles for them and then you get paid.
Yes, it's as simple as that.
Smart ways to Make Money From Social Media in 2023
In the video below Neil Patel talked about 5 proven ways to make money on social media with no Product,
We strongly recommend you watch the video to have more information regarding this topic;
4.
Sell photos
If you're talented at taking and editing pictures, then you should consider making money off your talent.

Take good pictures and people will pay you to use them,
Platforms like Istockphoto will help you achieve Just that, 
Why iStock?
Authentic local and regional imagery

Legal protection, so you can use images worry-free

Images in any size, for the same low price
5. Social media influencing
If you use social media a lot, then you've probably heard of influencers before,

You probably even follow some of them,
There are various social media influencers; Instagram influencers, tiktok influencers and Twitter influencers are just some of them.

They influence various things like Music, fashion, health, food, fitness, games, travel etc.
To be any social media influencer, you need to have a large social media following,
Brands will only pay you to advertise their products when they're sure that you have a large audience and reach.
Having a large audience is no easy task because you have to build your followers by posting relatable content consistently and Strategically,
Also, advertise for whichever brand you're working with without your followers feeling like you're spamming them.
In summary, let's itemize the smart ways to make money with social media in no particular order:
1. Run a YouTube channel
2. Run an online shop
3. Copywriting
4. Sell photos
5. Social media influencing
How do You Get Paid For Social Media in 2023?
To make money from social media, you can try any of the above mentioned options but to keep the money coming in, there are some tips you should keep in mind.
i. Monetize your audience
When trying to make money from your social media, you have to use the #R3MAT method.

Show the right message, to the right audience and at the right time.
Once you have the right number of subscribers or followers that you need before you can place ads on your page,
apply for the ads program so you can start making money as early as possible.
ii. Sell only the skills you're good at
When trying to make money off social media, it is important to be as honest about your skills.

Do NOT lie to the customers as one bad review can completely destroy all you've been working for.
One popular mistake people make when trying to generate income from social media is;
They post samples of other people's work on their own pages and ask people that are interested in getting something like that to message them.

Then, when the customers order and get the finished product, they'll be left severely disappointed and would not be interested in working with you again.
Don't sell yourself as a skilled copywriter if you're not well versed in that area.
If you're not a talented photographer, don't advertise yourself as one.
If you're not a creative fashion designer, don't sell yourself as one.

Sell ONLY the skills you're good at.
iii. Advertise
To make money from social media, you need to be ready to spend a little cash in return.

Facebook, Twitter and Instagram ads go a long way in spreading about your brand/business or your social media handle.
The good thing is that these ads are pretty flexible so you can do as many as you want since you can set a budget, as often as you want.
iv. Deliver both quantity and quality
In each of your social media posts about your products and services, let it be clearly stated in the posts, your prices and quantity per article/product.

Try to keep your customer relations as honest and straightforward as possible.
This buttresses the point made in tip 2, NEVER post samples of other people's works and tag them as yours to avoid your business being the target of 'what I ordered vs what I got' posts.
On social media, people are always quick to drag through the mud, businesses that do not live up to expectations.
Smart ways to Make Money From Social Media in 2023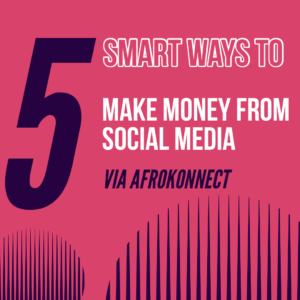 v. Be consistent
Consistency is the key to keep any business afloat,
If you decide to go into social media influencing,
Then you'll have to dedicate certain portions of your time every single day to tweet, post and reply comments on your post.
People wouldn't want to connect with 'influencers' that only post once in a blue moon,

People wouldn't also want to connect with influencers that are perceived as snobby or rude,
Take your time to read comments and messages sent to you.
Reply them and if you can't reply all of them, you can give an indication that you hear them by giving their comments a thumbs up or even retweeting their tweets on apps like Twitter.
Even on video sharing apps like YouTube, you have to post consistently.

Have a schedule and stick to it, Don't promise your subscribers 2 videos a week and post one instead,

Don't tell your subscribers that you post on every other Friday but post on the next Wednesday instead.
Additionally, you have to build a good relationship with your subscribers/followers,
Let them feel like they can relate with you on a personal level even if they've never met you before.
Let your posts and messages have feelings and not be robotic like automated messages.
vi. Be careful what you post
Investigate brands very well before you post them on your page,

Ask questions, get all necessary information about a brand before you decide to work with them,
Don't just advertise any product or brand just because they're willing to pay.
This is to avoid advertising potentially harmful products to unsuspecting customers.
Being careful of what you post also involved your general posts that aren't sponsored.

Yes, social media is a free for all platform where you can express yourself and give your opinions about different topics,
But for people making money from their social media,
It is inadvisable to post everything you think about because one statement out of line and everything you've worked for might go down the drain and you'd have to start from scratch.
RECOMMENDED:
Which Social Media is Bes
t For Making Money in Nigeria, Ghana and South Africa in 2023?
Money can be made from virtually all social media platforms but if you're looking to make good money and make it fast,
Then you should definitely check out these platforms;
LinkedIn.

Makes B2B (Business to business) and B2C (Business to customers) connections.

Facebook.

Over 70 million businesses use Facebook monthly.

Instagram

YouTube

Twitter

Tiktok
How Much Money Can You Make From Social Media in 2023?
The amount of money that can be made from social media depends solely on the extent of a person's fanbase, followers and subscribers (YouTube),
Currently, Kylie Jenner is the highest paid social media influencer. She makes over $1000000 per sponsored post shared on her Instagram page.
Few years back, only influencers with a large following (>500000) made any real money from social media.
This is not the case anymore, Nowadays that influencing has become a major way of promoting brands and products,
People with as low as 1000 followers can make some money from influencing,
On average, Fox business.com says influencers can make between $30000-$100000 per year by promoting products,
Vox reports reported that even micro-influencers can make up to $40000-$100000 per year while macro-influencers can make up to $250000 per sponsored post.
Smart ways to Make Money From Social Media in 2023
In conclusion, while the prospect of making the above mentioned amounts of money sounds tantalizing,
It is important to remember that getting to that point would not be an easy journey,
Be patient and keep pushing even when it seems like your efforts are fruitless, It'll all add up in the end.
Good luck!