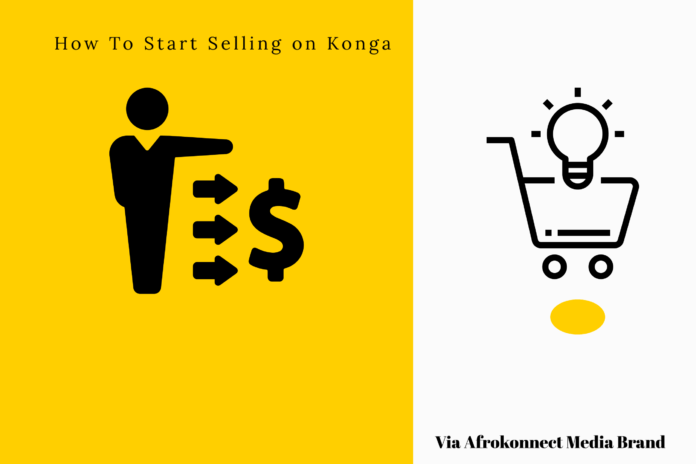 This post is about How To Start Selling on Konga online  store in 2023, via Afrokonnect.
One method that proprietors of small businesses use to bring in consumers and generate revenue is to list their wares for sale on Konga.
This article will walk you through the steps necessary to become a successful seller on Konga if you are interested in learning more about the process.
You are going to get instruction on how to register as a seller on Konga, how to sell items on Konga, and other crucial details.
One of the most significant online marketplaces in Africa,
Konga is a website that offers a variety of things for sale at costs that are reasonable.
Goods that fall into several categories include mobile phones, personal computers and their peripherals, footwear, domestic appliances, health products, books, and a great deal more.
Selling on Konga in 2023
A large number of people who want to buy and sell goods also frequent the platform so that they may spread such goods to others.
Among the most popular and successful online marketplaces in Nigeria, drawing in millions of users every month.
Businesses may increase their sales significantly by using Konga as a channel.
As a result, a significant number of entrepreneurs are seeking for instructions on how to begin selling on Konga.
Please read on if you are one of the many people who have found this site searching for information on how to register as a Konga vendor.
How to Start Selling on Konga: A Step-by-Step Guide
You will need to create an account with Konga before you can join the Konga Seller Academy.
This is a prerequisite for joining the Konga Seller Academy.
Therefore, if you want to sell your things online, you'll need to sign up for a Konga account first.
The actions that you need to complete in order to become a Konga Seller are listed below.
How To Do Konga Seller HQ Registration
The following is a list of the procedures that you need to perform in order to become a seller on Konga;
Go to the Konga Seller HQ Portal, which may be found at https://shq.konga.com/register.
Enter all of the relevant information, including your e-mail address, phone number, bank details, and any other pertinent information that may be requested.
Create an account on Konga by submitting the form that has already been filled out.
After your account has been verified, wait for Konga to provide its approval.
Please take note that you will not be granted access to the Konga Seller HQ portal until this verification process has been completed.
After you have been granted access to the Portal,
You will be able to go to the Konga Seller Control panel or dashboard.
The management and uploading of your items, as well as the tracking of your sales and inventories, will all take place inside this section.
Through this portal, you may also communicate with the support officer who is assigned to your account.
How to Sell Your Products on Konga Using the Seller HQ Platform
You will be needed to market your goods to the Konga Audience in order to make use of the Konga Seller HQ platform to sell your wares.
As a result, the following information must be provided by you:
You are required to provide pictures of the things you are selling that are both appealing and accurate.
In most cases, Konga mandates that product photos have a resolution of at least 500 pixels by 500 pixels.
You are also required to provide a condensed explanation of what your product is all about,
As well as the benefits it offers and the characteristics it has.
You have to get people's attention with your listing if you want a lot of consumers to buy from you.
This is another essential component that must be a part of your listing.
You should focus on acquiring serious consumers who are prepared to make a purchase if you want to increase your customer base.
How To Start Selling on Konga
After doing all of these things, it is now only a matter of time until you start receiving orders from consumers.
When you get an order via Konga, you will be notified through the Seller HQ dashboard,
In addition to receiving an e-mail and a text message.
Within the next twenty-four hours, you are required to either accept or decline the order.
This may be accomplished on the Konga Seller HQ dashboard,
After which you will be able to print the order summary as well as the invoice.
After you have confirmed the order, the following step is to deliver the products to the individual who placed the purchase.
You have the option of transporting it yourself or using the services of an external logistics provider.
You might also attempt self-fulfillment by making use of Konga's partner in logistics, K Express, to ship the products directly to the customer.
Simply choose K Express as your preferred shipping method from your control panel, prepare your shipment, and send it out to be picked up.
They will pick up your orders and deliver them to your consumers within three business days.
You will be able to enhance your ratings by confirming the order on your dashboard after it has been verified successfully.
Subscription, Payment, and Commission for Konga Sellers
Following verification that the delivery has been completed,
The funds from the customer's payment will be transferred to an escrow account.
As a result of their return policy, the money won't be distributed until after 7 to 14 days have passed.
There is a fee associated with selling on Konga.
As a result of this, you are required to pay a membership fee before you can begin submitting images of your products.
There are two different options available for the long seller subscription: Silva and Gold.
You will be allowed to list up to 10 goods each month on any item if you pay the N1000 ($2.32) Silva Membership cost,
Which you may pay for if you join up for the Silva Membership.
In addition, if you choose the Gold plan, you will be required to pay a cost of N2500 ($5.79) per month in order to list an unlimited number of items.
This price is payable on a monthly basis.
Additionally, Konga deducts a commission on the quantity of goods sold, which varies based on the seller level.
Commission rates range from two to seven percent for Premium sellers who have access to a wide variety of high-quality items and may move up to one million items each month.
On the other hand, they mark their items up by as much as three to ten percent for other merchants who sell below them.
Read more about the Jumia Affiliate Program, including how to sign up and make money.
The Obstacles That Konga Vendors Must Overcome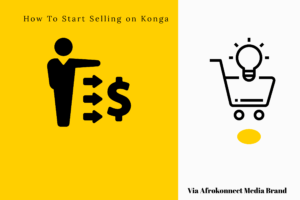 Despite the fact that this platform is useful and a great number of companies earned enormous sales on it,
On Konga, there are various obstacles that sellers must overcome before they may find success.
Among them are few others:
A Fierce Level of Competition
The level of competition on Konga is particularly high since so many different merchants are offering the same product at a variety of different prices.
As a result, you will be competing with others for sales, which may result in a decrease in customer traffic.
Theft of images and acts of plagiarism
On Konga, there are many other vendors that are also selling the things that you are selling.
Therefore, there is a possibility that other people may steal your photographs or edit your product descriptions and pass them off as their own.
Return Policy
Products may be returned to Konga according to their return policy.
Customers are thus permitted to return things that you have previously sold to them.
Removal from Service or Suspension
There is a possibility that sales may be suspended on Konga at some point.
Because Konga reserves the right to terminate your account at any time and for any reason if you have violated or committed any of the following offenses:
If you commit fraud or sell a counterfeit product.
When you questionably cancel customer orders
Either does not pay for a commission or causes it to be delayed.
More about Selling on Konga in 2023
Conclusion
If you keep in mind all of the advice that was provided above regarding selling on Konga,
Becoming a successful seller on the platform shouldn't be too difficult.
As you sign up to become a member of the Konga Seller Academy,
we hope that you have a lot of success selling on Konga.
This brings us to the end of this article about How To Start Selling on Konga online  store in 2023, via Afrokonnect.
Good luck