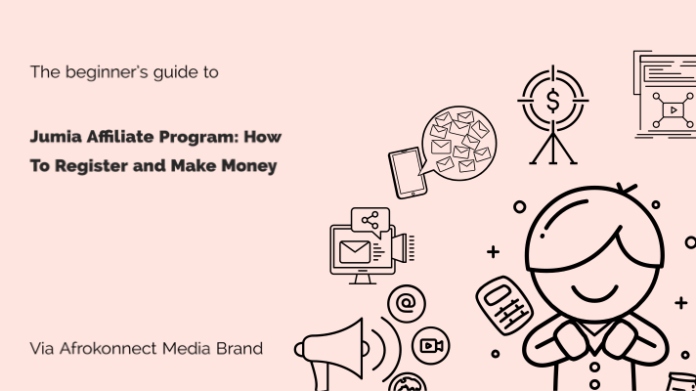 Welcome to this post about Jumia Affiliate Program, we will show you How To Register and Make Money with your phone, via Afrokonnect.
The Jumia Affiliate Program is a great way to earn a commission, yet you may not know about it.
No need for a website or original merchandise. If you own a smartphone and can connect to the internet, you can do this.
How to sign up for the Jumia Affiliate Program, get your affiliate link, and start making money without leaving your house are all covered in this post.
What precisely is the Jumia Affiliate Program?
With Jumia, Africans have access to an online marketplace where a wide variety of products are offered for purchase.
Products from the electrical, fashion, gaming, and health industries are among those on offer.
As one of the leading e-commerce platforms in Nigeria,
Jumia offers affiliate programs through which interested parties may join up to advertise the company's items in exchange for a fee on any purchases brought about by this promotion.
Is the Jumia Affiliate program still leaving you scratching your head?
Please keep reading the article for further information.
What You Can Expect From The Jumia Affiliate Program
It has already been mentioned that Jumia offers an affiliate network through which participants get compensation (commissions) for referring customers and selling goods.
Each affiliate has a unique link that contains tracking code,
So that they can keep tabs on how many people clicked through from their site and ultimately made a purchase.
About 9 percent of all purchases made within 30 days of a buyer seeing the goods through the link will be credited to the affiliate.
The amount of money you make each sale is going to be based on the specific market your product is in.
The majority of Nigerian Jumia agents get their payments in the local currency of Naira through bank transfer.
Jumia has a minimum monthly payment threshold of N5,000 ($10).
If your commission is less than N5,000, it will be carried over into your next payment.
How to Sign Up for the Jumia Affiliate Program
Now that you know how the affiliate program works, here are the steps to sign up for the Jumia Affiliate Program.
First Strategy
Pay a visit to the Official Jumia Page at this website address: http://www.jumia.com.ng.
Navigate to the "a new account" option and sign up as a new customer.
Confirm your e-mail address by clicking the verification link that was delivered to your inbox.
After successfully logging in, go to the About Jumia Nigeria section by scrolling down the page.
Navigate to the website for affiliate partners by clicking the link that says "Become an Affiliate."
When you click the option that says "sign up for free," you will be sent to a new page where you will be asked to provide your complete information.
Ensure that you have provided all of the required information in an accurate manner before submitting it.
Second Strategy
1. Go to the Jumia Affiliate Sign Up website at http://affiliates.jumia.com.
Register and complete the essential fields.
Send it in, and after your application has been approved, Jumia will get in touch with you through e-mail.
Then, you may begin marketing their products and start earning money.
Take note that in addition to the standard 9% commission on all purchases made in the first month,
Jumia provides new affiliates with a N500 welcome incentive.
Following a successful application to the Jumia affiliate program,
You will be able to begin promoting the company's wares across a variety of platforms using the unique affiliate link provided to you.
The following are only a few of the available channels:
Website or blog
Various forms of online social networking, including but not limited to WhatsApp, Facebook, Instagram, and Twitter
Commercial on Facebook (ads)
Promotional Ad on Google
Electronic correspondence, and etc.
You may also like:
How to Generate a Jumia Affiliate Link
To keep track of all of your own product sales, you'll need to utilize the special Jumia Affiliate link.
Professionals are well aware that registering as an affiliate is pointless if you are unable or unwilling to produce the link.
Simply because you won't get any commission if you don't provide the link.
Learn how to make your own affiliate link by following the instructions below;
Find the item you want to advertise on Jumia and copy the URL. For example, you may copy the URL of a wristwatch that you wish to advertise on the Jumia website.
Step 2: Access your Affiliate account management area
Navigate to the Tools area of the website, and then choose the Link Builder option.
Decide which nation you will be focusing your product marketing efforts on. Consider the country of Nigeria or Ghana, for example.
In the new window, paste the URL to the product that you copied previously.
Ensure that you wait until the final URL or link is produced before proceeding.
Make a copy of the link, which is now your one-of-a-kind affiliate link, and then begin marketing on any platform that you choose.
Then, you may begin producing money without leaving your house. See what else you get as a Jumia affiliate down below.
RECOMMENDED:
Jumia Affiliate Program Rewards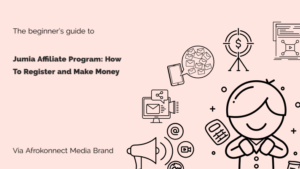 You may get the newest and best-looking banners for advertising purposes completely for free.
A group of helpful experts who are always available to answer any questions you may have
There are more than 50,000 goods to advertise.
Commission rates as high as 9% may be offered for certain product subsets
Getting started with the Jumia affiliate program is simple after reading the preceding primer.
If you think it will be useful to others, please spread the word and also check out How To Start Selling on Konga (Complete Guide), Many thanks!