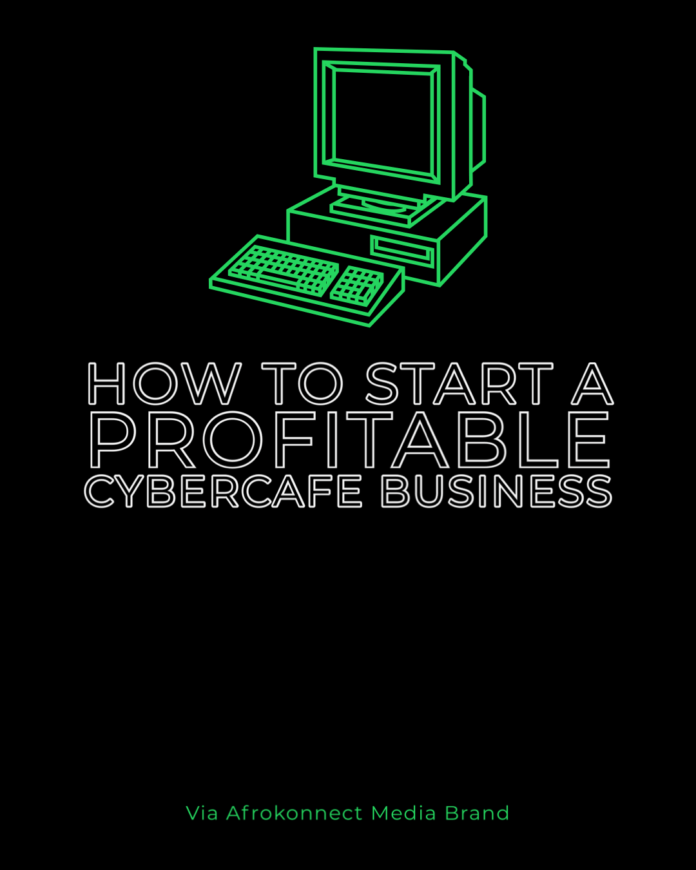 This page is about How to Start a Profitable Cybercafe Business, via Afrokonnect.
We are seeing new developments in technology on a daily basis, one example of which is the internet.
Checking email, doing homework, seeing movies, downloading, editing, and uploading photos, talking, sharing,
And, transferring data are just a few of the many activities people do online.
Citizens who require access to the internet for their own personal reasons,
Often find that using the internet is neither simple nor inexpensive with the current network providers;
As a result, they are forced to rely on cybercafés as their only option for gaining access to a quality network at prices that are within their budget.
The activity that you are now engaged in, as well as chatting with friends, doing business, registering for online platforms that are supplied, receiving emails,
And of course performing research, are all examples of activities that may be carried out at a cybercafé,
Which is a space specifically designed for internet access.
Starting a Profitable Cybercafé Business
When you take into account the size of Nigeria's population as well as the rapid pace at which offline businesses are migrating to the internet,
You will notice that the majority of registrations are now completed online.
This includes JAMB, WAEC, POST UME, POLICE, NAVY, ARMY, YOUTH CORPS, HOSPITAL, SCHOOLS, GOVERNMENT establishments likewise private ones, and even banking.
In order to access any of these things, you will need to visit a cybercafe,
Especially for people who don't own computers or Mobile devices.
Why you should start your Profitable Cybercafe Business
The cybercafe fills the function of the intermediary and offers a solution to the issue of internet connectivity,
By selling access to high-speed internet in return for monetary compensation.
Due to the large number of people who use the internet and are willing to pay for access to it,
The cybercafé industry is without a doubt one of the most lucrative business sectors.
According to data conducted by Google, millions of people in Nigeria have access to the internet,
The majority of which originates from public computer cafés.
The practice of browsing the internet is now ingrained in the daily lives of Nigerians and Ghanaians of all ages.
Many people cannot go a single day without connecting to the internet for one of a variety of purposes,
Including conducting business, conducting educational research (these days, almost all assignments are completed online), communicating with others, or simply having fun.
Millions of hours are spent online every single day by Nigerians, Ghanaians, South Africans, Kenyans, amongst others,
The bulk of which are spent at cybercafés by those who do not own a personal computer or have access to the internet at home.
It has, up until now, been such a risky endeavor, and it requires a significant amount of funds, amongst other vices;
Nonetheless, investing in this industry of cyber cafés is a profitable investment.
Opening and operating a successful and lucrative cybercafé company in Nigeria, Ghana, South Africa and most African countries requires very little initial investment and can be accomplished with relative ease.
How to Start a Profitable Cybercafé Business
Develop a Strategic Plan for Your Cyber cafe Business
You will be able to define the kind of service you are prepared to provide if you develop a strategic plan,
Research must be done like you're doing now, questions should be asked, a local cybercafé around you should be visited, and you will see how things are done.
It is not about choosing a company to invest in, writing a business plan, or getting a business plan;
Rather, it is about gaining a deeper understanding of the business itself via the business plan.
You may read our guide to developing your own business plan or look at other business plan template online,
If you are one of the many people who do not know how to go about it or how to create a business plan or feasibility report.
But if you want a professionally created business plan and feasibility study on the subject,
I recommend ordering the business plan crafted by experts after extensive research and surveys.
You can find e-books online that covers all you need to know to be successful in this field in a thorough and all-encompassing manner.
Find a Location or Open a Shop
There are variety of things to consider before picking a place for your Cybercafe business,
Including things like the proximity to populated areas, for example, school environments and commercial centers,
As well as the typical amount of space and size of shop that is required, and the typical cost.
RECOMMENDED:
How to Start a Profitable Cybercafe Business
The Necessary Computer Equipment For A Cybercafe
In this context, questions about the required quantity of computers is essential,
Methods for linking them together through a network is important,
Sources of reasonably priced and dependable computers, etc., need to be answered.
The finishing will thus vary depending on the size of the business,
But if you have a substantial amount of budget, you can go for  a more classy space.
That way you can add other businesses like printing press to your cyber cafe company.
Sign Up with an Internet Connection Provider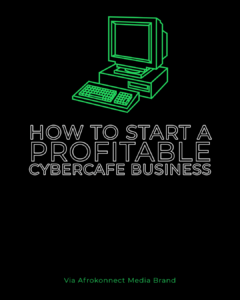 What kind of monthly payment do you make for your internet connection?
You are not the only one, but you have the potential to be the only one to offer a solution,
And that solution is to open a cybercafé business and get paid handsomely for it on a daily basis.
You can also stand to make money by registering candidates for examinations such as WAEC, NECO, GCE, jamb, and POST UME, which is a highly profitable endeavor.
Well, you are not the only one doing this, but you have the potential too because the sky is big enough for every bird to fly.
On that note, this being us to the end of this article about How to Start a Profitable Cybercafe Business, via Afrokonnect.
What are your thoughts? Tell us about it in the space provided below via the comments section.