E money is the CEO Of 5 Star Music group, in this post we'll show you his Source Of Wealth, Net Worth in 2023 and Biography via Afrokonnect.
Over the years, there have been a whole lot of controversies on how the chief executive officer of five star music makes his money,
Some even believe he is into some form of illegal business because of his really flamboyant lifestyle.
SEE ALSO:
Someone once told me that even Wizkid and Davido who are the richest musicians in Nigeria can't spend like E money.
That really got me thinking and I decided to do a research about him to know how he does it and I will share it with you,
So let's bump into E money net Worth and Biography real quick.
E money Biography and Net Worth in 2023
Emeka Okonkwo popularly known as E money was born on the 18th of February, 1981 in Ajegunle, Lagos State, Nigeria.
E money is married to his beautiful wife Juliet Okonkwo with Three amazing children.
Incase you don't know E money is a brother to popular Nigerian musician KCEE.
Presently his wife and kids are based in London while he visits them and have their family time together.
How did E money get his money?
Now since we have seen a little about him, let us go into the full details of how his money started.
Most of us know of his flamboyant lifestyle, but not many knows how he actually started.
E money wasn't really born with a silver spoon,
his journey started with just a single contract which changed his whole Ajegunle story around.
There is an adage that says "with every successful man, there is always a good woman beside him" and E-money's wasn't an exception.
According to him, it was on his way back from his traditional wedding that he received a phone call that he was awarded a contract of $2 million,
you can imagine what that can do to a man's life right?
He claimed that his wife Juliet was the first girlfriend he ever got in 2003,
she was God-fearing and loved him so much and he decided to stay very committed and faithful in the relationship with Juliet.
He claimed that there was a time she came over to see him in Ajegunle and she fell into the gutter.
His wife Juliet also said that her friends usually mocked her then,
that she was supposed to be moving out with the Lekki rich guys but she chose to move with a poor guy in Ajegunle,

but according to her, she was not bothered.
She said at that point in time oga Emeka E money didn't even have enough money to move both of them to Lagos,
It was his Elder brother KCEE that borrowed them N20,000 as their transport fare down to Lagos.
What business does E money do?
E money is the head of a shipping company called Emmy Cargoes Nig. 
The company was established in 1997 and was formerly called Borisa Nig. Ltd. 
He is into series of real estate investment as well as oil and gas.
E money owns Five Star Music Group which sponsored a lot of big names in the industry including Harrysong, KCEE, Skibbi and more.
He also has chains of Businesses outside of Nigeria too.
E money Cars & other Belongings
He owns a fleet of cars which includes Mercedes Benz Sprinter that costs about N30 million,
E money bought a G-Wagon for his brother KCEE also which costs N20 million as a birthday gift,
he also has a Lexus LX 570 (armored car) which costs N39 million
Does E money have a private jet?
A lot of Rumors flying around suggest E money owns a private jet,
However, there's no any evidence to suggest that E money bought a private jet.
E money House – Five Star Mansion
This house would blow your mind, It is a definition of A mansion,
According to sources E money has spent millions to build the Five star Mansion.
He owns a state of Art mansion worth about N250 MILLION.
E Money Net worth in 2023
Emeka Okonkwo also known as E money has an estimated net worth of $30 million United States Dollar which is equals to 11,626,500,000 Nigerian Naira.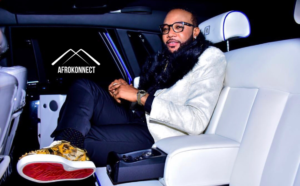 SEE ALSO – Top 10 richest Pastors in Nigeria 
We hope you enjoyed our article about E money, don't forget to share and drop a comment below.