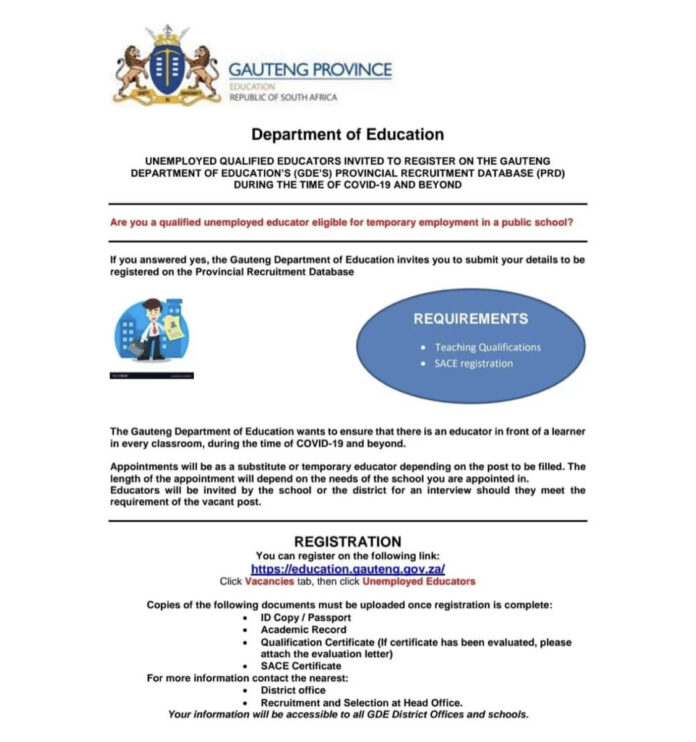 Gauteng Department of Education Temporary Recruitment for Unemployed Educators, apply via Afrokonnect.
UNEMPLOYED QUALIFIED EDUCATORS ARE INVITED TO REGISTER ON THE GAUTENG DEPARTMENT OF EDUCATION'S (GDE'S) PROVINCIAL RECRUITMENT DATABASE (PRD) DURING THE TIME OF COVID-19 AND BEYOND,
Are you a qualified unemployed educator eligible for temporary employment in a public school?
If you answered yes, the Gauteng Department of Education invites you to submit your details to be registered on the Provincial Recruitment Database:
Teaching Qualifications
SACE registration
Gauteng Department of Education Recruitment for Unemployed Educators
The Gauteng Department of Education wants to ensure that there is an educator in front of a learner in every classroom, during the time of COVID-19 and beyond.
Appointments will be as a substitute or temporary educator depending on the post to be filled,

The length of the appointment will depend on the needs of the school you are appointed in.
Educators will be invited by the school or the district for an interview should they meet the requirement of the vacant post.
REGISTRATION: You can register on the following link: https://education.gauteng.gov.za
Copies of the following documents must be uploaded once registration is complete:
ID Copy/Passport

Academic Record
Qualification Certificate (If certificate has been evaluated, please attach the evaluation letter)
SACE Certificate For more information contact the nearest: District office Recruitment and Selection at Head Office.

Your information will be accessible to all GDE District Offices and schools.
For more Information: Visit the website for Gauteng Department of Education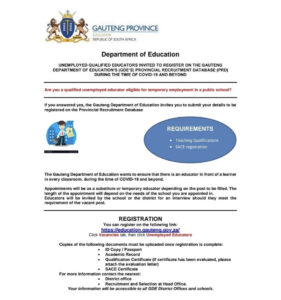 SPECIAL OFFER: Apply for a UIF Compliance Certificate Online