Tundenny Biography, Real Name, Age, Photos, Education, Family, Graphic Designs and Experiences via Afrokonnect,
In this Publication we will reveal to you all you need to know about the fast Rising independent creative graphics designer.
Sulaimon Babatunde better known as Tundenny was born on the 28th October in 1996,
He is a Professional Nigerian Graphic Designer, Cinematographer and a brand owner.
So, Without wasting too much of your time let's hope into the biography section about Tundenny.
Tundenny Biography and Career as an Independent Graphics designer
Incase you don't know Tundenny was born and raised in Lagos, precisely in the Ibeju-Lekki Local Government Area of the state,
He was born into a Yoruba Family of Mr Isa Muse Sule who happens to be his father and his mother better known as Mrs Sulaimon Olabisi,
Tundenny is the First Son of his parents with five siblings, two girls and three boys.
It is worthy of notice that Tundenny grew up in a family where love is regarded as the religion,
Himself, his mother and the rest of his siblings are Christians while his father is a Muslim,
Their beliefs has in no way affected his career as his father, mother and his siblings all supports his passion and craft.
Educational Background and Professional Career
While growing up as a child Tundenny studied at Iwerekun Community High School Lakowe, in Ibeju-Lekki, Lagos,
At the age of 16 years Tundenny already had passion for Creating visual content and he decided to pursue a career in Graphics design.
He then started learning Graphic Design professionally and specializes in all kind of designs such as;
Business Card, Flyer Handbill, Flex Banner, Poster, Show Designs and others, also, he is a Sprightly Typist in Microsoft Word.
In 2009 He was registered as an apprentice of Sammy Prints (a Graphic Design/Printing Press Organization),
He served as an apprentice of Raji Samson Elemoro who was the CEO of Sammy Prints for good five years,
After completing all his necessary prerequisite training and induction he graduated in year 2014,
Shortly after his independence from Mr Raji Samson Elemoro,
In 2015 He started working with Ella Heart Primary and Secondary School as a Computer Typist,
He worked there for active two months then stirred onto Modem Computer Technology,
A firm that renders Computer Services and then he was employed there as a Graphic Designer/Typist.
During his employment with Modem Computer he made sure he did all his necessary duty and performed the most excellent job to meet up with the standard of the Organization/Company.
In 2017, He also worked with De-Conglomerated Property and Construction Company as their official Graphic Designer,
Due to his Hardworking and Creativeness he was recognized as a Professional Graphic Designer by Alhaji Ibrahim the CEO of the company,
In 2018, he began plans to establish himself with a nice portfolio while he was still working under companies.
Below is a visual created by Tundenny about the best industries to get Rich:
On that note check our article about 5 smart ways to Make Money From Social Media.
Tundenny Biography and Career as an Independent Graphics designer
In 2020 he started his own creative organization named Tundenny Graphic Suite founded on the 10th of March, 2020,
In the same year Tundenny created a Logo for a Plumbing Services institute and also produced a Brand Logo Design for the reputable Boost Store.
Currently, Tundenny gives free graphic design tutorials via his Youtube Channel as a way of giving back to the community,
You can check his YouTube channel Here
Photo/Video Editing Experience
Tundenny also has experience in Video editing, In year 2020 he edited almost all his videos with the Help of Camtasia,
He is still putting more efforts to get more improvement/better in video edits while he uses Photoshop to edit photos.
Graphic Designs
Tundenny graphic designs are given out in affordable price to new clients in order to build a Good Customer Relationship with people,
He has done lots of Good Graphic Designs out there and also urging more clients that may need his services.
Profile Summary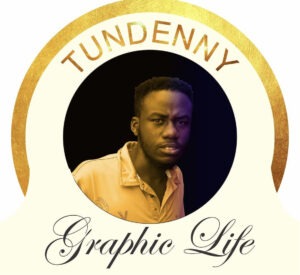 | | |
| --- | --- |
| Real Name: | Sulaimon Babatunde |
| Known As: | Tundenny |
| Born: | 28th October, 1996 |
| Designation: | Graphic Designer |
| Education: | Iwerekun Community High School |
| Parents: | Isa Muse Sule, Sulaimon Olabisi |
| Siblings: | Sulaimon Aminat, Sulaimon Ibrahim, Sulaimon Fatimoh, Sulaimon Mubaaraq, Sulaimon Musediq |
| State of Origin: | Lagos |
| Place of Birth | Ibeju-Lekki |
| Religion: | Christianity |
| Nationality: | Nigerian |
Social Media and Contact Details
Within a short period of time he was able to gain over 11 thousand followers on Instagram,
He is an active user of the social media and you reach him via any of the following information;
Instagram: Tundenny Graphics Suite
Facebook: Tundenny 
Twitter: @Tundenny_gsuite
LinkedIn: Tundenny Original 
Whatsapp Number: 08027041883
Mobile Number: 08102973846
Email Address: tubabanoni@gmail.com
This brings us to the end of this article about Tundenny Biography, Real Name, Age, Photos, Education, Family, Graphic Designs and Experiences via Afrokonnect.