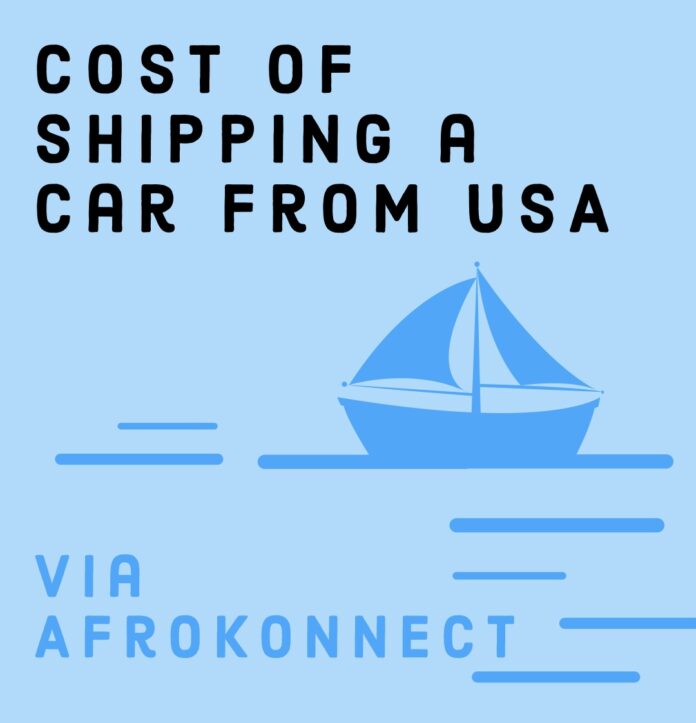 Cost of shipping a car from USA to Nigeria, How you can start shipping cars from anywhere to Nigeria in 2023 via Afrokonnect,
So have you ever thought about importing a car from USA and you weren't clear on the process you should follow?
I will be revealing the cost of shipping a car from the USA to Nigeria and how you can ship any car into Nigeria in 2023 alongside the procedures and required documents,
In 2018 Nigeria had an automotive importation share of 73%,
Bitter truth is in Nigeria the citizens are more comfortable with foreign goods and items then the local ones,
Tagging the local made goods and products as inferior or substandard.
Buying a car from the USA to Nigeria can take the form of a very frightening process but is actually a very easy process,
When buying a car from the USA to Nigeria you can't just pick up your phone and make a call,
Well except if you have an already existing contact in the industry that will help you do everything.
Otherwise, You have to possess some required documents both from Nigeria and country of purchase.
So let's dive into the main article and see how you can import a car and the required paperwork.
Top 5

car shipping companies from USA

 to N

igeria in 2023
We have Various shipping companies but here are the top 5 shipping companies that are guaranteed to perform exceptionally:
1. GIG Logistics
It was founded in 2012, the brand is a leading household name when it comes to car shipping,
They carry out their services in over 100 countries,
So that means you can ship your car from anywhere in the world using GIG as long as it's within their jurisdiction.
The prices are based on the weight of the goods
GIG Logistics Contact details
Email: Info@giglogistics.ng
Location: 1, wole Ariyo street, off Admiralty way, lekki Phase 1, Lagos.
2. Courier Plus Services limited
Courier plus is a leading shipping company which was established in 2009,
It was later taken over by superflux international limited in 2012,
Today they are one of the most reliable shipping company in Nigeria.
The Courier plus Contact details
Location: 42,Concord way off Airport Road,Ikeja,Lagos, Nigeria.
Email: info@courierplus-ng.com, enquires@courierplus-ng.com
Phone: +234-703-307-4129, +234-703-178-7871.
3. FedEx Nigeria
FedEx Nigeria offers services to about 220 countries, they also carry out national deliveries.
The most unique characteristic of FedEx is their quote which says "At FedEx, we believe that a connected world is a better world, and that belief guides everything we do".
FedEx Contact details
Phone: +234 12715670 
Website: FedEx.com
4. Packmyload.com
A captivating name which portrays their services,
They engage in both local and international deliveries.
Packmyload Contact details
Location: 12,Hudeyin Street, Ramat estate, Ogudu GRA, Lagos, Nigeria
Phone: 0700-722-5776
Website: packmyload.com
RECOMMENDED:
5. AGS Movers Lagos
Patnerning with over 500 organizations, including the United Nations,
They have one of the biggest networks in the international shipping Industries.
They are present in 94 countries and they offer door-to-door service anywhere in the world.

AGS Movers Contact details
Phone: +234 809 041 7189
Website: agsmovers.com
Location: 27B Liverpool Road, Apapa, Lagos.
Factors to consider when choosing a shipping company
Choosing a shipping company is a very critical decision with long lasting implications,
Which makes it important to analyze and calculate different carriers and know exactly the Cost of shipping cars from USA or Canada to Nigeria,
Highlighted below is a guide to assist you in picking the right shipping company for yourself/business:
This is a very key factor especially for business owners as you wouldn't like to be delayed for goods you have already paid for.
Evaluating your needs will help you to pick the shipping company which will be beneficial to you or suites your demands.
A reliable shipping company can help you in tracking your goods more efficiently and also keeps to time unlike others.
Some shipping carriers with lower rates usually are known to break the law in order to cut costs and get to the destination on time,
This act can result in either damage to the goods of confiscation of the goods.
How many days does it take to ship a car from USA to

Nigeria
You must be wondering how long does it take to ship a car from the United State of America to Nigeria,
The average transit time to ship a car from the USA to Nigeria is about 20 to 30 days,
Bare in mind that unforeseen circumstances do happen so you should consider nature,
All things been equal, delivery timeframe ranges between a month or two tops.
Ways to ship your goods from Nigeria to USA
According to carmart, there are 2 known ways to ship your goods from USA to Nigeria and they are:
RoRo shipping

Container shipping
RoRo shipping: RoRo is an abbreviation which means Roll-on Roll-off,
This is the most affordable method of shipping cars and goods from the USA to Nigeria.
In this type of shipping, your car must be in a good working condition,
It is easier to predict the departure and arrival of the car using RoRo.
Ports that offer RoRo shipping from USA to Nigeria includes;
Galveston

Texas
Jacksonville
Florida
Savannah
Georgia
Portsmouth
Virginia
Bayonne
New jersey
Baltimore
Maryland
The vessels can arrive in "Tin can island" in Lagos State.
Container shipping: This method of shipping is mostly used for exotic cars.
This is of two types, the Shared container shipping and Exclusive container shipping,
The Shared container shipping means your car is shipped alongside other car in an enclosed container.
In this method, you can still get your car even if it isn't in a working condition but you have wait for the container to be full before your car can get shipped.
While with the Exclusive container shipping is mostly used by the very wealthy people because it is too expensive,
It is used to transport exotic cars like Bentley, Ferrari, Mercedes Benz etc.
This is the method the likes of Davido, Wizkid and Burna boy used in importing their luxury cars into Nigeria.
Ports that offer container shipping form the USA to Nigeria include;
Oakland and long beach in California

Houston
Texas
Miami
Florida
Savannah
Georgia and Newark
New Jersey
The vessels can arrive in "Apapa Port" in Lagos.
RECOMMENDED:
How much does it cost to ship a car from USA to Lagos?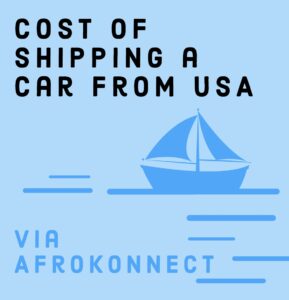 Note: The average price of shipping a car from the USA to Nigeria ranges from $955-$1650 which equals approximately 686,466 Nigerian Naira, 
The Cost of shipping cars from USA to Nigeria is not fixed as the type of car you want to ship or import to Nigeria is also a determinant factor.
Cost of clearing cars in Nigeria in 2023
There are some required fees which must be paid to the Nigerian Customs service (NCS) and they include:
Old cars: Nigerian customs clearance fee = 35% duty.
New cars: Nigerian Customs clearance fee = 35% – 70% duty of the vehicle's value.
SPECIAL OFFER: Nigerian Custom Service Recruitment, the NCS are recruiting qualified candidates.
Factors to consider before shipping a car from the USA 

to Nigeria
1) It is imperative you should know that the Nigerian Customs service doesn't allow vehicles older than 15 years from the manufactured date into the country (Nigeria).
2) It is prohibited to import a right hand car (RHC) into the country as Nigeria now use Left hand cars (LHC).
3) The price of shipping the car, because you would not want to go above your budget or be in debt when some important bills aren't settled.
4) The Documents: There are certain documents you must posses before importing a car from the USA to Nigeria,
You must have both the American and Nigerian documents to enable Shipping cars from USA to Nigeria smoothly, which are:
Nigerian Document includes;
Nigerian Drivers license

National Identification Number
Proof of address
Proof of insurance
E-form 'M'
A filled-out plate number form
Original invoice
Packing list
Combined certificate of value and origin (CCVO)
Adequate description of the imported goods.
Shipped/Clean on Bill of landing/Railway Bill/Airway bill
American documents includes:
Bill of sale

Original vehicle title
How much does it cost to ship a car from Canada to Africa/Nigeria in 2023
The cost of shipping a car from Canada to Nigeria or any part of Africa can vary,
Factors like Currency, Custom Duties and Country Destinations can largely determine the cost,
However, it will cost you around $1500 to $2500 depending on the value of the car, Converted to Naira it will equal around 1,040,100 Nigerian Naira.
The video below is about shipping cars from Canada to Nigeria,
I recommend you watch it as it is practical and will add to your knowledge;
Don't worry we've written a comprehensive guide on How to Start a Driving School Business in 10 Easy Steps.
Cost of shipping a car from USA to Nigeria – Import Cars to Nigeria in 2023
Conclusion on Cost of shipping cars from USA
To round it up below is a video about the easiest way to ship cars into Nigeria for commercial or personal purposes;
Congratulations you've made it to the end of this article about Cost of shipping a car from USA to Nigeria, How to ship a car from anywhere to Nigeria in 2023 via Afrokonnect,
Hopefully you found what you were looking for on your quest of Shipping cars from USA to Nigeria, if you haven't please kindly let us know via the comment section.