Jowi Zaza Net Worth, Biography, Cars and Houses in 2023 via Afrokonnect.
In this article we will be looking at the expensive and lavish lifestyle of young billionaire Jowi Zaza,
Jowizazaa is a young Wealthy Nigerian who's wealth is of different levels,
The interesting part is Jowi Zaza doesn't hesitate to show off his wealth online.
His online presence has brought attention to him,
In fact celebrities love to roll with Jowi zaza even though he's not in the entertainment industry,
This goes to prove that when you're rich everybody will want to become your friend.
Jowi Zaza Biography, Background Information, Cars and Net Worth in 2023
So without taking too much of your time with introduction, let's start with Jowi Zaza Background Information and Biography,
This will enable us know where he is coming from and how a young man in his 30's was able to make so much money.
Several sources confirmed that this young and lowkey Nigerian is a Billionaire,
At the end of this article you'll discover Jowi Zaza current Net Worth.
In case you don't know, his real and legal name is Joseph Ezeokafor,
He is popularly known as Jowi Zaza or simply Jowizazaa which is his social handle.
Joseph Eze Okafor also known as Jowizazaa was born on 19th March 1985 in Anambra State, Nigeria,
While growing up he began his basic and secondary school education at Sacred Heart Seminary Nsude in Enugu state,
After attending and completing the minor seminary of the Catholic Diocese in Enugu,
Jowizazaa proceeded to Madonna University Okija,
He sealed his post-graduate certification at The Coventry University London, United Kingdom,
Then he later attended Kelce College of Business – Pittsburg State University,
Many people believe that is where Jowizazaa got his business instincts and mindset.
Which leads us to the next section of this article about Jowi Zaza career.
Jowizazaa Career, Business, Biography and Net Worth in 2023
After completing his basic education, it took no time for him to dive straight into business,
Even though Jowi Zaza is a heritor to a billion dollar oil business, he still a wealth creator and a philanthropist.
Jowi Zaza is the CEO of Jezco oil and gas, he has several oil businesses stacking a lot of cash for him and he also runs Jezco lubricant,
His father Sir Joseph Ezeokafor is also into oil and gas business, he founded and built the company from scratch before handing it over to Jowi.
Fortunately, Jowizazaa didn't trash the business as he was very young when such responsibility was bestowed upon him,
Jowizazaa has proven that he has the knowledge and ability to run the business,
In fact the business has grown even bigger year in year out as a result of Jowizazaa's commitment and hard-work.
Jowizaza Mansions, Cars and Private Jet
Jowizazaa owns several properties in and outside Nigeria,
He has mansions in Lagos, Abuja, Anambra and spread across the country,
According to reports when he's in Lagos, he stays in his exquisite mansion at Chevron Drive, Lekki, Lagos state, Nigeria.
Cars
Just like Davido, Jowizazaa is another Nigerian celebrity who's also a car freak,
Recently, Jowi Zaza acquired a luxury car to celebrate his birthday and the price sparked so many questions online,
Some fans are of the opinion that only fraudulent activities can bring so much money within a short period,
Others insist only fraudsters can afford to buy the luxurious materials Jowizazaa spends his money on.
MUST READ:
Sources confirmed that the oil mogul has reportedly gifted himself a Lamborghini Aventador Worth N115m ($276,774) on his birthday,
Jowi Zazaa is a lover of fast and exotic cars and he has added the Lamborghini Aventador to his collection,
This makes Jowi Zaza the second Anambra born billionaire to acquire Lamborghini Aventador.
In April 2020 Jowizaza gifted his father a N280 million Rolls Royce Cullinan,
He gifted him one of Rolls Royce Cullinan most anticipated Rolls-Royce of all time,

The ultra-swanky vehicle is the first Sport Utility Vehicle from the luxury carmaker, Rolls-Royce Motor Cars.
The Cullinan features sumptuous materials and a plethora of luxury features.
The V12 engine offers enough power for anything you need in a fast car,
It's power comes from a 6.75-litre V12 engine, producing 563 horsepower and 627 pound-feet of torque.
List Jowizazaa cars and Prices 
Bentley Continental Gt (N78 million – $187,725)

Mercedes Benz 4matic (N15 million – $36,101)

Brabus G wagon (N280 million – $673,886)

Rolls Royce Phantom among others.
Jowi Zaza Private Jet and Net Worth in 2023
Rumors around town is that Jowizaza is among the Nigerian Private Jet owners,
However, no credible source can confirm if the information is true or false,
Though a picture surfaced in Santorini Greece where he went on holiday, Jowi Zaza was pictured with his pilot,
Some people believe Jowizazaa owns the private jet he travels around the world with while others are of the opinion it's just a charter jet,
Regardless, Jowizaza has not yet made any public comment about owning a private jet yet.
The video below is about the exotic lifestyle of Jowi Zaza, the boy richer than Hushpuppi and Davido by Chizzy Media;
Jowizazaa Net Worth in Dollar and Naira 2023
Just like we've stated earlier, Jowi Zaza is an Oil and Gas business Tycoons,
He is the CEO of a multimillion dollar company known as Jezco Oil and Lubricants,
An oil company founded by his Father Chief Sir Joseph Ezeokafor who's also a business tycoon.
At the moment Jowizazaa he an estimated net worth of ($) 80 million dollars which equals around (N) 33,240,000,000 Nigerian Naira.

Profile Summary
| | |
| --- | --- |
| Real name | Joseph Eze Okafor |
| Date of birth | 19th March 1985 |
| Country of Origin | Federal Republic of Nigeria |
| Father | Sir Joseph Ezeokafor |
| Source of Wealth | Oil and Gas |
| Net worth | $80 million (33,240,000,000 Nigerian Naira) |
| Associated Acts | |
| Relationship status | Married |
Jowi Zaza Biography, Cars, Mansions and Net Worth in 2023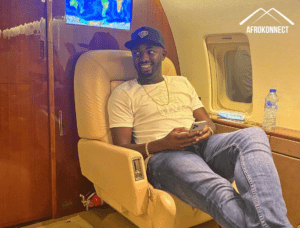 Conclusion
To make money you need to work hard even if you're born with a silver spoon,
Making money while you're still young isn't easy and it takes serious commitment.
We have few young billionaires in Nigeria and Jowizazaa is definitely one of them.
Social Media
Instagram: @jowizazaa

Twitter: @jowizazaa

Facebook: @Jowi Zaza
This brings us to the end of this article about Jowizazaa Net Worth, Biography, Cars and Houses in 2023 via Afrokonnect.