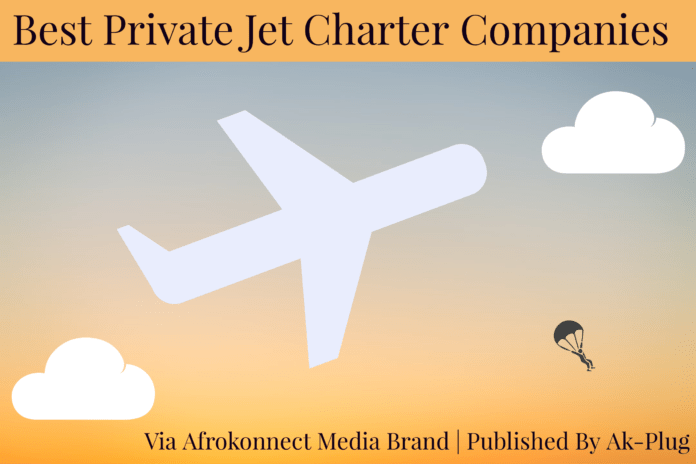 Top 5 Best Private Jet Charter Companies, Private Jet owners in Nigeria and how to become a private jet flight attendant in 2023 via Afrokonnect.
Charters for private jets firms are gradually changing the nature of travel by allowing more passengers to fly private rather than endure the hassles commercial flights can bring,

Be it for family vacations or business trips, flying privately is growing.
Indeed, a variety of research studies and articles suggest that there may be an enormous increase in the number of first-time private jet passengers within the next few years,
Many reasons draw people to private jets,
Including the ease of flying according to your schedule and the additional services offered (such as ground transport, pickup and drop facilities, and even assistance with documentation),
And also, the countless hours that can be saved from not having to endure long lines at the airport or wait for delayed departures, arrivals and baggage check-in.
In addition, you can carry whatever baggage you like, bring all your family members along or even bring your pet along when you travel,
If you're looking to fly with a private jet for your next trip Make your journey easier by examining our selection of the top charter aircraft companies that provide excellent service, quality, and affordable prices.
Top 5 Private Jet Companies In Nigeria
Below are the top 5 private jet companies in Nigeria in no particular order;
1)
Anap Jets
Anap Business Jets Limited (Anap Jets) is an operator of private jets that is focused on the fractional-ownership, charter service, in addition to aircraft maintenance.

They offer efficient, suitable, long-term, and sustainable private aviation solutions for businesses.
2)
Dornier Aviation Nigeria AIEP Ltd
Dornier Aviation Nigeria AIEP Limited is made up of dedicated and well-educated staff that provide top-quality, professional services in commercial aviation charter,
FBO service as well as maintenance and management of aircraft at a reasonable price.
3)
Fur Alle Nigeria Limited
Fur Alle Nigeria Limited are specialists in cargo and air service charter, visa assistance, and hospitality, visa support service, business travel tours,
Additionally, they handle trips and pieces of training, as well as car hire, security escort and protocols services.
4)
Mudita Limited
Mudita Limited is an aircraft industry that offers private charter, helicopter charter, luxury vehicle rental, relocation, immigration and security protocol services.
5)
Private Jets Nigeria
This company offers the best private jet services in Nigeria.
Best Private Jet Companies in the World in 2023
Watch the video below to learn about 10 more Private jet companies in the world;
Private Jet Owners And Operators In Nigeria
Nigeria is among the fastest growing nations in terms of several private jets owned by owners in the world,
Private aircraft are in Nigeria are owned by the super rich classes of bankers, business moguls, Celebrities, politicians, pastors and oil tycoons.
There are a lot of owners of jets in Nigeria but at Afrokonnect,
We provide you with the names of the most renowned and well known owners.
The market is growing and the wealthy who have the opportunity are eager to invest in more planes,
Some do it to utilize their aircraft solely for transportation,
While some use it to enhance their businesses and others collect private jets or use the aircraft for a prestigious reason.
Top 6 Private Jet
Owners
in Nigeria 2023
Dangote is one of the Private jet owners with in Nigeria,
Aliko Dangote, the richest man in Africa, founder and is the chair of Dangote Cement, the continent's largest cement producer.

Dangote Cement owns two private jets: a Bombardier Global Express 5000 worth $45 million which equals (N) 18,755,550,000 Nigerian Naira,
He also owns a Bombardier Global Express XRS,

This Bombardier VG650 is the 6th most expensive private aircraft in Nigeria.
Asiwaju Bola Ahmed Tinubu
Ahmed Tinubu is a former governor of Lagos state,
He is also the National Leader in the All Progressives Congress.

Tinubu is one of the owners of private jets in Nigeria,
Bola Tinubu purchased his second plane and the latest Bombardier Global Express XRS in May of 2014,

The private jet was estimated to cost around $50 million which equals around (N) 20,839,500,000 Nigerian Naira.
Private jet owners from Nigeria, Oji Uzor Kalu is the top of the list for private aircraft owners from Nigeria,
Orji Kalu was the former Governor of Abia State as well as the chairman of a conglomerate.
He is a billionaire, and among the Nigerians who made it onto the Forbes list,
He owns five private jets, making it the biggest fleet of private jets in Nigeria.
The most expensive plane he has can be found in his Gulfstream G650 it was bought for $72 million which equals around (N) 30,008,880,000 Nigerian Naira,
It is believed that it could be the most expensive plane in Nigeria.
David Oyedepo is one of the Private jet owners within Nigeria,
Oyedepo is the General Overseer and founder of the Living Faith Church (Winners Chapel) and is also the Church's Bishop.
Faith Tabernacle Worldwide also is one of the most well-known congregations in Nigeria,
In 2011, David Oyedepo made it to the Forbes list, with an estimated value of $115 million.
There are four jets he owns including the Gulfstream G550 VG450 and Bombardiers 604.
Mike Adenuga is a business magnate and the second richest person in Nigeria,
He is the owner of Globacom, the second largest operator of telecom in Nigeria,
Adenuga is among the Private jet owners in Nigeria with three jets,
Namely; Bombardier Challenger 604, Bombardier Global Express XRS and the Falcon 7X.
Yes, it's the same model that was purchased by President Goodluck Jonathan for $50 million (N20,839,500,000).
Folorunsho Alakija is among the most wealthy black women around the globe and is among the most beautiful women from Africa,
Alakija has an estimated sum of net worth estimated at $2.1 billion.
It is believed that the Nigerian commercialist was ranked as the 2nd most powerful woman in Africa,

Folorunsho Alakija is one of the few female Private jet owners in Nigeria, she owns one of them, the Bombardier Express Business aircraft, or the Bombardier Global ExpressXRS.
ALSO READ:
Best Private Jet Companies – Most Expensive Jet owned by Celebrities in 2023
The video below, is about the most expensive Private jets owned by Celebrities and Billionaires around the world;
Private Jet Price, Cost, and Capacity
Private jet passengers enjoy the ability to travel across the globe at their preferences,
Flying off to a Caribbean vacation, hopping around in the United States, or flying their boardroom for a last-minute business event,

With no commercial flight schedules or busy airports, flying can be enjoyable, easy, quick, and effortless.
But what is the cost of an individual aircraft?
The answer is more complex than you think.
If you're planning to purchase your aircraft or chartering one for just a single trip numerous factors influence the cost of a private flight,

We look at the costs involved, weigh the advantages and disadvantages of buying new as opposed to previously owned,
And, take a look at the available aircraft for sale and charter through ACS.
Private Jet Services
If you've been dreaming of flying in a private jet and avoiding those security line-ups, crowds, and uncomfortable seats of flying with crowds, you have choices,
The demand for private planes has been rising as passengers search for alternatives to flights on commercial airlines during the coronavirus epidemic.
In May, the private Jet charter firm Air Partner reported an increase of 210 percent in future requests for flights, both from business and leisure travelers,
Many of which are first time private jet passengers.
The demand for this has been driven by the ease with which it is to reserve the private jet of your choice,
Thanks in part to the advancement of technology,
Making reservations for a jet may be as easy as downloading an application.

For instance, the private jet app UberJets (no relation to ridesharing apps) is an online booking tool that connects private jet owners with charter aircraft that are available for charter.
How To Become A Private Jet Flight Attendant
Have your sights set on a trip around the world while serving caviar and champagne to VIPs?,
If the answer is yes you do, then a position as an air travel attendant for private flights is the ideal job for you,
Employment like this offers you the chance to travel,
As well as a good income and glamorous job responsibilities, your work style is elegant!
Like most amazing items in the world, this road to achievement isn't easy and simple.
The aviation industry is an extremely competitive and demanding sector,
Like other aviation-related jobs, being an airline flight attendant demands commitment, dedication and time.
You must ensure that you have met the fundamental prerequisites,
If you want to become an airline flight attendant with VIP status, you need to attain a certain number of standards before you begin your education.
Before you put your time and resources on this path, ensure that you are informed of the requirements for this position.
They include:
High school certificate

A minimum of two years of experience as a

cabin staff member

in the business class or first class cabin
Know what is required
In your quest to enter an occupation like this you may be focused on luxury, prestige, and luxury.

But, it's essential to glance at the duties and responsibilities that are part of the heading and think about what you're seeking in a job.
It is important to take a look at all these aspects and determine if this is the most suitable career path that you are looking for,
This is a process that is not to be taken lightly.

Some good ways to conduct an extensive study during this phase include:
Following a real-life VIP flight attendant via social media

Studying the aviation industry's customer service
Taking an in-depth look at your preferences, values, and your strengths
O

ffering career tests try

to determine which fields you're best suited to.
You'll be amazed at how many factors to take into consideration,
A job as a VIP flight attendant isn't just about luxurious accommodations.
It is many hours of effort and often means being unable to enjoy family occasions as well as having to deal with last minute changes to schedules as well as flight cancellations and food issues,
As well as maintaining a professional level while dealing with often difficult VIP passengers.
Do you think this is your ideal job? If yes, continue reading!
Get professional qualifications
The days of ads for private flight attendant jobs "no formal education needed" are long gone,

As competition increases and companies expectations for potential employees rise,
You will also need to keep up with the current trends and certifications,
As previously mentioned, VIP flight attendants need to be educated in high school and have at least two years of experience on cabin staff.
The degree of hotel management or leisure and tourism management, or travel may also make you stand apart,
However, it is not required by every company to hold a degree from a university,
In addition, it is also required to undergo cabin crew training and be certified in emergency and safety procedures, cabin service, and food service.
Below is a list of the most important professional courses we'd suggest to you to take:
Stay in the cabin and flight crew training

CPR, AED and first aid education
Instruction in-cabin service to the cabin crew
Management of food and beverages
Food safety training for pilots in the air
The most effective way to prove your professionalism is to have professional qualifications, method to show airlines that you can fulfill your job,
So ensure that you enroll in a reliable flight attendant training school to earn these certifications.
Conclusion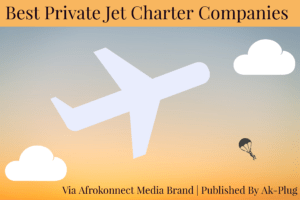 David McCown, president of Air Partner U.S., declared that as more passengers start to return into the world after the lifting of coronavirus global security measures,
The firm expects to see "an influx of passengers who have never flown privately before.
This brings us to the end of this article about Top 5 Best Private Jet Charter Companies, Private jet owners in Nigeria and how to become a private jet flight attendant in 2023 via Afrokonnect.