Welcome to this article about Fave Szn Biography, Career, Songs, and Net Worth in 2023 via Afrokonnect.
Chidozie Godsfavour Ugochinyere is a Nigerian female singer and composer.
She performs under the stage name Fave or Fave SZN throughout her professional career.
She was born on March 13th, 2000 in the state of Anambra in Nigeria, and her family is originally from Nigeria.
Fave Szn Biography, Career, Songs, and Net Worth in 2023
Education Background and Early Life
At the moment, Fave may be found in Osun State, Nigeria, attending classes and continuing his education.
Fave, a Nigerian singer and songwriter, began pursuing her love for music at the tender age of six,
When she began singing, she started writing songs and performing her renditions of her favorite songs,
She does that for her classmates, friends, and family or at school functions and in the hours after school let out.
After showing promise in her first single "M.O.M.M.S.,",
Fave was given the green light to launch her career in the music industry when she was 19 years old.
Her music is a fusion of R&B, Pop, Soul, and Dancehall,
As a result of her being inspired by artists such as Adele, Billie Eilish, Shaggy, Aisha Badru, Sia, and Lorde,
All of which are considered to be her musical inspirations.
Fave Szn Biography, Career, Songs, and Net Worth in 2023
Professional Music Career
Her first track, which was titled "M.O.M.M.S." and stood for "Me or Mask My Sins," was released in July of 2019,
And she has continued to release music ever since.
Since the release of M.O.M.M.S, she has experienced tremendous success in her career,
Thanks to the fact that her song has been featured or mentioned in three different NDANI TV Shows.
She sings a profound song about damaged individuals who are unable to embrace love because they are blind to the purpose of others,
Which she performs over a rhythm that is lead by a piano in the track.
Fave sings over a production with a pop influence, "We're waiting for love in the backyard/looking for what's not lost," providing listeners with two sides of the same coin:
Those who love others in spite of their imperfections,
And, others who are broken and refuse to accept love.
During an interview for "NATIVE MAGAZINE,"
Fave revealed that she searched the internet for free beats,
until she came across one that was produced by Lagos-based Nigerian artist and producer "Jinmi Abduls."
She then used this beat to create a freestyle, and the freestyle gained traction on the internet.
Because of the momentum gained from this freestyle, Fave was able to go on to record her follow-up song, the aptly titled "N.B.U." (Nobody But U).
Fave Szn Biography, Career, Songs, and Net Worth in 2023
Fave is a painter who paints what she sees in front of her using the beauty of her music and the classical expression of her pen.
She does this in the most effective manner that she can.
Her music acts as a narrator, conveying both the emotions in her heart and the experiences she has had with other people.
On April 17, 2020, Fave released her newest single, titled "NBU."
The single quickly amassed an impressive number of listeners and made it's way onto at least three official playlists on Apple Music.
Fave's career has gotten off to an impressive start so far, and she plans to continue this trend with her future releases.
In 2021, Fave had a successful comeback with the albums "Beautifully" and "Baby Riddim,"
Both projects of which were of the highest quality.
Olamide, a seasoned rapper, singer, and songwriter from Nigeria, became aware of Fave after being impressed by the caliber of her work.
As a result, Olamide included Fave on two songs, "Want" and "PonPon," off his upcoming album "UY Scuti" in 2021.
On the 20th of January in 2022, she published her first musical project, which was an EP called "Riddim 5."
Fave Szn Biography, Career, Songs, and Net Worth in 2023
Discography
Albums and Extended Plays
Singles
Scatta Scatta – 2022
Ajebo Hustlers & Fave: In Love – 2022
Baby Riddim – 2021
Beautifully – 2021
N.B.U – 2020
DAL – 2020
M.O.M.M.S – 2021
Features
Want (Olamide ft. Fave)
PonPon (Olamide feat. Fave)
Your Dal (Mainland BlockParty with. BOJ & Fave)
Tungba With Nobody But You (Mainland BlockParty feat. BOJ & Fave)
Drama (Dimeji feat (Remilondon feat. Skeellz, Fave & Olutimi)
Fave Net Worth in Naira and Dollars in 2023
In 2022 Fave won the Rookie of the year award at the 15th Headies award held in USA,
She also released her first body of work "Riddim 5" in the same year,
Her numbers rose dramatically because more and more people are getting to discover her music,
From her streaming royalties, performance fees and other streams of income,
Fave SZN is said to have an estimated net worth of $25,000 in 2023, which equals around 10,608,750 Nigerian Naira.
RECOMMENDED:
Fave Szn Biography, Career, Songs, and Net Worth 2023
Profile Summary
| | |
| --- | --- |
| Real Name | Chidozie Godsfavour Ugochinyere |
| Stage Name | Fave SZN |
| Date of birth | 13th of March, 2000 |
| Age | – |
| Nationality | Nigerian |
| State of Origin | Anambra |
| Tribe | Igbo |
| Profession | Musician |
| Record Label | Tumblar |
|  Net Worth | $30,000 |
FAQ
Is FAVE signed to EmPawa?
EmPawa is a talent incubator that was started in Africa by Mr Eazi to help emerging young acts with budget and structure,
Like they did to the likes of Joeboy, DJ AB, among others,
Fave SZN, whose real name is GodsFavour Chidozie is one of the talented Nigerian Afro-fusion singers signed to emPawa Africa,
A record label formed by renowned musician Mr. Eazi in November 2018.
Is FAVE from Nigeria An lgbo girl?
From her name it is obvious that she is an Igbo indigene, and she is from Anambra state,
When she was highlighted in TheNativeMag as a result of her achievement,
She stated that she is from the southeastern region of Nigeria and has a perspective on Igbo young people.
Social Media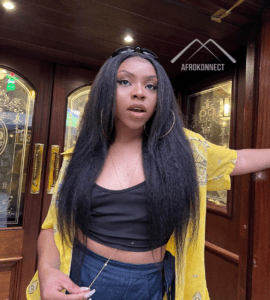 You can connect with Fave on your favorite social media platforms via the official handle below;
Instagram: @faveszn
Twitter: @faveszn
Facebook: FAVE
One last, there's another young talented female musician in Nigeria that is fast rising,
You can read more about Guchi Biography, Net worth and more in our previous article.
This brings us to the end of this article about Fave Szn Biography, Career, Songs, and Net Worth in 2023 via Afrokonnect.