Father DMW net worth in 2023 and short biography as the comedian shares his story from Borno to Lagos and now worldwide.
Muhammadu Abdulai known popularly as FatherDMW is currently making wave.
He broke the internet with a single live video with international model, Eva.
This has constantly remained one of the most viewed live video chat in recent times.
Father DMW shares his story: Net worth in 2023 and Biography
In this interview with SEGUN ADEBAYO, 'Father' as many call him, speaks about how fame found him, among other issues.
In a short time, you have emerged one of the most sought-after skit makers in Nigeria.
Your name comes up everywhere now.
You must really be having a good time, how do you feel?
The feeling is good, This is what I have always wanted and I am happy that I am arriving at the stage I had always seen ahead of me.
Everything seems like a dream now but I am living every day as it comes and taking the step one after the other.
For me, what I do is what I call my hustle but this would not have happened if not for God and Davido.
As I am talking to you, I am yet to come to terms with the fact that I am where I am today.
I am grateful to God, God bless Davido for me.
Father DMW shares his story: Net worth in 2023 and Biography
What was your growing up like and what brought about the entertainment thing for you?
I wish I could start talking about my growing up now, but it is a long story my brother.
How long is the story?  story from Borno to Lagos
Let me just say I was born and raised in Gwoza Local Government area of Borno State.
I lived there till adulthood when I decided to come down to Lagos State to start life a new.
I am in Lagos now and I am focusing on getting better and becoming someone my people back home would be proud of.
Where I am coming from does not matter to me; my future is the most important thing to me right now.
SEE ALSO – Top 10 Best Dressed Male Musicians in Nigeria
Father DMW shares his story: Net worth in 2023 and Biography
How was life in Borno before coming to Lagos?
Life in Borno was fine because I was practically in school until the issue of Boko Haram started and everything got destabilised.
It was not easy sleeping and waking up in an environment where you were not sure of what could happen to you the next minute.
I couldn't think of staying in that place any further, so I decided to leave.
In Borno, I was well loved by the people, especially those who saw the comedy traits in me as a young boy.
They see me as an amusing personality who enjoys the company of people, interacting and making them laugh.
Father DMW story from Borno to Lagos and Net worth in 2023
So, you ran to Lagos?
I ran for my life and I arrived in Lagos to start a new life for myself.
I am happy that the decision is now paying off because I am beginning to live my dreams and living them well.
Boko Haram insurgency forced you to quit school?
I had to run to Lagos, My determination to succeed in life brought me to Lagos.
You keep coming up rib cracking skits that put many of your colleagues on their toes.
You have achieved this in a short time, What does this mean to you?
It reminds me that I have to keep getting better.
Making skits don't come as easy as people think because they see the finished material.
A lot of work usually goes into bringing an idea to life and presenting what was an idea to millions of people.
It is a lot of work and dedication.
I don't think I am keeping anybody on their toes because nobody has come to tell me I am keeping them on their toes;
Am just a young man trying to make life meaningful for himself.
I don't want to suffer, I don't want to live from hand to mouth.
I want to make a life for myself and those who are looking up to me.
And I just try to be as real as possible, One thing that has helped me a lot is my originality.
I think that's just the only difference, I am not the most creative skit maker.
Father DMW shares his story: Net worth in 2023 and Biography
You keep talking about Davido and Zlatan all the time; what is your relationship with them?
Let me put in a simple way: Davido is my godfather on earth while Zlatan is my godbrother on earth.
I can't begin to tell you what they have done for me.
It is not something I can explain but I am going to remain grateful to them in all I do.
But we heard that you left Davido's house and moved Zlatan's following your feud with the DMW gang.
That's not true, People like to bring out nothing from nothing.
I will never speak low of my benefactors till I die.
Father DMW shares his story: Net worth in 2023 and Biography
What influenced your choice of career?
My hunger for success is the bottom line.
All my life, I have always said to myself that I don't want to be poor or live beggarly life.
I want to be able to take care of myself and family.
So, every day I try to be better and work hard to keep pushing myself beyond the limits.
Secondly, I play a lot if you know me, so some of the jokes people see online were just me in my usual element playing and having fun.
Father DMW story from Borno to Lagos and Net worth in 2023
How did manage to build this brand?
Well, I will say I never understood anything about building of brand until now that I have a manager who knows more about what I am doing and also sees the business goal in my craft.
Like I said, I just want to have fun and make people happy but my management team felt we could turn this to this to a brand that other top brands will associate with.
So, that brought us to this level.
Do you think you have what it takes to sustain this momentum?
I didn't bring myself to this level; God did.
It is not because I am the smartest, it is just God.
But now I have to think of how to take it from here to another level.
This is why I am currently being managed by some of the best brains in the entertainment industry.
They have worked hard to ensure that we moved up the ladder. Things are looking bright now but we are not stopping.
People have not even seen the best of Father DMW.
Father DMW shares his story: Net worth in 2023 and Biography
They say you have suddenly become expensive to get now; is this true?
It is really not in my place to answer that question.
My manager will be in the best place to speak about that.
One thing that I am certain of is that nothing good comes cheap and I am sure you know that everyone is working hard to make money.
I want to make my mama proud also.
Your live Instagram video with popular model Eva has literally set tongues wagging.
Many are saying there is more to the video than meet the eye.
Father DMW shares his story: Net worth in 2023 and Biography
What is really going on between you two?
All I can tell you is that Eva and I are best of friends.
She cares about me and I do too.
You guys have been causing a lot of drama on the social media lately; where is this going?
When they try and catch you out in a lie but your bro has got your back 😂😭

New episode of the @evssofficial_ & @fatherdmw555 ft @MichaelDapaah pic.twitter.com/MSSrVf4Kyc

— Pulse Nigeria (@PulseNigeria247) April 11, 2020
A promised land I believe but sincerely I will just let God take it wheel.
Anywhere it leads, I am ready to ride. Eva is a beautiful and lovely woman.
From Borno to Lagos, how do you feel today ? | FatherDMW story from Borno to Lagos
I am the most grateful man on earth, I feel like God loves me more than anyone like this.
I am a symbol of grace.
How are you coping with this COVID-19; is it affecting online skits making? 
Covid-19 is working for me in a positive way and I think right now I am the president of the internet.
With my live video with Eva Apio, I never believe this time will come, but I thank God for all.
I am now entertaining the whole Nigeria effortlessly. The feeling is crazy, I think am enjoying my time.
Father DMW Net worth in 2023
It is estimated that Father DMW has a net worth of one hundred twenty thousand dollars in 2023 ($120,000), which equals around 54,154,080 Nigerian Naira.
In the past, he served as a messenger and keeper for Davido and his crew in Lekki, assisting them with various errands.
Now that Davido and Zlatan Ibile have contributed to his success, the 30-billion gang carrier can brag about his status as a superstar.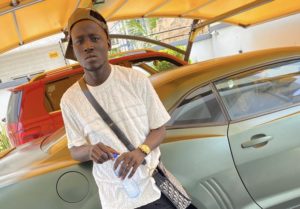 FAQ: How did Davido meet Father DMW?
The story was told by Father about how one of his friends who lived in Davido's house also frequented the house himself.
After they finally had a chance to talk, Davido surprised him by presenting him with a brand-new bicycle to help him get his business off the ground.
On that note, we are halting this article here, let us know you think and how his story inspires you via the comment section below.