Top 8 Fast Rising artists making waves in Nigeria, The best upcoming artists in the street of Naija in 2023 Via Afrokonnect.
First of all I will like you to know that there are a lot of talented up and coming artists in Nigeria that are making different genres of music,
Some of them make Pop, RnB, Reggae, Blues, Rap, Soul, Alte and so on,
More so, this list is for the artist making Street and Afro-beat music,
They represent the street and the life in the street, from their music lyrics to their Dressing and lifestyle,
Notably the style is largely credited to indigenous rap veteran, Olamide.
Over the years we've seen the genre and style fused with other genres,
The evolution has proven to show the diversity in the creative space in Nigeria.
In light of this, we made a list of 8 new age street-hop Fast Rising artists making waves in Nigeria, who are upcoming but redefining the sound.
You can read our article about The Altè music and how the Altè fashion is taking over the world.
Bella Shmurda
Akinbiyi Abiola Ahmed known professionally as Bella Shmurda broke out following the release of his single titled Vision 2020 featuring Olamide,
With the help of his friend "Poco Lee" who's a dancer and street hop personality, Bella was linked with couple of influential Nigerian stars,
As a student of LASU Bella Shmurda used to go from one club to different shows just to perform, sometimes free,
He released his debut project titled High Tension 1.0 and gradually started getting attention,
Currently Bella is arguably the most loved breakout talent in the industry,
Bella is loved not just by his fans but also by the celebrities as we've seen in the past,
Haven featured Olamide on his personal project Bella was featured by Davido on his album A BETTER TIME,
In the early 2021 a report surfaced that Wizkid Flew Bella Shmurda to Ghana to record music and even gifted him $2000,
While the story of Bella Shmurda's rise is a dream to many up and coming artists,
We have to credit Bella's ability and talent to capture the strength and struggles of young underprivileged Nigerians through his lyrics, sonic range and vocal grittiness.
Ever since, Bella Shmurda has continued to top his works from eclectic heavyweight collaborations with the likes of Runtown, Zlatan, Masterkraft and others,
With hit singles like Cash App alongside Zlatan, Rush and World amongst others,
His drive further earned him a spot on the Headies Award show as a nominee for the Next Rated artiste.
The Dangbana Republik leader is conquering more ground with his much-anticipated sophomore project, Hypertension 2.0.
Discover how much is Bella Shmurda Net worth and Biography.
Fast rising artists in Nigeria 2023
Mohbad
Another Street artist on this list is the one and only Mohbad who's the Marlian and No Belt gang Representer,
Ilerioluwa Dimeji Aloba Professionally known as Mohbad is a talented Nigerian Street-hop artist,
He started building his fanbase and audience by posting his freestyle videos on social media before he got signed by Naira Marley in 2019.
By the year 2020 his song Ponmo Sweet featuring Naira Marley and Lil Kesh rose to 18th on Billboard's Top triller global chart,
City People Magazine nominated him as the revelation of the year in 2020,
Following the release of KPK alongside Rexxie everything changed for the Lagos breed sensation.
Mohbad and Rexxie's KPK was one of the December jams that helped retain that air of festivity,
He is currently running the airwaves with his profound storytelling on Sorry off his EP titled LIGHT released in 2020.
Zinoleesky
Very few Nigerian musicians can create melodies in Yoruba the way Zinoleesky does,
He's an outstanding Soulful singer who emerged in 2019 as one of the new voices in the street,
Before June 2019 Zinoleesky was regarded as an Instagram sensation who thrilled his fans and viewers with short clips,
Today his status has changed and he's regarded with accolades as a proper artist,
To his credit are singles like Ma Pariwo, Caro alongside his label boss Naira Marley among others,
After he got signed by Naira Marley to Marlian Music,
Zino released his debut EP Chrome Eccentric which houses the hit single Kilofeshe.
Read More about Zinoleesky Biography and Net Worth.
Upcoming Nigerian female artists
Candy Bleakz
Well, a lot of people think females don't do hardcore street music,
Candy Bleakz has defiled all odds and she's writing her name in the history books,
Akiode Blessing is the full name of Popular female rapper known as Candy Bleakz,
In 2020 one of Nigerian's prestigious record label "Chocolate City" signed the female pink-haired rapper,
Immediately after she got signed Candy release Kelegbe and Won La under the Imprint,
The Self proclaimed 'Ladies Dragon' went on to become one of the Fast Rising artists making waves in Nigeria.
In 2021 she kept the same energy, with her uncontested fire bars and energetic flow on her single titled Baba Nla with Teni,
Her standout track Owo Osu with Naira Marley and Zlatan have proved Candy Bleakz has what it takes to take it to another level.
Thamarvel
Rotimi Tosin Iyanuoluwa popularly known as Thamarvel is a professional entertainer and a performing artist,
Popularly known for his distinct style, street credibility, passionate creativity as well as maintaining an eclectic energy,
Thamarvel is bridging the gap between the average listener and his conventional audience.
In early 2020 Thamarvel put out his Debut Album, an epic body of work titled THE UNTOLD with 15 Solid Tracks,
In late 2020 Thamarvel also released an Extended play (EP) he titled BALL which stands for "Better at Love Letters",
He released another single titled "Melodies in my Head" in 2021,
The song had positive reviews and feedback on the radios, charts and Streams.
MUST READ: Upcoming Artist Guide – Advice to all Upcoming Artists.
Lyta – 

Fast rising artists in Nigeria 2023

Opeyemi Babatunde known Professionally as Lyta is a Nigerian based Street act,

READ MORE: Lyta Shares What Happened Between Him And Olamide [YBNL Exit Issue]

In the article above Lyta explained his YBNL journey and his new home in Marlian Music record label,

After a little set back in the beginning of his career, the street-hop musician has been flourishing and serenading the airwaves with,

Some of his released songs includes Hold me Down, Monalisa, Everybody, Are You Sure which features his label mates,

Read More about Lyta Biography and Net Worth.
Who is the best upcoming artist in Nigeria 2023?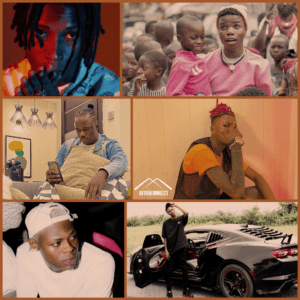 Because of the vast number of talented up and coming artist we have in Nigeria,
It is very hard and almost impossible to point out a single name as the best upcoming artist in Nigeria,
However, we hope you find some of the most promising ones in this page.
Otunba K9ine
Abolaji Emmanuel Olusegun is a professional Afro-beat and Street up artist from Lagos, Nigeria,
He's popularly known as K9ine, often times styled as Otunba Ke Nhyne or Shidede Balenciaga Mangala.
Over the years K9ine has released couple of songs and has collaborated with some of the big names in the industry,
One of his most recent project was titled "Turn by Turn", The song was released under the Garfield Imprint,
In 2021 he released another song titled KULU DOWN, the song has been making waves in the Street since its Release.
Fast Rising artists in Nigeria 2023
Jamopyper
Some Nigerians and Ghanaians got to know about Jamopyper after his energetic performance at the Headies award,
But the truth is he has been making waves from the moment Zlatan Signed him to the Zanku Records,
Jamopyper has proven to be a good investment musically,
It is an indisputable fact that the Nigerian musician is one of the voices pushing street-hop to heights of glory.
His song "If No Be You" featuring Mayorkun was a certified hit in the street,
His performance at the headies established the fact that he hadn't happened there by chance.
Jamopyper subsequently gained more recognition as one of the new school tastemakers of the scene,
His recent hit single Better Better is proof of his steady rise, with the remix alongside Davido sealing deal.
Fast rising artists in Nigeria 2023
Below is a visuals of top 10 Nigerian Upcoming artists to watch out for, by Waploadee:
TOP 8 Fast rising Street-Hop Upcoming Artist in Nigeria 2023
Bella Shmurda

Mohbad

Zinoleesky

Candy Bleakz

Thamarvel

Lyta

Otunba K9ine

Jamopyper
On that note, we've come to the end of this article about the Top 8 Fast Rising artists making waves in Nigeria in 2023 Via Afrokonnect.