Welcome to this post about Ajebo Hustlers Biography, Music career, Net worth in 2023 and more interesting facts via Afrokonnect.
Even in the midst of a pandemic in 2020 the Nigerian music industry still produced lots of hit songs and talented artiste,
We've seen a lot of internet sensation blow up during the pandemic,
This was because most people were on their phone and laptop surfing the internet with nowhere to go,
The likes of Ajebo hustlers, Omah lay, Tems, Laycon, FatherDMW Etc were some of the talents that blew up in 2020,
Well, the pandemic is over and we still have these same talents dishing out back to back bangers,
It goes to shows that they're actually talented, Creative and good musicians,
That is why we went back to the roots and made a research about one of the Duo's that are currently on the rise today,
More so, from the stables of Afrokonnect we will be unleashing the untold stories and facts about the fast rising Nigerian music Duo popularly known as Ajebo Hustlers.
Biography Of Ajebo hustlers, Net Worth in 2023 and Facts
Before we move any further with this article about Ajebo Hustlers biography,
It's only right to know where they came from, their background information like Real names and early life.
The Ajebo Hustlers is a two man group formed by Isaiah Precious and George Dandeson,
From their surnames you can tell they're not biological brothers so I suggest that settles the rumors about their relationship,
Even though they both grew up in Old GRA, Port Harcourt, River state Nigeria, Ajebo Hustlers are not brothers.
Consequently, the Ajebo Hustlers is a Nigerian Afrobeat and Highlife duo formed in 2014,
The group consist of Isaiah Precious known professionally as Knowledge,
And, George Dandeson known professionally as Piego,
Knowledge is usually the one that Raps on their songs with his hard bars and Catchy lyrics,
While Piego serves as the singer and takes most of the hook.
For clarification, below is a picture of both (Piego Left & Knowledge Right);
The two meet in 2010 while working in a restaurant in Port Harcourt,
They started making music together after Piego had invited Knowledge to his studio,
Now let's take a look at their Career, Songs and how it all started.
MUST READ: Top 8 Fast Rising Artists making waves in Nigeria
Ajebo Hustlers Career, Net Worth in 2023 and Biography
I know most Nigerians and people outside of Nigeria only got to know about Ajebo Hustlers after their groundbreaking single titled Barawo,
But there's more to that, Incase you don't know these guys have been active in the game for years now,
Piego who's known as the master of hooks and choruses released his first piece of work in 2014,
That was about the same time the two agreed to team up and form Ajebo Hustlers.
Subsequently, they released their first single titled "Bole And Fish",
Following the success of "Bole And Fish" the duo attracted collaboration with top performing acts like Kayswitch who appeared on their 2015 released single "Buruku".
Ajebo Hustlers released their first body of work which was an Extended Play project tagged "New School Oldies" in 2017,
The project had featured appearances from Yung6ix, Soma, Terry Apala, Major Bankz.
In the year 2021 they released another song titled Pronto featuring Omah Lay,
The song became an instant hit serving as a back up to their previously released banger Barawo.
Career and Style of Music/fashion 
When they came into the music scene most people fell in love with their Street vibes and credibility,
The duo's style of music imbues slangs and snappy expressions which ensure agreeableness.
Their single Barawo became a National mega hit,
While the song was still trending, they wasted no time in featuring International afrobeat star, Davido,
Even though the song was already a certified hit, Davido gave it another edge of sharpness and took it to another level as usual.
Following the success of Barawo in 2020, they duo featured Omah Lay on a song they called Pronto.
During a recent interview Piego was asked about description of their kind of music,
He referred to the style as "Katakata Music" which is a fusion of Afrobeat, Highlife and different genres of music.
You can watch one of their interview below where the two spoke extensively with NdaniTv;
Songs and Discography 
Like we've stated earlier these guys are not newborns, they have released bangers on bangers,
Below is a list of some previously released music by Ajebo Hustlers;
Yafun Yafun

Pronto

Barawo

Light

Appian Way

Sweet You

Blessed

Plenty Things

Ketu

Symbiosis

Light

Kpos Lifestyle, Vol. 1 (2021) – ALBUM 

Bad boy Etiquette 101 (2022) – ALBUM

Tamuno

Sweet You

Blessed

Kalaku
Ajebo Hustlers Net Worth in 2023
Expertly they're famous as Ajebo Hustlers so their net worth here is combined,
Like most musicians, Ajebo Hustlers make their money through streaming royalties, Endorsements, Appearances and performance fee,
The official visuals of their song Barawo featuring Davido has over 1.5 million views on YouTube,
While Pronto featuring Omah lay has over 2.5 million views on YouTube.
From our findings and research we've estimated Ajebo Husters to have a Net Worth of ($) 150,000 United States Dollars which equals around 61,546,500 Nigerian Naira.
Profile Summary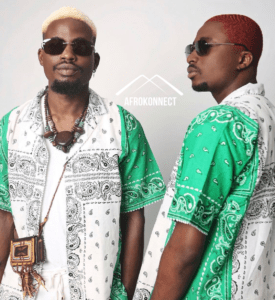 | | |
| --- | --- |
| Real names | Isaiah Precious, George Dandeson |
| Stage name | Piego, Knowledge (popularly called Ajebo Hustlers) |
| Nationality | Nigerians |
| Residence | Lagos, Nigeria |
| State of origin | Rivers state, Port harcourt |
| Occupation | Singers & Songwriters |
| Genre | Afrobeat, highlife |
| Net worth | $150,000 |
Social Media Handles
They are active users of the social media and you can follow them on;
Instagram: @ajebo_hustlers

Twitter: @ajebo_hustlers
ALSO READ: Maryam Musa Waziri Biography, Career, Husband and Net worth
FAQ
Are Ajebo hustlers brothers?
Isaiah Precious and George Dandeson professionally known as Ajebo Hustlers are from same state in Nigeria but the duo are NOT brothers or relatives by blood.
Which record label is Ajebo hustlers?
The label Responsible for their content management & contract is known as Avante Entertainment,
While The Plug Entertainment handles their music distribution.
Where is Ajebo hustle from?
The Ajebo Hustlers are from Port Harcourt, Nigeria,
They grew up in Rivers state, precisely in Old GRA part of the state. That is where most of their inspiration came from.
What is KPOS Lifestyle
This is a slang used mostly in their song and is sometimes referred to as their tag,
So when you hear Kpos lifestyle in a song, you know it's Ajebo Hustlers on the mic.
Finally, with the above information we've come to the end of this article about Ajebo Hustlers Biography, Music career, Net worth in 2023 and more interesting facts via Afrokonnect.

Kindly let us know what you think via the comments section below before you leave.