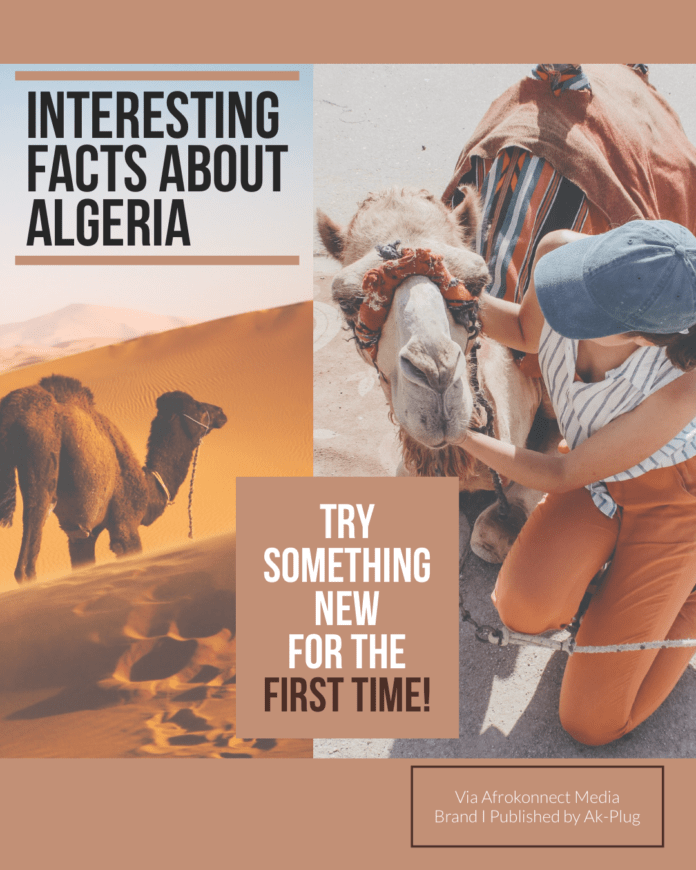 Top 10 Most interesting fun facts about Algeria you probably don't know via Afrokonnect.
Africa is blessed with so many natural resources,
Obviously one of the most naturally endowed continents in the world.
One of the countries in Africa that cannot be overlooked in the continent is Algeria,
Mostly because of the intriguing facts about the country,
Also, Algeria is arguably one of the most beautiful countries on the African Continent,
Their women are beautiful, the men are handsome and the county is conducive for foreigners.  
In this article we are going to discuss some amazing fact about Algeria and see what makes the country so interesting for tourist and foreign direct investment.
Before we proceed, I will like to give you a background information about the country, thus:
Algeria's official name is the Peoples Democratic Republic of Algeria,
the country is situated in the Maghreb region of North Africa.
In addition, Algeria is the largest country in the African continent.
Now it is time to explore the interesting fact about Algeria and without taking too much of your time lets proceed.
Top 10 Most interesting Fun facts about Algeria 2023
10. Algeria is the largest country located in the African Continent
You probably already know Africa is the second largest and second most populus continent in the world only behind Asia,
But did you know Algeria is the largest country representing Africa in this race?

Well, now you know Algeria is the largest country in africa in case you didn't know.
Though before 2011 Sudan held that title,
However, following the independence of South Sudan and the separation of South Sudan from Northern Sudan, Algeria claimed that title till date.
The most interesting part is that Algeria is not just the largest country in Africa but it is also the tenth-largest country in the world with 2.382 million km².
Is Algeria rich or poor?
9. Algeria is the largest exporter of natural gas in Africa
Algeria is the largest exporter of natural gas in Africa and second largest exporter in the world only behind the United States of America,
Currently, Gas trade is transported by sea, Fortunately for Algeria, the Mediterranean Sea borders Algeria to the north.
The Mediterranean Sea lies between southern Europe, northern Africa and southwest Asia.
The sea also connects to the Black Sea to the northeast through the Dardanelles, the Sea of Marmara, and the Bosporus.
Over the years, Algeria's access to the sea has been of great advantage to the countries economy with Algeria recording it's highest export of 39,459,000,000 gas (numbers are in cubic meters).
The country is dominated by regional and middle power,
It supplies a large amount of natural gas and oil to Europe.
Algeria has the 16th largest oil reserves in the world and the second-largest in Africa,
As a result of this possession, Algeria attract a lot of foreign Direct Investment (FDI).
While it has the 9th largest reserves of natural gas,

It's economy heavily depends on exporting natural gas and oil.
This natural endowment has granted Algeria access into the Organization of the Petroleum Exporting Countries (OPEC).
What's interesting about Algeria?
8. The land in Algeria is covered mostly by Sahara Desert
Sahara is the world's largest desert and it extends across most of the northern part of Africa,
This happens to be where Algeria is located,
Their vast land mass in the rich northern coast is often characterized by the hot and dry deserts.
Statistically, about 90% of the total land of Algeria is covered by the Sahara Desert,
Making it very hot and for that reason a huge chunk of their population relocate to the capital, Algiers.
Kindly note that despite the abundant land mass algeria posses,
Only 12% of Algeria's landmass is inhabited.
 7. Algeria recorded the 2nd Hottest temperature in the world – Interesting Facts about Algeria
In point 8, if you remember we stated that about 90% of the total land of Algeria is covered by the Sahara Desert,
Naturally, areas dominated by desert (Sahara) attracts heat because of the high position of the Sun, extremely low relative humidity, lack of vegetation and lack of rainfall contributes in making it the hottest region in the world,
In Algeria, the world's highest temperature recorded was 124 degrees Fahrenheit only behind Libya,
In 1922, a temperature of 136°F was recorded at El Azizia, Libya.

This was eventually certified by the World Meteorological Organization as the hottest air temperature ever recorded on Earth.
6. Significance and meaning of the 3 colours in the Algerian Flag
First of all, the colors on the Algerian national flag are white, green and red,
The 3 colors in the Algeria's modern flag have different meaning,
As the three colours symbolize specific points just like many countries have a story behind their flag.
The white colour on Algerian flag symbolizes peace and purity,
Similarly, the green color symbolizes Islam as well as nature and Paradise.
Lastly, the red color on the Algerian flag symbolizes the deaths and the sacrifices of all the people who fought for the independence of Algeria,
Furthermore, the red colour stands for liberty.
SEE ALSO:
5. Gender Equality and Women Rights are of High Priority in Algeria
Aside the fact that women in Algeria are very beautiful, they are also very much hardworking,
Most times they are regarded as bread winners as they greatly contribute to the amount of household income than men.
Check our article about top 10 African Countries with the most beautiful women.
In the Algerian judiciary, more than 70% of lawyers and 60% of judges are women,
Also, the constitution of Algeria guarantees equality between genders whereby Women can vote and run for political positions.
Notably, during the 1962 Algerian War of Independence, Algerian women fought as equals alongside men.
As a result of their bravery they achieved a new sense of their own identity and a measure of acceptance from men,
Rightly so, today the Algerian constitution guarantees women the right to own land and property freely.
Fun Facts about Algeria C
ulture
4. Mint Tea is a very much popular tea in Algeria
Algeria is one country in Africa that is so famous for its mint tea,
To the extend that mint tea now contribute hugely to the Algerian economy as part of their international export,
Mint tea is a very lucrative business in the country as you can find many tea rooms as well as tea bars in Algeria,
Algeria alongside Morocco's famous mint tea is a symbol of hospitality and culture.
Algerians are known for drinking tea throughout the day and they even serve visitors tea as a way of showing care and love,
If eventually you find yourself in Algeria,
Note that declining tea offers in the county is considered as a disrespectful act,
And if you are a tea lover then you can easily enjoy Algerian tea when you visit the country.
Mint tea known as Atay is the most popular and auspicious gift in Algeria,
More so, this is a common daily practice and habit in Algeria as well as in North Africa where mint tea is mostly common to the locals.
The Algerian Mint Tea is prepared by boiling dried green tea and fresh mint leaves in water and sugar,
After boiling the tea it is then poured in small glass cups from very high to allow the hot water to oxygenate.
Why is Algeria a good country?
3. Algeria is one of the richest countries in Africa
Even though Africa is abundantly blessed with natural resources,
A huge chunk of the world's poorest nations are located in Africa,
It is also important to note that some African countries like Algeria, South Africa, Nigeria, Egypt and co are regarded as wealthy nations in term of GDN and GNP.
Algeria is one of the richest countries in Africa,
The country owns a reservoir of oil and natural gas.
Needless to say oil and gas are some of the most sought out natural resources,
Most of Algeria's revenue is generated through selling oil and natural gas,
Reducing the poverty rate in Algeria to as low as 5%,
World Bank even classified Algeria as an upper-middle-income country.
The GDP of Algeria in 2022 was recorded at $163.512 billion with a GDP per capita of $11,829.
2. Algerian Seven World Heritage sites – Fun facts about Algeria
In case you don't know Algeria is fortunate to have seven UNESCO World Heritage sites,
Namely; AI Qal'a of Beni Hammad (the first capital of the Hammadi empire), Tipasa (a former Phoenician and later Roman town), Djémila, Timgad, Kasbah of Algiers, M'Zab Valley and Tassili N' Ajjer.
These are very much popular sites all over the world and tourists love to visit these places,
If you're a tourist planning to visit Algeria we recommend you include this places in your top priority list.
Interesting Historical
 fun facts about Algeria – 
Is Algeria a known country?
1. Algerian Revolution – The Algerian War
This is the day Algeria as a country became independent and got liberated from external impediments,
1st November is the day Algerians celebrate their national freedom day,
A day they gained worldwide recognition as a sovereign nation.
This day is also known as a revolution day in Algeria,
Because they finally won their bid for independence from France.
The Algerian War sometimes referred to as the Algerian Revolution or the Algerian War of Independence was fought between France and the Algerian National Liberation Front from 1954 to 1962,
The outcome of the war led to Algeria winning its independence from France.
This day is special to the Algerian people and is celebrated every year on the 1st of November.
These are some most interesting facts about Algeria and you can find the summary of information about Algeria below.
Summary – Fun Facts about Algeria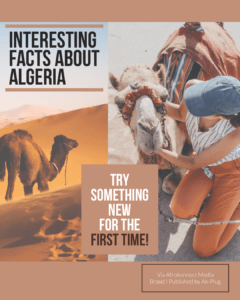 | | |
| --- | --- |
| Official name:  | People's Democratic Republic of Algeria |
| Size and Area:  | 2,381,741 square kilometer |
| Population: | 45.5 million |
| Population density: | 17.7/km2 |
| GDP: | $532.565 billion (PPP) |
| Continent:  | Africa |
| Capital: | Algiers [El Djazaïr] |
| Spoken Language:  | Arabic, Berber, Algerian Arabic, French |
| Official Languages: | Arabic, Berber |
| Religion:  | Sunni Islam -99%, 1% Other |
| Government:  | Unitary semi-presidential constitutional republic |
| Currency:  | Algerian dinar (DZD) |
| Time Zone:  | UTC+1 (CET) |
| Dialing code: |  +213 |
SEE ALSO:
What is the capital of
 Algeria – 
Fun
 facts about Algiers, Algeria'a Capital 2023 
The video below is about Algiers, the most beautiful and Developed city in Algeria, watch and enjoy;
This brings us to the end of this article about the top 10 most interesting facts about Algeria and Fun Facts you don't know via Afrokonnect,
Hopefully you enjoyed this post, let us know what you think via the comment section.