This post is about the Cavemen Biography, Songs, Root Album and Net Worth in 2023 via Afrokonnect.
First of all, The Cavemen as an entity or a Band was founded in March 2018,
They're a Lagos based Nigerian highlife combination band established by siblings, Kingsley and Benjamin Okorie.
They are singers, songwriters and record producers credited for some of the notable projects in the Nigerian entertainment industry.
The Cavemen Biography, Net Worth in 2023, Early Life & Career
The duo "Kingsley Okorie" and "Benjamin James Okorie" were born in the city of Lagos in the early 90's.
The brothers discovered their love for music at an early age while attending church.
Though they were born in Lagos, They both hail from the Southeastern part of Nigeria.
Benjamin picked interest in drums and taught himself how to play the instrument,
While Kingsley learnt how to play keyboard and bass.
While Growing up, they listened to lots of songs,
Their mother played mostly gospel songs while their father loved listening to the likes of Michael Jackson, West Life, ABBA and others.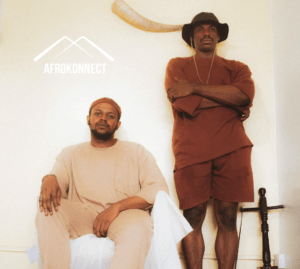 However they credit their driver for introducing them to high life because he always played Oliver De Coque's songs.
This was where their love for highlife grew from according to them,
Kingsley is the elder of the siblings, Kingsley studied law in Kano state while Benjamin went to a music school.
The Cavemen Biography, Net Worth in 2023, Early Life & Career
After their studies, the brothers officially formed a band in 2018, which has always been their dream.
They call their genre of music, Highlife Fusion which is a mix of afrobeats, jazz, highlife and soul music.
Over the years, the artists have collaborated with top music acts such as Lady Donli, Bez, Asa, Onyeka Onwenu.
The duo are credited for producing Lady Donli's debut album, "Enjoy your Life"which was released in 2019.
According to them "We met Lady Donli in 2018 at Tamerri Festival in Abuja".
In 2020, their debut album 'Roots' was released to critical acclaim.
The album has over 482.2k streams on Spotify and it has been streamed in over 91 countries.
Their album "Roots" was nominated and won the Best Alternative album at the 14th Headies Music Awards.

The album houses 16 songs and was released under the "From the Roots" imprint.
You can watch the official trailer for The Roots as the Caveman carry their fans through the process;
The Cavemen Net worth in 2023
Following the success of their breakthrough project The Cavemen record an estimated net worth of $250,000 which equals over 103,485,000 Nigerian Naira,
You can come back to this page again as we'll be updating this page with relevant information for you.
Social Media
They're active users of the social media and you can follow them on Instagram @the.cavemen.
Also read about: Iking Ferry Biography, Awards and Recognition
On that note, this brings us to the end of this post about the cavement, the sensational Nigerian music star.