Welcome to Nomcebo Zikode Net worth in 2023, Biography, Background Information and Career via Afrokonnect.
In this post we're going to reveal some important things about your favorite South African entertainer,
But before we proceed I'll like to take you through a quick rundown of her journey and Personal information,
Nomcebo Zikode is a professional South African female musician currently based in South Africa,
She was born in 1985 and also drives her origin from Hammarsdale in KwaZulul-Nata, South Africa.
Nomcebo Zikode began getting massive attention in the South African entertainment industry after she won a talent show on Ukhozi FM in 2003,
The show was headed by Tshepo Nzimande and that was literally one of the platforms that elevated her career.
Influence of "Jerusalema" on Nomcebo's career
More so, She came into the mainstream after her hit single "Jerusalema",
Jerusalema has more than 300 million views on YouTube alone,
The song has crossed the borders of South Africa and has topped the charts in most-streamed music in Africa.
A song she collaborated with Master KG, another popular male south African artist,
According to Nomcebo the collaboration with Master KG was a starting point.
During a recent interview with TshisaLIVE Nomcebo laughed at rumors that "Jerusalema" was her "one-hit" song,
She added by saying the song "Jerusalema" didn't only top charts in African countries,
But also earned her international fame and recognition,
For Example, Afrokonnect is a Nigerian based brand but we're writing about Nomcebo Zikode because she's also big over here,
She sees it as a springboard to bigger scores,
Nomcebo Zikode and KG went on to feature Grammy award winning artist "Burna Boy" from Nigeria on the remix of Jerusalema.
READ ALSO:- Best dressed South African Celebrities and Musicians 
Like I said earlier, our focus on this page is about Nomcebo Zikode's biography, songs and her net worth,
So without wasting too much time let's dive into the next section of this article.
Nomcebo Zikode Biography, Education, Songs and Net worth in 2023
If you read from the top of this article then I am sure by now you know Nomcebo Zikode was born in KwaZulu-Natal,
While growing up She started her basic education at attended Ukusa High School, Mpumalanga, KwaZulu-Natal,
She went on to continue her education at Havatech College, where she studied Information technology and graduated in 2006,
During her childhood days and when she was still in school Nomcebo was laughed at for choosing to become a singer, as a profession,
She is currently a superstar who resides in the city of Johannesburg, focusing on her music career and making money.
Nomcebo prefers to keep her personal relationship off the media so for that reason we will respect that and skip it for now.
So, It is time to turn our attention to her Professional music career and her spotlight.
Nomcebo Zikode Career, Songs and Net Worth in 2023
Professionally Nomcebo Zikode started her career in the music industry with her first official single "Imizamo Yami",
Imizamo Yami by Nomcebo was a song about unreturned love and how much it hurts,
Even though her song "Jerusalema" alongside Master KG is often regarded as the biggest milestone achieved byZikode,
It is worthy of notice that Nomcebo Zikode started getting the spotlights after she won a talent search on Ukhozi FM in 2003,
A show headed by Tshepo Nzimande which had other runner ups such as Lundi, S'fiso, Kholeka, Nhlanhla Nciza, and Zahara,
More so, Before the Ukhozi FM show Nomcebo Zikode use to be a backup vocalist for South African singer, Zahara.
Nomcebo Zikode Biography, Career, Songs and Net worth in 2023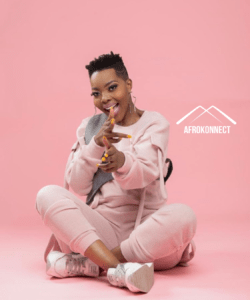 Over the years Nomcebo Zikode has worked with various artists including DJ Ganyani, DemogulSA, Burna Boy, Bongo beats, Master kG among others,
Herself and DJ Ganyani created Ganyani Entertainment, She got signed by Ganyani Entertainment as an artist,
Where she provided vocals for songs including "NTO", "Jabulile", and "Emazulwini",
which received a nomination for Record of the Year at the SAMA awards.
READ ALSO:- Bonang Matheba Biography, Lifestyle and Net Worth 
However, because she didn't own the songs, she was not permitted to perform them without the consent of the label,
Currently She is also affiliated with Open Mic Production Imprint as they are responsible for distribution of her Contents including Jerusalema,
In the interview below Nomcebo Zikode talked about her personal life, Jerusalema, Xola Moya Wam, Collaborations and more;
Watch interview with Dj SBU and Enjoy below;
Nomcebo Zikode Songs and Albums
Officially Nomcebo Zikode is signed to the Open Mic Production music label,
She did a few collaborations as a solo musician before she got signed up and earned herself a spot in the rough South African music industry.
She has few collaborations to her credit and they are listed below;
Dj Ganyani – Emazulwini (Mas Musiq Remake) ft. Nomcebo

Bongo Beats – Thando Unamanga ft. Nomcebo Zikode

Dj Mshega – Impilo ft. Nomcebo

Mobi Dixon – Kobanini Ft. Nomcebo & T-Love

Master KG – Jerusalem Ft. Nomcebo

DJ Ganyani – Emazulwini (Villager SA Afro Remix) ft. Nomcebo

Master ChengFu – Nguwe Ft. Nomcebo Zikode

Professor – Sobablili Ft. Nomcebo

Eyadini Lounge – Jabulile Ft. DJ Ganyani & Nomcebo

De Mogul SA – Nto featuring Nomcebo

DJ Ganyani – Emazulwini ft. Nomcebo
She also has to her credit other singles such as;
Yini

Thando Unamanga

Nguwe

Imizamo Yami Ft. Bongo Beats
On August 20, 2020, she released an album titled Xola Moya Wami.
The 9-track album has songs such as Bayabuza which featured Bongo Beats.
She featured Master KG in the album's debut track title Xola Moya Wam'.
The songs contained in Nomcebo's Xola Moya Wami album are;
Bayabuza

Xola Moya Wami (Radio Edit) feat. Master KG

Indlela (Radio Edit)

Njabulo

Ngiyesaba feat. Makhadzi

Xola Moya Wami feat. Master KG

Imizamo Yami feat. Bongo Beats

Indlela

Siyafana
If you'll like to stream her album Xola Moya Wam then STREAM HERE.
Nomcebo Zikode Net Worth in 2023, Awards and Recognitions
Aside being a brand ambassador to a lot of top brands, She earns a huge chunk of her wealth from her music sales and events performances,
Just recently Nomcebo Zikode received an Honorary award from AEA foundation in Togo representing South Africa,
The Jerusalema singer was nominated for the Rookie Award at the 2019 Backing Vocalists & Session Musicians Awards (BVSM).
Nomcebo Zikode is also a representative of DSAC (Department of Sports, Arts, and Culture), South Africa.
Nomcebo Zikode net worth is currently estimated at $500,000 (United States Dollar) which equals 7,231,500 South African Rand.
READ ALSO:- Top 5 Best South African Rappers 
Profile Summary
| | |
| --- | --- |
| Name | Nomcebo Zikode |
| Nationality | South African |
| Date of Birth | 1985 |
| Place of Birth | KwaZulu-Natal, South Africa |
| Net Worth | Est $500,000 |
| Marital Status | Single |
| Occupation | Musician, Entrepreneur  |
FAQ
Who is nomcebo zikode husband?
Nomcebo Zikode is married to Selwyn Fraser and they have two children,
Her first born is Ziyanda and the second is Mnotho, Nomcebo Zikode and Selwyn Fraser have been married for years now.
What language does nomcebo zikode speak?
Different sources on the internet suggest Nomcebo Zikode speaks "isiZulu",
IsiZulu is one of the most widely spoken language in South Africa.
How much money did jerusalema make?
A lot of people have been asking How much money did jerusalema made,
Well According to News24 Master KG has an estimated average of 41.4 million streams per month.
We estimate Master KG to be making R443,000 (USD 26,111) per month, which translates to R4,888,920 since the song was released.
There are other non-monetary views that Jerusalema gets such as 326.6 million impressions on TikTok.
Now that's the end of this article about Nomcebo Zikode Biography, Background Information and Net worth in 2023 via Afrokonnect,
We hope you enjoy it, please don't forget to share this on Social media and let us know what you think via the comments section below.