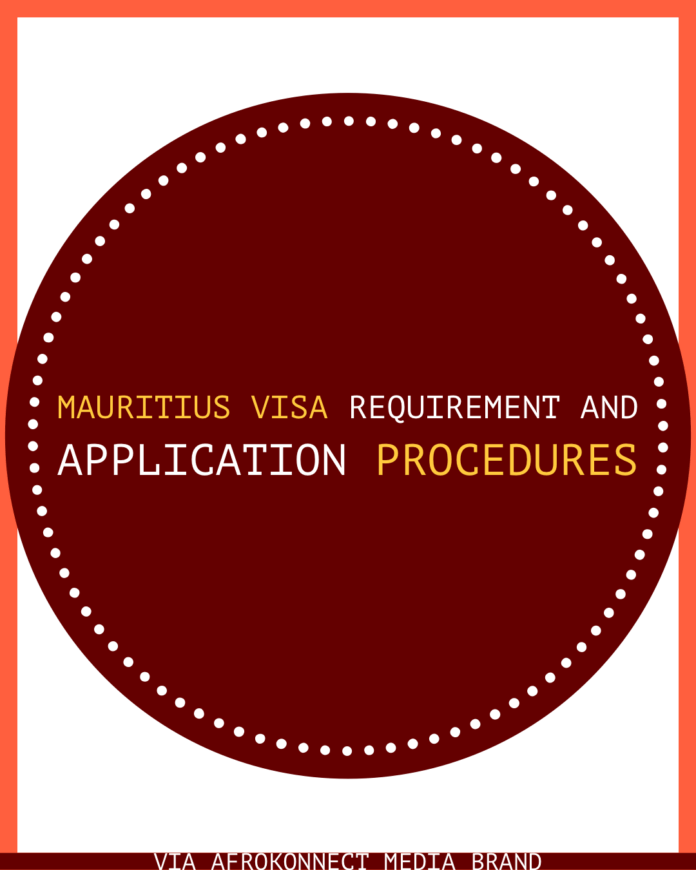 Welcome to this article about Mauritius Visa requirements and application procedure via Afrokonnect.
Are you imagining a destination that is ideal for a holiday,
A location with beaches that have been kissed by the sun and palm trees that are lush and green?
If so, then you are probably thinking of the island of Mauritius.
Mauritius is the perfect tourist destination for a beach vacation or honeymoon because it has everything you could possibly need.
Mauritius is home to a large number of opulent beaches,
The island also features a rich variety of tourist destinations and several activities for everyone.
This article will guide you with detailed steps you need to follow in order to obtain your Mauritius visa,
If you are a citizen of Nigeria planning a trip to the island nation of Mauritius this post is for you,
Even if you're not a Nigerian this article is equally for you,
Because the procedures involved in acquiring a Mauritius visa is still the same. So let's dive in.
WHERE IS MAURITIUS LOCATED?
The island nation of Mauritius can be found in the Indian Ocean, off the southeast coast of the African continent.
Mauritius is a veritable tourist haven thanks to its abundance of stunning beaches and welcoming culture.
Any time of the year is a good time to visit Mauritius since it will provide you with an unforgettable experience.
Additionally, the country is well-organized, and both its economy and administration are stable.
In 1968, Mauritius successfully declared its independence from Britain.
Since that time, the nation's economy has transformed from one that was dependent on agriculture and produced a poor income,
To an economy that is highly diversified and produces a high income.
The country now derives it's income from tourism, textiles, sugar, and financial services.
People refer to Mauritius as "the Mauritian Miracle" and the "success of Africa",
Literally because of the manner in which the country has prospered over the course of it's history.
The island nation of Mauritius is one of the most popular tourist destinations in the world.
In point of fact, the tourist industry is the fourth largest contributor to the economy of Mauritius.
All of these factors come together to explain why Mauritius is considered by many to be the best place in the world to spend a vacation.
Discovering everything that Mauritius has to offer, including it's almost 200 activities, sights, and locations, is a fantastic experience.
Traditional museums, parks and reserves, sea cruises, island tours, and other activities are included in this category.
HOW TO TRAVEL TO MAURITIUS
Flying to the island nation of Mauritius is the fastest, most comfortable, and most reliable way to get there.
One of the airlines that provides service for flights between Nigeria and Mauritius is called Air Mauritius.
South African Airways, British Airways, Air France, and Lufthansa are just few of the other airlines that operate.
Even if they make stops along the way, many of these airlines nevertheless consider their service to be a direct trip.
You have the option of flying with any of these airlines that offer scheduled service between Lagos and Mauritius,
Provided that you have the financial means to accommodate their layovers.
APPLYING FOR MAURITIUS VISA FROM NIGERIA
The island nation of Mauritius provides visitors with the opportunity to get a visa valid for 14 days upon arrival to the country.
A Nigerian citizen who is in possession of this visa is only permitted to visit the nation for a total of fourteen days before leaving again.
If one want to remain in the country for a longer period of time but only has this particular sort of visa,
Though it may be challenging to acquire an extension of their stay.
In addition, there is no Mauritian Embassy in Nigeria;
Consequently, if you plan to remain in Mauritius for a period of time that is longer than 14 days,
You will be required to obtain a Mauritius long-stay visa;
In order to do so, you will first need to determine which country represents their interests in Nigeria.
Please take into consideration that the visa-on-arrival arrangement between Nigeria and Mauritius is solely for the purposes of tourism, visiting, or conducting business.
It is highly recommended that you submit an application for a visa before departing for Mauritius,
Especially if you intend to visit the country for any other reason, including academic or professional pursuits.
THINGS TO NOTE BEFORE TRAVELING TO MAURITIUS
Before departing from your country for Mauritius;
Check that your passport has a minimum of six months left on it's validity and that it has several blank visa pages.
Ensure that you have a minimum traveling allowance that will be sufficient to cover the entirety of your time spent in Mauritius.
Make sure you have a ticket to get back home.
Check that you are in possession of a current port health certificate.
Ensure that you are in possession of a certificate of police clearance.
You are required to provide proof that you have made accommodations.
Even though tourists to Mauritius can receive a visa upon arrival at the airport,
Those who plan to engage in activities other than tourism are required to have a work permit.
Travelers from Nigeria who wish to visit Mauritius can obtain a visa upon arrival at the port of entry.
Nigerian citizens are only permitted to remain in the country for a maximum of 14 days with this visa upon arrival.
Prospective At the time of admission into Mauritius, travelers are required to provide a passport that has at least six months of validity remaining on it.
Additionally, the passport needs to have at least one blank page available for the visa stamping process.
In order to provide evidence that they have sufficient means to spend during their time in Mauritius,
Visitors who are coming there for the purpose of tourism are required to obtain a ticket that allows them to return home or continue their journey.
A confirmation of one's accommodations for the duration of their stay in Mauritius is also necessary as part of the application process.
MAURITIUS VISA ON ARRIVAL REQUIREMENTS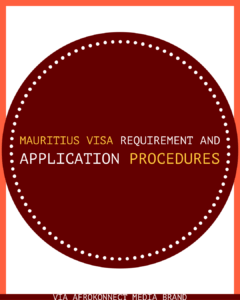 The following are the requirements that must be met in order to receive a Mauritius visa upon arrival.
Your stay in the country is limited to just two weeks by the terms of this visa (14 days).
You will not be able to obtain your visa extended in any way if it is of this sort.
Because there is no Mauritius embassy in Nigeria,
You need to make sure that you carefully go through the list below to ensure that you have the following documents when you land in the nation.
If you do not have these documents, you will not be allowed to enter the country.
When you arrive in Mauritius, you will be given the visa application form itself to fill out and submit.
Photographs should be passport size, which is between 35 and 40 millimeters wide and 45 and 50 millimeters tall.
Your currently valid national passport in addition to a copy of it.
Your most recent bank statement, as well as a copy of it.
One copy of the letter of confirmation from your travel insurance provider,
Which must include evidence that you have sufficient money to cover the cost of your stay in Mauritius, and another copy of the letter.
A letter of recommendation from your current or most recent job,
And a letter of recommendation from your current or most recent educational institution are necessary.
If you are traveling in a group, you must provide proof that you are part of that group.
You must also provide proof that you have a Mauritius hotel reservation.
A copy of the reservation confirmation for your flight to Mauritius along with the original is necessary too.
RECOMMENDED:
Mauritius Visa Requirement and Application Procedures
The video below is about Mauritius visa for foreigners, watch and learn more about what you need to do to obtain your visa;
MAURITIUS VISA COSTS
The initial 14 days of a visa on arrival to Mauritius are provided at no cost.
Before departing for Mauritius, every Nigerian traveling there for any purpose other than tourism or visiting must first submit an application for a visitor's visa.
A person is considered to have committed an offense and shall be liable for prosecution by a Court of Law if they remain in Mauritius after the expiration of the term for which they received a visa or entry permit for.
This is something that should be taken into consideration as well. Good luck with your trip to Mauritius.