Everything about Black Sherif Biography, First & Second Sermon, Kwaku the Traveler, Net worth in 2023, Real Name and music Career via Afrokonnect.
You probably heard "Second Sermon" by Black Sherif and you are wondering Who is this Black Sherif guy,
Well, now that you're here, Blacko is one of the hottest music stars from Ghana,
Right now Black Sherif is no doubt one of the biggest export from Ghana,
This young Ghanaian musician has evolved from just a viral sensation to one of Ghana's hottest music stars pushing the African music,
In this publication we will take you through his journey to the top, stay tuned.
Black Sherif Biography, Real Name, Net worth and Career in 2023 – Blacko 
First of all, Black Sherif also known as Blacko was born on the 9th of January in 2002,
Black Sherif's real names are Mohammed Ismail Sherif Kweku Frimpong,
He born and brought up in Ghana, so it's safe to say Blacko is a certified Ghana Boy.
Black Sherif is a native of "Konongo", the same place he received his basic education,
Afterwards, he proceeded to secure his higher education in the Ashanti Region, Ghana. 
Blacko is also one of the Ghanaian celebrities that attended Kumasi Academy,
He started from and completed his secondary education there, graduating in 2019,
According to several sources Black Sherif is studying marketing at the University of Professional Studies (UPSA).
Though Black Sherif loves to sing and rap about the streets and Poverty, he wasn't actually born into those situations,
According to him he deliberately choose to make music about the street and poverty to pass his message as intended,
No wonder he also choose the street life to give the world a deeper perspective into youth struggle in Africa.
In one of his most recent interviews with Pure Fm, Black Sherif said: "I'm from a very comfortable home. Not super-rich but very comfortable,
I have chosen the street life. I'm doing this for myself because my biggest fear is failure",
Literally, Black Sherif's mantra is war against poverty though he's not even poor.
Blacko has been in love with music for a very long time, and he has been making music for years,
Now that we've seen a bit about Black Sherif Biography, in the next section of this article we will look at his career so far.
Black Sherif Music Career, Songs and Net worth in 2023
Following the release of Second Sermon Remix featuring the African Giant "Burna Boy", safe to say Black Sherif has gone continental,
In fact the song became the first song by a Ghanaian to top the Nigerian Apple Music top 100,
Burna boy really elevated the song to another level.
However, what some fans might not know is that "Second Sermon" was a follow up of "First Sermon",
First Sermon become the street anthem, it gave Black Sherif so much buzz in Ghana and some other African Countries,
When Second Sermon dropped it catapulted Blacko to nationwide prominence and he became a precious gift to Ghanaians.
Before these two songs, Black Sherif was just another underrated young Ghanaian rapper,
He enjoyed his first major breakthrough in the industry when released his single "Money",
The song blew up on social media, it caught the attention of top Ghanaian stars,
Celebrities like Sarkodie, Shatta Wale, M.anifest and many others also reposted him,
Uk International recording artist/producer "Jae5" made it clear he would love to work with him,
One of Nigerian's most respected Music Entrepreneur "Larry Gaaga" called him a blessed child.
Black Sherif came into prominence in 2020 with his single titled 'Money', he followed up with a remix as an independent artist,
In 2020, he released another official single titled 'First Sermon' under the Blacko Management Group
The next year in 2021 he release Second Sermon under the same imprint,
In mid to late 2021, Black Sherif released Second Sermon Remix with Burna boy and Everything changed for him, Black Sherif has finally 'arrived'.
In the exclusive interview with TV3 Network, Black Sherif revealed a lot about his music journey, how he met Burna boy and more;
Songs
Money – 2020

Cry for me – 2020
Mariana – 2020
Destiny – 2020
Ade Akye – 2020
Ankonam – 2021
First Sermon – 2021
Second Sermon – 2021
Second Sermon Remix Feat. Burna Boy – 2021
Kwaku The Traveller – 2022
Black Sherif Net worth in Ghanaian Cedis, Naira and Dollars – 2023
To be honest this article about Black Sherif career and Biography can't be complete without including his net worth,
So, having a Hit song in Ghana is enough to make you popular,
However, when your song becomes a hit in Nigeria and other African countries then you are up to something,
Though Black sherif has been making music for few years now, his biggest years are undoubtedly ahead of him,
Blacko has performed in some of the biggest stages already,
He makes most of his money through performance fee, Music royalties and personal investments,
Black Sherif also known as Blacko has an estimated net worth of $50,000 which equals 379,850 Ghana Cedis and 20,860,950 Nigerian Naira.
ALSO READ: Top 20 Richest Musicians in Ghana and their Net Worth.
Profile Summary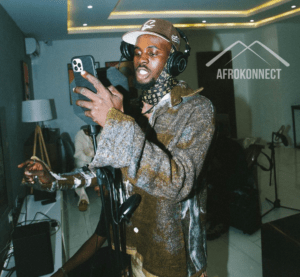 | | |
| --- | --- |
| Full Name | Mohammed Ismail Sherif |
| Stage Name | Black Sherif – Blacko |
| Born | 9 January, 2002 |
| Father | Mr Frimpong |
| Mother | Ante Marie |
| Town/Region | Konongo, Ashanti |
| Nationality | Ghanaian |
| Occupation | Musician |
| Net Worth | $50,000 |

This brings us to the end of this article about Black Sherif Biography, First & Second Sermon, Kwaku the Traveler, Net worth in 2023, Real Name and music Career via Afrokonnect,
If you enjoyed this article don't forget to share it on social media with your friends.