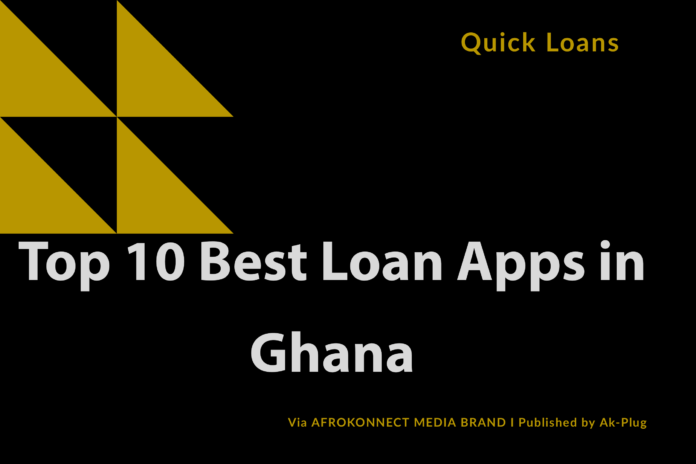 Top 10 Best Loan and lending Apps without collateral in Ghana for 2023 via Afrokonnect.
In a case where you need quick cash for something important and you have exhausted all your options, what next?
Banks will hardly give you loans if you don't have a collateral,
Family and friends cannot always come through for you because they have their own problems,
In this article I will show you 10 different lending apps you can use to borrow money in Ghana.
We did research about the top 10 best loan apps in Ghana for the year 2023,
These applications will help you out when you find yourself in financial crisis and it can help you settle your debts.
Also, you don't need to use these apps all the time but having an instant loan app on your smart phone can come through for you when you least expect it.
Without further ado and in no particular order, let's explore the best loan apps in Ghana.
Top 10 Best instant Loan Apps in Ghana 2023
1. Fido Micro Credit
In Ghana Fido Micro credit is one of the most used money lending systems,
Fido Micro Credit (FIDO) is a financial institution based in the capital of Ghana, Accra,
The institution is very well recognized and licensed by Bank of Ghana.
So, basically what FIDO does revolve around providing fast and easy short-term loans, called FIDO Loans,
The good news here is, with Fido you don't need a collateral to get a loan, with just a valid national ID you are FIDO ready.
Also, Fido provides loans to small business owners and students, just in case you fall under any of the categories,
To get started all you need is a valid ID and your Mobile Money active,
You can use different means of identifications like your Driver's License, NHIA Membership, Voter ID, National ID or even your Passport,
The preferred Mobile Money account should be MTN Mobile Money or AirtelTigo Money,
It should be registered in your name for at least two months and You must be a resident in Ghana over 18 years of age.
As part of FIDO added incentives, first time borrowers are eligible for a maximum of 200 GHC to be paid within 10 to 33 days,
Remember if you pay back on time, you get a higher amount and reduced interest next time you apply for a loan,
Fido money is one of the most reliable and certainly among the best loan apps in Ghana.
2. Carbon (former Paylater Loan App)
The popular loan app called PayLater is now known as Carbon, with the Carbon loan app, you access to instant loan,
Carbon lets you borrow between ghs 100 and up to ghs 5000 without  collateral,
Getting started with Carbon is very much simple and the process is straight forward.
Firstly, fill in the loan application form online, from anywhere.
Secondly, upload valid credentials like National ID, bank statements, and passport photograph.
Finally, request for loan and get the money in your bank account as soon as your application is reviewed and approved.
Best loan apps in Ghana in 2023
3. FairMoney Loan App
Everybody has a chance with FairMoney loan app,
It's for the average young Ghanaians that need to borrow money quickly, especially students,
Fairmoney is relatively one of the new easy money lending apps in Ghana.
This new generation app offers a legal way to get quick loan for the borrowers,
Similarly, fairmoney comes as personal finance, where you get to handle important stuffs like your vehicle maintenance, health emergencies, etc.
4. KiaKia Loan App
KiaKia Loan App has been rated on App Store with an above average 3.3 star,
"You fund, they invest, you earn", basically that's how the circle goes with KiaKia,
It is one of the best loan apps currently operating in Ghana.
KiaKia is a subsidiary of Sterling bank in Nigeria, also operating in Ghana,
What makes the Kiakia loan app special is that it does not require guarantor, collateral or paper work of any kind to access the facility.
Aside the fact that they don't require a guarantor, they also provide a low interest rates.
Best loan apps in Ghana
5. LendingPapa
You don't need any sophisticated knowledge of computers to use the LendingPapa,
The LendingPapa is a quick online loan app in Ghana that allows users to borrow money without having to meet someone physical,
You don't need to walk into any bank, everything can be done online with your phone or computer.
If you need a loan, all you need is to download the APP and register an account, you can get a loan of GHS 1,000 ~ GHS 5,000.
Steps to apply for Loan:
Install the lendingpapa from Play Store if you use android or App Store if you use an IOS

Register and create an account
Fill out your basic information and submit for verification
Apply for loans in seconds
Receive your loan straight into your bank account
Increase your loan limit each time you repay your loan.
6. Absa Ghana loan app
This loan app offers different types of loans depending on your needs,
For example, they offer business solution loans, ordinary loan account, commercial asset Finance, enterprise and surprise chain development loan,
They even offer Employee salary overdraft and School plan which can be applied through their online website.
Absa Ghana loan is one of the most reliable online loan systems in Ghana,
The fact that you also don't need a collateral to request for loan makes them even better,
It is a part of Absa group Ltd, an African financial services group with a goal to be the pride of the continent,
This gives them even more credibility and recognition from all the appropriate institutions.
7. Kiva online loan
This financial institution was founded in San Francisco since 2005,
It has been operation with a mission to expand financial access to help underserved communities thrive.
With years of years of experience under its belt, Kiva has went on to become one of the most recognized financial institutions,
It is an international nonprofit organization that allows students can pay for tuition,
Also, Women can start businesses, farmers are able to invest in equipment and families can afford needed emergency care.
All of these amazing opportunities are achievable through Kiva's work.
Kiva work basically through crowdfunding, meaning when you apply for loan, based on the need,
Kiva will create a profile for you and ask people to lend or donate to achieve the amount needed.
It is best for people in deprived communities facing challenges such as hunger, sickness among others.
Best loan apps in Ghana in 2023
8. MTN Ghana quick Loans
MTN Group Limited is formerly known as M-Cell,
It is a South African multinational mobile telecommunications company,
They are currently operating in several African countries, Ghana is one of these countries.
MTN Ghana gives Ghanaians the opportunity to request for quick loans anytime,
To get a loan from MTN quick loan all you have to do is dial the short code *170# on your Phone,
Make sure the phone you are dialing the code has an MTN SIM card installed.
Choose option 5 to access Financial Services option

After that then you are going to choice the option 3 for loans
Choose option 1 for Qwikloan then you will be taken to a new tab
On the new tab choose option 1 again which is to Request Loan
Choose your loan amount then confirm your repayment plan (Number of days to payback)
On the next screen, enter your secret Mobile Money Pin to finalize the process
Finally, Your loan request will be approved instantly and an SMS will be sent to you confirming the cash sent to your MoMo wallet.
SEE ALSO:
9. Zidisha loan app
Zidisha was founded in October 2009 by Julia Kurnia,
It is the first peer-to-peer micro lending service that has linked both borrowers and lenders across international borders,
Notably, this is done without any interference from intermediary local microfinance institution.
This app allows users to lend small amounts of money directly to entrepreneurs, especially in developing countries,
The Zidisha website facilitates microlending transactions between individual web users worldwide,
Users can fund loans, which borrowers use to develop businesses that improve their families' incomes.
Borrowers can share business updates and communicate with lenders as they repay loans.
How Zidisha lending process works
For a first-time loan all applicant must creates a profile that describes their business and personal details.

It will be reviewed and after approval applicants can post a loan request that describes their life story, the proposed investment, desired loan amount and repayment period.
If enough lenders commit to lending the designated loan amount before the loan expires,
The loan is funded and disbursed to the borrower; otherwise, it's expired, lenders are refunded and the borrower may try again with a new application.
For successfully funded loans, 100% of lenders' accepted bids are disbursed to the borrower.
Loan values are fixed in local currency, using the exchange rate effective at the time the loan is disbursed.
Best loan apps in Ghana
10. Sika Master
This list of best loan apps in Ghana cannot be complete without including Sika Master to the list,
Sika Master is an online-based financial institution that gives loans to individuals or companies who are interested in getting soft-loans.
Their loan comes with a lot of advantages and flexibility,
With the Sika Master you can get very low-interest rates and some interest-free loans as well.
Sika allows you to borrow up to 1,000GHc to 100,000GHc as loan,
Visit their website to learn more about the process of requesting loans.
MUST READ:
Top 10 Best Quick Loan and Lending Apps in Ghana 2023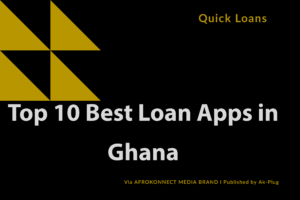 Fido Micro Credit

Carbon (former PayLater)

FairMoney Loan App

KiaKia Loan App

Lending Papa

Absa Ghana loan app

Kiva online loan

MTN Ghana quick Loans

Zidisha loan app

Sika Master
Conclusion – Quick Loans in Ghana
So there you have it, we just covered a list of top 10 best loan apps in Ghana,
Before you request for loans I recommend you watch the video below about Quick Loan;
This brings us to the end of this article about Top 10 Best borrowings and lending Apps in Ghana for 2023 via Afrokonnect.