Terri Biography, Net Worth in 2023 and Music career with Wizkid Starboy entertainment via Afrokonnect.
Akewe Terry Daniel is the real name of fast rising Nigerian Afro beat singer and songwriter "Terri".
Terri was Born on the 27th of May 1999 in Lagos, Nigeria.
Though Terri was Lagos born he still remains a full bred Edo State indigene,
Terri is the first child of four children from his family.
He grew up in the Ifako-Ijaye area of Lagos state, Nigeria,
Where he finished his primary and secondary school education.
Terri Biography, Net worth in 2023 and Music Career
In February 2018 Terri signed to the Wizkid owned label, Starboy Music.
This happened following a closed door meeting with head of music At Starboy entertainment "Mut4y".
Before he got signed, Terri usually does covers to different songs and post them on his Instagram,
The particular cover to 'Oshey' by DJ Jimmy Jatt featuring Wizkid caught the attention of Wizkid on Instagram in January 2018.
At that time, Terri was 18-year-old And had just left his Marine Insurance admission at the University of Lagos after only a few weeks to pursue a career in music.
SEE ALSO – Zinoleesky Biography and Net Worth 
With absolutely no doubt Terri is fast becoming a force to reckon with as a singer, songwriter and performer.
The young star Terri was introduced to the world by Wizkid officially on the hit song 'Soco' alongside Spotless.
Terri Afroseries Debut Project
Terri kick started 2020 with the release of his Lead single 'Ojoro' and debut album 'AfroSeries'.
After releasing His extended play Afroseries in 2020,
Terri went on to prove to the world all the potential Wizkid saw in him before he got signed.
The E.P did extremely good for a debut project,
his lead single Ojoro didn't only topped music charts it also became a street anthem.
The Afroseries has over 4 million streams on all streaming platforms.

Terri's 2020 debut and Lead single 'Ojoro' did the magic for him, the song got him more fan base, attention,
and of course he's one of the Best New Wave Artistes that rocked first half of 2020 list.
The Wizkid protege proved to all he is ready to take over the future of Afrobeat with his debut EP.
The body of work houses 7 tracks including wake up, Ojoro, Balance, Odo and other amazing songs.
In the video below Terri narrates how he met Wizkid, Recoded Soco and got signed to Starboy entertainment;
Initially Terri was only making music to gain female attention,
When he realized more people were taking his music seriously,
he decided to start the whole music thing professionally when he was 17 years old, at about same time he got a sponsor.
Terri Biography And Career with Starboy Music
In an interview with pulse Terri said:
A sponsor is important for confidence, If I didn't have a sponsor, I probably wouldn't be doing music – I make music for my family.
My three junior siblings look up to me and that alone is both pressure and inspiration.
I have to protect them from the ugly parts of the world and hardship – that's why I mask bad times with good vibes."
Separating 'Starboy' from the 'Terri'
Over the past year, Terri has been trying to take the Starboy out of his name.
When he first launched, most people knew him as Starboy Terri.
In his words, "My management felt it was good for me to add 'Starboy' to my name.
Ordinarily, I've always been Terri, They felt it would be good for buzz and I still agree with that decision.
"But now, people want to associate my brand with Starboy when we are different entities.
My name is Terri, but the 'Starboy' part was meant to be only for my social media.
But you know how it is, social media has power.
The best I can do now is correct people, but you can't always control how people behave.
"I can't complain – it has helped me, but I'm thinking long-term.
That's why I'm trying to find the balance."
Terri's Future
During the interview, When asked about what the future holds the singer said;
Terri: still wants to go back to school for a business related course, "I would love to go back to school.
I wouldn't say I was smart in school, but I was good at learning and I have a lot of things going for me –
He added, I would survive in any school or course, no matter how hard it is.
I just completed a one-year online course last month – I like learning."
Terri Biography and Net Worth in 2023 
From endorsement, Digital Streams, Performance fee and other royalties we estimated Terri net Worth $26,000.
Terri estimated net worth of 26,000 United States Dollar equals 10,075,000 Nigerian Naira.
We're expecting this figures to rise pretty soon because of the potential we've seen In Terri,
Certainly more streams, Bigger deals and endorsement would come his way.
Summary on Terri Profile
Names: Terry Daniel Akewe

Also Known As: Terri
Record Label: Starboy Entertainment
Genre: Afro beat, R&B, Hip hop
Biography: Born on May 27th, 1999, Terri was born in Lagos State, Nigeria but hails from Edo State, Nigeria.
Songs released by Terri and his featured includes;
Bia – 2018

Soco – 2018 – Featured alongside Ceaza Milli, Spotless and Wizkid

Shuu – 2018

On Me – 2019

Same You – 2019

Non-Stop – 2019

Jojo – 2019 – Featured alongside King Perry and Soft

Turn on me – 2019 
• Afroseries Extended Play. 
If you enjoyed this article about Terri Biography and net Worth in 2023 Don't forget to share and drop a comment below.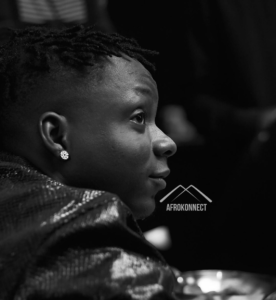 Thank you for visiting Afrokonnect, we hope to see you again.