Welcome to this post about Naziru M Ahmad aka Sarkin Waka Biography, Net Worth, Date Of Birth, Age and Career via Afrokonnect.
Naziru M. Ahmad, commonly known as Sarkin Wakar, is a man who was born on September 4, 1986.
He is professionally regarded as a Vocalist and songwriter from Nigeria.
Naziru was named "Chief Singer of the Emir of Kano" (Sarkin Wakar) in December 2018,
He also received his formal education in the northern Nigerian state of Kano.
In the Hausa film industry, Naziru Muhammad Ahmad ranks among the top musicians and actors.
Naziru M. Ahmad started working while still in his teens, in the year 2000.
In 2013, he earned the prize for "best Kannywood musician of the year," which catapulted him into the public eye.
Naziru M Ahmad Biography, Net Worth, Date Of Birth and Career – Sarkin Waka
Early Life and Background Information
Naziru M. Ahmad is a well-known Hausa musician who is well-known for generating amazing music in Hausa languages.
His music has received a lot of praise throughout the years. His parents brought him up in Kano, which is where he was born on September 4th, 1986.
In Kano, Naziru had his primary schooling prior to beginning his career in the music industry in the year 2000.
The musician who began producing music when he was very young stated in an interview that he began making music in Kano before there was even a single studio there to make music in.
There is little question that Naziru is among the most accomplished and well-known Hausa singers to originate from the northern region of the country.
Indeed, majority of his clients are leaders and monarchs from bygone eras.
Naziru M Ahmad Biography, Net Worth, Date Of Birth and Career – Sarkin Waka
Professional Career
According to Ahmad, two of his favorite musicians who perform in the Hausa music genre are Mamman Shata and Dankwairo.
"To be honest, I can't say for sure what it was about music that drew me to it, but I've wanted to be a musician since I was seven. I began singing when Kano didn't have a music studio. I used to sing in front of groups of people, and even then I was praised and cheered. In 2000, I gave music my complete attention."
Discography and Released Songs
Naziru M Ahmad has released some songs in the past, including but now limited to;
Musa Jidda
Lamido
Sabon Sarki
Sunusi Lamido
Mati Da Lado
Mata Kudau Turame
Dallatun Zazzau
Matar Jami'a
Jarman Wudil
Ado Bayero
Wani Gari
Yata Fadimatu
Ahmad Musa
Dan Giya
Gangar Jikinta Na Aura
Sardaunan Samaru
Wani Gari
Sunusi Na Biyu
Hanyar Kano 1
Murnar Sabon Sarki
Mai Abu Bakwai / Sardaunan Gora
Kanin Muji
I Love U Forever and Ever Soyayya 5
Umar Turawa
Ba Mutum Bane
Sultan Biyamin Sarkin Das
Na'iman Da'iman
Usman Zannuraini Musa Jidda
Ghazali Maitama and Farida Chanchangi
Muhammad Rahman
Naziru M Ahmad Biography, Net Worth, Date Of Birth and Career – Sarkin Waka
Social Media Profiles and Influence
It is likely that the singer expert holds the title of most renowned person in Arewa music.
Naziru M. Ahmad is an authority, and he has a significant following throughout social media.
Naziru M is a famous person who has a great deal of sway.
He shares a lot of images and videos from his personal life on social media in order to communicate with her massive following of fans.
In several social media platforms, he has a sizable number of fans. It is far simpler for a person who is already well-known to become influential on social media.
If you want to be successful on social media platforms like Instagram, Facebook, Twitter, and YouTube, among others,
He demonstrates that you need a modern or social touch and that you should communicate with your fans.
Naziru M Ahmad Current Estimated Net Worth in Dollars and Naira
The wealth of Naziru M. Ahmad
It is estimated that the well-known Hausa musician Naziru M Ahmad has a net worth of approximately $500,000,
Which when converted to the currency of Nigeria, is equivalent to over 230,029,000 Naira.
RECOMMENDED:
Profile Summary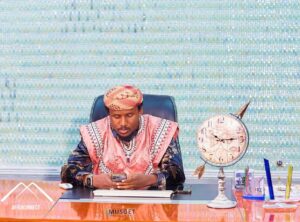 | | |
| --- | --- |
| Birth Name | Naziru Muhammad Ahmad |
| Nickname | Sarkin Waka |
| Date of Birth | 4th September 1986 |
| Age | – |
| Place of birth. | Kano |
| Nationality | Nigeria |
| Career | Musician, Entertainer, Singer |
| Net Worth | $500,000 (230,029,000 Naira) |
| Instagram | @sarkin_waqa |
On that note, this brings us to the end of this post about Naziru M Ahmad Biography, Net Worth, Date Of Birth, Age and Career via Afrokonnect.
Let us know what you think via the comments section below before you leave.