Welcome to this post about Minz Biography, Career, Relationship, Net Worth & Age via Afrokonnect.
In Nigeria, Minz is well-known for his work as a songwriter and singer.
He was born in Lagos in 1995, he is currently one of the fastest rising musicians in Nigeria.
Minz Biography, Career, Relationship, Net Worth & Age
Early Life and Background Information
Olwadámilá Adédláp Amnù, better known by his stage name Minz, was born in the city of Lagos, Nigeria, in the year 1995.
He spent his childhood bouncing between Surulere and Ajah, where he eventually ended up attending two elementary schools and two junior highs.
After that, he obtained a degree in international law and diplomacy from Babcock University, which is located in Ogun.
He has always recognized that music is his vocation and has never thought of himself as anyone other than an artist.
Minz Biography, Career, Relationship, Net Worth & Age
Professional Career as a Creative and Musician
Minz is a recording artist and producer from Nigeria but his work is consumed globally,
He has found his niche in the current Afrobeat wave, but he is still striving to improve his craft and exploring new musical styles like trap, highlife, and reggae.
Minz is responsible for the production of all six of his officially released songs and has worked with Mowizzy on the song "Odoyewu."
Some of the musicians who have had an impact on him include Bryson Tiller, Kranium, Tory Lanez, Maleek Berry, and even Wizkid.
Minz considers himself to be an independent artist who strives to complete tasks in his own time and according to his own standards.
Minz Biography, Career, Relationship, Net Worth and  Age
Achievements, Milestones and Recognition
Minz has released a number of hit singles, some of which include "Odoyewu," "Story," and "Talk," as well as "Aunty Patricia."
Minz has also been nominated for several awards including;
A nomination for the Nigerian Teen Choice Award
Afrobeat/Pop Act has been submitted for Minz in the prestigious Headies Awards
On September 11, 2016, the official music video for the song "Aunty Patricia" was made available online.
Minz is one of the most prominent figures in the developing pop music scene in Lagos, Nigeria,
At the moment, there is no sign of slowing down by Minz,
He is continuing to produce new content, make contributions, and possibly alter the sonic landscape of Africa.
He is well-known for the self-assured and confident manner in which he conducts himself, as well as for his passion for experimenting musically.
Discography and Released Projects
The following are some of his songs that are streamed the most:
Neva Stop – 2016
Aunty Patricia – 2016
Talk – 2016
Odoyewu – 2017
Story – 2017
On Time – 2017
Show me love – 2018
Calling Me – 2018
Skin – 2018
Back it up – 2018
Beautiful – 2019
Nasty/Gyal – 2019
Quarantino – 2020
Julie – 2020
BDMN – 2020
234 – 2021
Trouble – 2022
Naya's Riddim – 2022
Meliza Remix (Crayon x Dj Flex) – 2022
Diamonds – 2022
Lady – 2022
WoWo – 2022
WoWo Remix (BNXN fka Buju x Blaqbonez) – 2023
Minz Biography, Career, Relationship, Net Worth & Age
Relationship and Private Life
Minz is engaged in a personal relationship at this time, and he has not divulged any information about the lady to anyone as of yet.
Minz Social Handle
You can get the latest information about him, including his music and other things, by following him on Instagram at @minznse.
He is an active user of social media and you can enjoy his content by following him.
Minz Current Estimated Net Worth
It is anticipated that Minz, a successful musician who has been able to amass a significant fortune over the course of his career has a net worth of $50,000.
Most of his wealth comes from his publishing deals and music royalties, as well as performance fees and personal investment.
Minz Biography, Career, Relationship, Net Worth and  Age
Profile Summary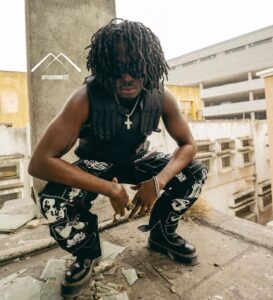 | | |
| --- | --- |
| Celebrity Name | Minz |
| Birth Name | Olúwadámilọ́lá Adédọlápọ̀ Amínù |
| Date of Birth | 1995 |
| Occupation | Musician, Songwriter |
| Record label | Ransom Note Footnotes |
| Nationality | Nigeria |
| Age | – |
| Associate | Mowizzy |
| Instagram | @minznse |
| Active | 2008 – Present |
| Net worth (2023) | $50,000 |
What part of the world does Minz call home?
Minz was born in Nigeria, and she continues to call that country his home.
Which record label did Minz sign a contract with?
During this time, he is a member of the Ransom Note Footnotes record label's roster.
RECOMMENDED:
On that note, this brings us to the end of this post about Minz Biography, Career, Relationship, Net Worth & Age via Afrokonnect.
What do you think about the Nigerian sweet sensation "Minz"?, we will like to know about your thoughts via the comments section below.