Kafui Danku Biography, Her Family Background, Movies and Net Worth in 2023 via Afrokonnect.
Kafui Danku Is a Ghanaian born actress, she's from the Volta Region of Ghana.
She was born on 16th August 1982, Kafui had both her basic and secondary school education in the Volta Region,
later on she graduated with a Bachelor of Science in English at the University of Cape Coast.
During her degree years she grew passion for acting and decided to venture into the movie industry,
She Started acting drama's and had couple of stage performances, gradually she started getting attention,
Then she started getting popular and finally came into the limelight after her leading roles played in movies like 4play reloaded, Heal My Heart, A Little Affair, Sin Of The Soul and others.
SEE ALSO:- Efya Biography, Career and Net Worth 
Kafui Danku Biography, Her Family Background and Net Worth in 2023
Kafui Danku is not only a recognized actress but she's also a poet and a writer of novels,
She is very beautiful, gifted, creative, skillful and talented in acting and interpretation of movie roles,
and she can also fit in any character given to her by movie directors or producers.
Fun fact: Kafui Danku wanted to become a journalist while growing up but ended up as an actress.
Family And personal life
Kafui is married to a Canadian man named Kojo Pitcher who is twice older than Kafui Danku.
Kafui and her husband are blessed with 3 kids,
Though a lot of people have criticized her the first time she posted her old husband on social media,
However, they both ignored criticism and didn't utter a word to the public,
According to Kafui she said she met the love of her life in a flight and they dated for 7 years before getting married,
In the Interview video below Kafui spoke in detail about how she met her husband;
After several years of miscarriages, they finally gave brith to a beautiful baby girl called Lorde Ivana Pitcher,
She gave birth for her first child in 2016 and gave birth to her second baby boy in 2020 named Titan.
Kafui Danku Net worth in 2023, Awards and Recognition
Now that we've seen a bit about Kafui Danku Biography and Her Family Background let's look at her wealth and Prestige.
Aside all the accolades she has achieve Kafui Danku is counted as one of the wealthiest actresses in Ghana today,
She won the best supporting actress in the year 2014 during Lagos Awards and also the entertainment person of the year at the Africa Media Networks in 2014.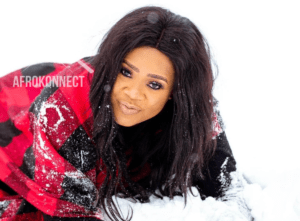 Kafui is an inspiration to most Ghanaian young ladies because of her hard work,
From our research we estimated Kafui Danku net worth to be around $500,000 in 2023, which equals over 5,144,000 Ghana cedi.
In 2004, she was crowned Miss Greater Accra, and emerged as a finalist in 2004 Miss Ghana Beauty Pageant.
In 2013, she won the award for Best New Actress in Ghana at the City People Entertainment Awards.
While in 2014 she won the award for Best Supporting Actress of the Year in Ghana at the City People Entertainment Awards.
She won the Pan Africa Distinguished Achievers Awards In 2014.
In the Interview below Kafui Danku spoke about Riding the storms of controversies and more;
ALSO READ:- Nadia Buari Biography, Movies and Net Worth
Congratulations you've made it to the end of this post about Kafui Danku Biography, Her Family Background and Net Worth in 2023 via Afrokonnect.