Here is Honey Ojukwu Biography, one of the top On Air Personalities in Nigeria.
Chiamaka Favour Ojukwu better known as Honey Ojukwu or Honey is a A Multiple Award Winning Nigerian On-Air Personality,
And a Brand Consultant with CoolFM 95.9, Rivers State Nigeria.
Honey Ojukwu Biography And Educational Background 
Honey Ojukwu was born in Enugu State, Nigeria.
She hails from Umuagu Village, of Nnobi Town in Anambra State.
She was the First daughter of Mr & Mrs Francis and Flora Ojukwu, alongside Four other Siblings as family.

Her father was a lawyer and her mother a PH.D and Award Winning Broadcaster. 
Honey attended the University of Nigeria Secondary School in Enugu State.

Honey later attended Godfrey Okoye University Thinkers Corner Enugu,
where she earned a Bsc degree in Mass Communication, served in Cross Rivers State
And ended up with various certifications from NYSC.
Early Career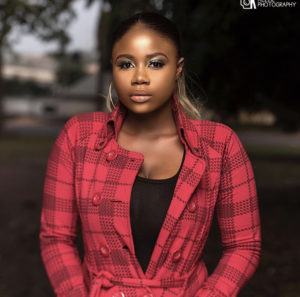 She began her broadcasting career in 2014,
She worked with Gouniradio for three years, handled Red Carpet and Content Production on CRISP TV in Enugu State
Honey Ojukwu later then moved to HitFM Calabar,
Where she also did an Award Winning Online TV Network, springlifetv on a show called "The Fashionista Show" sold off on CRBC, Cross Rivers State.
In 2017, she moved back to Enugu after her National Youth Service
and got another Gig job with Urban Radio 94.5fm Enugu as Lead anchor of the show "UrbanFuse".
She handled various events like the "Social Media Hang Out 042 as Lead MC,
Honey Ojukwu Biography Won't be complete without her Social Media Influence and Content Production,
She continued with her drive for TV and did vlogs for "Coal City Connect"
on various links that talk about the South East Cultures and People.
She also worked on various projects such as The Face of Xymoments,
and cohost a TV Show called "The Amazing Show" during her stay in Enugu State.
On Air Career | Honey Ojukwu Biography
In 2018, she gets another Big deal with CoolFMPH, 95.9 FM, Rivers State,
where she kicked off as cohost on the "Midday Oasis" from 10 to 3 on the dial.
She hosts major event gigs like "SSMW- South South Media Week, Chop Life Festival, and lots more"
In 2019, the people of South South shows her huge love and she bags 5 awards back to back as OAP of the year
"Respectively for different brands. She also emerges as Brand Ambassador of Prince Mega Cosmetics"
Honey keeps fit on pushing and putting brands she works with,
and people she works with on the African Map as her nick "Lioness of New School Radio" states so she gets a magazine deal cover,
On PORT HARCOURT MAGAZINE, this is a huge feat as the Port Harcourt magazine covers her as a Lioness,
shot by DB Nashun, on a collaboration with major brands like "Mariomaha, Zhalima Gorni,
and Reinas Effect this blazes the trail for other exciting things for Honey.
With Reviews from Online News Papers and various blogs and brands Honey continues to stand out.
Unfortunately Her Twitter Platform got hacked and she had to start a new one,
Basically where her influence as a realistic writer cannot be underrated.
She joins a vlog called "The Grid Sessions"
There she and a group of Young Minds relate and share views about different things relating to young people and the globe.
As a Mentor and Philanthropist, Honey OJukwu serves in various schools,
as a mentor and advocate for boy and girl-child Equality as well as seeking to donate,
and give to as many as possible with collaborations.
SEE ALSO – Kolaboy Biography and net Worth 
Career | Honey Ojukwu Biography
Honey also serves as an Event & Red Carpet Host and she is currently working with Cool FM Port Harcourt, Rivers State.

Ojukwu also produces content for brand on a Parent company called Real Honey Media.