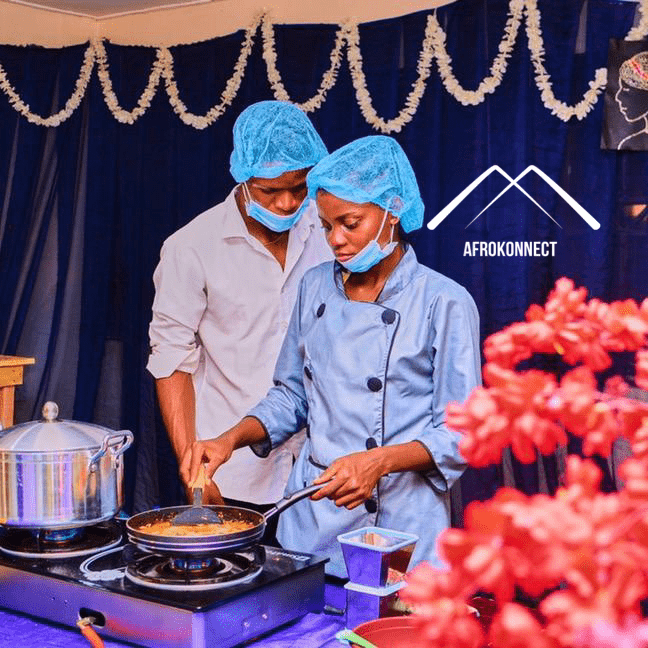 Welcome to this post about Chef Dammy Pas Biography, Guinness World Record Attempt, Career and Net Worth, via Afrokonnect.
Chef Dammy's incredible journey to break the Guinness World Record for the longest cooking marathon was a testament to her dedication, passion, and unwavering spirit.
Inspired by the achievements of fellow Nigerian Chef Hilda Baci,
Chef Dammy set out on a remarkable culinary adventure that pushed her limits and captivated the hearts of food enthusiasts worldwide.
Throughout her record-breaking attempt, Chef Dammy displayed remarkable resilience and a true love for her craft.
Enduring long hours in the kitchen, she skillfully crafted mouthwatering dishes, showcasing her creativity and culinary expertise.
With each passing hour, she not only cooked her way into the record books,
But also inspired aspiring chefs and individuals alike to pursue their dreams relentlessly.
We are about to dive into the world of this Nigerian chef, culinary blogger, and YouTuber Chef Damilola Adeparusi, better known by her moniker, Chef Dammy Pas.
Her effort at the Guineas World Record Cook-a-Thon competition,
In which she was vying to beat Chef Hilda Baci's record of 100 hours of continuous cooking, helped her achieve a lot of notoriety.
Chef Dammy is also a real estate agent and clothing designer, among other things.
JDSO couture is an internet boutique that she owns and operates.
Find out all you need to know about Chef Dammy Pas,
Including her true name, the state from where she originated, age, the cook-a-thon she participated in, career, and net worth, in the following section.
CHEF DAMMY PAS BIOGRAPHY, NET WORTH AND BACKGROUND INFORMATION
Dammy Pas, who hails from Nigeria, was born Damilola Adeparusi but she is better known by her stage name, Chef Dammy Pas.
24th June, 1999 was the year of birth for Nigerian Chef Dammy Pas.
Chef Damilola Adeparusi is a cuisine blogger and YouTuber from Nigeria.
Her hometown is Ilupeju Ekiti, which is located in the state of Ekiti in Nigeria.
As she was growing up, Chef Dammy enjoyed spending time in the kitchen preparing meals for her loved ones.
Because of this, she became interested in working in the culinary industry.
After seeing Chef Hilda Baci's success with her cookathon,
Chef Dammy Pas was motivated to try to break the Guinness World Record for the longest cook-a-Thon marathon.
She worked toward this goal and completed a 120 hour marathon,
Even though the team from Guinness world record stated afterwards that:
They didn't receive any form of registration or notification prior to Dammy embarking on the challenge,
Chef Dammy later came out to say that she and her team are planning a 150 hours cooking marathon and this time it will be duly registered by GWR.
CHEF DAMMY PAS BIOGRAPHY, NET WORTH AND BACKGROUND INFORMATION
Educational Background and Career
The Yaba College of Technology in Lagos is where Chef Dammy received her higher education.
Chef Dammy began her career as a chef in Nigeria's hospitality industry shortly after receiving her degree in culinary arts from a Nigerian university.
She garnered praise almost immediately for the delectable dishes she prepared and the original recipes she developed.
In the year 2017, she launched her very own catering company under the name "Damilola's Kitchen."
Not only has she written several cookbooks,
Also, she has also been featured as a guest chef on numerous well-known Nigerian cooking shows
She contributed to numerous online and print culinary periodicals as well.
Her extraordinary skill in the kitchen has garnered her a great deal of acclaim, most notably the illustrious title of "Best Chef in Nigeria" in 2018.
She has been featured in well-known newspapers and magazines, such as the New York Times and The Guardian.
Cookathon and Attempt to Break the Guinness World Record by Chef Dammy
With a goal of cooking for 120 hours straight,
Chef Dammy attempted to set a new Guinness World Record for the longest continuous cooking marathon.
She began this incredible achievement on 8th to 13th June 2023, and to this day she has cooked for a total of 120 hours.
To beat Hilda Bassey's 100-hour (93 hours) cooking challenge and enter the Guinness Book of Records is her ultimate objective.
The people closest to Adeparusi, including her family and friends, as well as various Nigerian businesses, are rallying behind her quest.
She has taken the initiative to create a GoFundMe page in order to collect monetary contributions for her endeavor.
The doggedness and lofty goals that Chef Dammy pursues serve as a model for a great number of people in Nigeria and around the globe.
RECOMMENDED:
CONTROVERSIES
Some people on social media began to criticize Chef Dammy after hearing the news that Dammy is seeking to beat Hilda Baci's record for the Hilda Baci Cookathon.
Critics claim that Chef Hilda Baci has not yet been recognized by Guinness World Record for her own renowned Cookathon before Dammy started,
Despite the fact that she set a record.
Additionally, several individuals pointed out that Dammy ought to have waited for Hilda Baci's Cookathon to be awarded,
Before trying to beat her record in order to avoid unnecessary controversy.
On the other hand, a number of Nigerians agree with Dammy's viewpoint that "records are meant to be broken," and these individuals are backing her choice.
Chef Dammy Husband
It has been brought to my attention that Chef Dammy is a family woman.
She was born in Oye, which is located in the state of Ekiti.
Social Media Handle
Instagram account: @chefdammy_
Twitter account: @dammypass
CHEF DAMMY PAS BIOGRAPHY, NET WORTH AND BACKGROUND INFORMATION
Profile Summary
| | |
| --- | --- |
| Name: | Damilola Adeparusi Okesola |
| Nick Name: | Chef Dammy Pas |
| Date of Birth: | June 24, 1999 |
| Age: | 24 Years Old |
| State of Origin: | Ekiti State |
| Nationality: | Nigerian |
| Occupation: | Chef, Food Blogger |
| Tribe: | Yoruba |
| Net worth: | $10,000 |
| Religion: | Christian |
Conclusion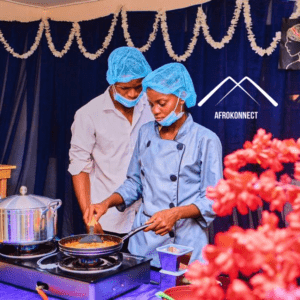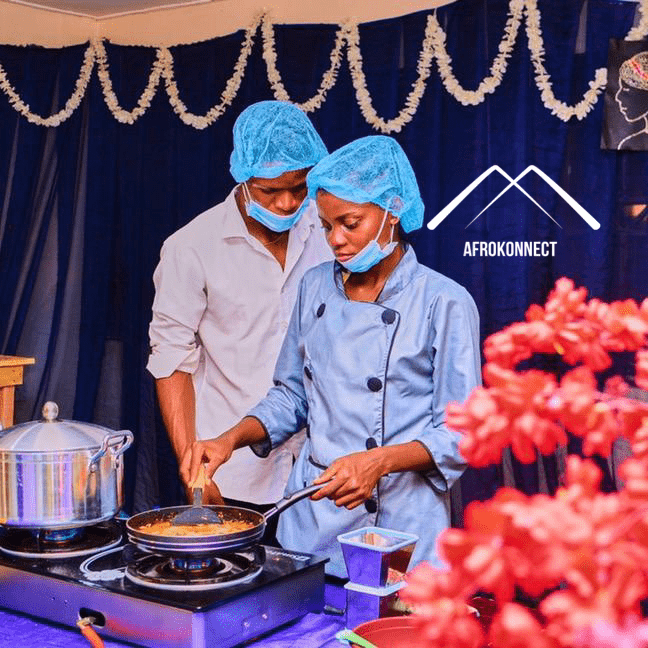 In conclusion, Chef Dammy's pursuit of the record was not merely about achieving personal glory;
It symbolized her desire to promote the Nigerian culinary scene on a global stage.
By attempting to surpass the record set by her esteemed compatriot, Hilda Baci,
Chef Dammy aimed to shine a spotlight on the rich and diverse flavors of Nigerian cuisine and elevate it to new heights of recognition.
Although the outcome of her attempt remains uncertain as of now,
Chef Dammy's courage, determination, and unwavering commitment to her craft have undoubtedly left an indelible mark.
Regardless of the final result in the long run,
She has showcased the incredible talent and resilience of Nigerian chefs, contributing to the broader narrative of excellence in the culinary world.
Chef Dammy's pursuit of the Guinness World Record has undoubtedly inspired a generation of aspiring chefs to dream big and chase their ambitions fearlessly.
Her journey has proven that with dedication, hard work, and a relentless pursuit of one's goals, seemingly insurmountable feats can be achieved.
Let us celebrate Chef Dammy's extraordinary feat and honor her as a trailblazer, a culinary artist, and a true ambassador for Nigerian cuisine.
Regardless of the outcome, her journey stands as a testament to the power of passion and the limitless possibilities that lie within each of us.
On that note, this bring us to the end of this post about Chef Dammy Pas Biography, Guinness World Record Attempt, Career and Net Worth, via Afrokonnect.
We will love to hear your thoughts and opinions via the comment section before you leave.