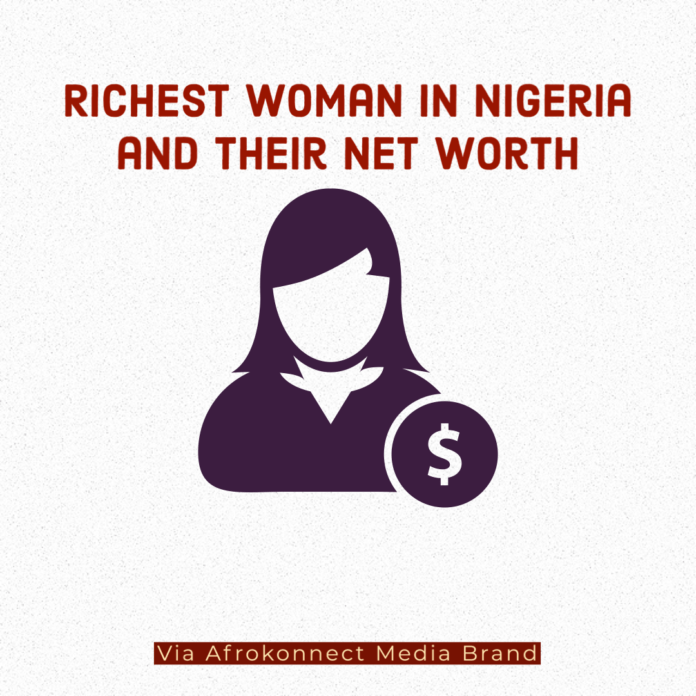 This article is about the top 10 Richest and wealthiest Women in Nigeria, Their Profile and Net Worth in 2023 via Afrokonnect.
Do you want to discover which ladies in the Nigeria have the most money right now?
While most people are familiar with Folorunsho Alakija, Nigeria's wealthiest woman,
Much less are aware of the many other Nigerian women who are making significant contributions to the country's economy.
Richest Women in Nigeria: Their Profile and Net Worth in 2023
There are a number of very wealthy women in Nigeria including Alakij who are just as influential as any number of males.
These ladies have it all: a thriving company, several houses, a fleet of pricey vehicles and planes,
In addition to fleet of boats that would put most men to shame.
The majority of them, like their male counterparts, became wealthy via the oil and gas business.
Some people earned their money in the fashion industry,
While others made it in real estate, food commodities, or the banking and financial sector.
Their achievements across fields have earned them widespread acclaim and several prestigious awards,
The type that are hard to come by for most people.
Let me quickly introduce you to some of Nigeria's richest ladies. (Carry on reading).
Wealthiest Women in Nigeria 2023
You can find a list of Nigeria's richest females below.
People from the business world and many other fields are represented here.
Folorunsho Alakija Net worth
She was born in 1951, Forbes magazine said that Folorunsho Alakija, not Oprah Winfrey, was the wealthiest black woman in the world as of 2014.
Mrs. Alakija is the wealthiest lady in Nigeria and the second richest woman in all of Africa.
On top of that, Forbes placed her as the ninth wealthiest black person in the world,
And the third wealthiest person in Nigeria (both men and women).
Mrs. Alakija, like many other global billionaires, has made her fortune mostly via her oil firm, FAMFA Oil.
A powerful oil and gas firm in Nigeria, considered by some to be the finest in the world.
In addition to these industries, she is also involved in the fashion industry, the printing industry, and the real estate industry.
Mrs. Alakija is now well-known in Nigeria for more than just her money;
She is also revered for her generosity and devotion to God. She claims that her wealth is due to the praise of God alone.
Once, while checking her official Facebook page, I came upon a picture she had uploaded with the following words:
Ignore those who advise you to not involve God in your affairs; God cares about what you're doing.
You can see for yourself that this lady meant every word she said.
Mrs. Folorunsho Alakija has been bringing in the big bucks since she was a young woman,
It's no surprise that she has a private aircraft, a fleet of pricey automobiles, and a number of lavish houses in different locations.
In 2023, Folorunsho Alakija recorded an estimated net worth of about $2.1 billion.
Hajia Bola Shagaya Net worth
She heads the Bolmus Group International, a conglomerate involved in the oil and gas, banking, and real estate industries.
Now, she is on the board of directors of Unity Bank PLC.
The bank is regarded as a frontrunner among Nigerian and international financial organizations.
Reportedly successful in photography and telecommunications,
Hajia Bola Shagaya also owns more than a hundred properties (houses) in and around Nigeria.
Hajia Bola Shagaya, the second wealthiest lady in Nigeria, is notoriously low-key about her fortune.
She seldom makes appearances in the media and when she does, it's usually with a cautious tone.
The lady is claimed to have a taste for high-end transportation and reportedly has a $30 million private plane that she utilizes for work and other purposes.
Apart from Alakija, Bola Shagaya is the only other person who deserves to be here because of her efforts and she is on this list.
She is the kind who would never make light of her professional life.
Hajia Bola Shagaya is the second richest lady in Nigeria and the fourth wealthiest woman in Africa, with a net worth of over $1 billion.
Fifi Ejindu Net Worth
In Calabar, Cross River State, Nigeria, Fifi Ejindu lives in the royal family as the great-granddaughter of King Ekpo Bassey.
Following her education in architecture at the Pratt Institutes in the United States,
She returned to Nigeria and established the Starcrest Group of Companies.
Her firm now has significant holdings in the oil and gas industry,
As well as the construction and real estate industries. Actually, this firm is the primary source of her wealth.
She may not have the same level of fame as Alakija or Bola Shagaya,
But Fifi Ejindu is nonetheless one of the richest women in business in Nigeria today.
Ejindi is not your average architect; in fact, she is rather accomplished in her field.
Fifi Ejindu is the third richest woman in Nigeria and one of the richest women in Africa with a net worth of over $600 million.
Richest Women in Nigeria – Wealthiest in 2023
Stella Okoli Net worth
Emzor Paracetamol and a number of other medications manufactured by Emzor Pharmaceutical Industries Limited are widely used and well-liked in Nigeria.
Stella Okoli, MD, established and leads the organization.
Stella Okoli isn't motivated just by profit; rather, she and her organization are making significant efforts to reduce the cost of healthcare in Nigeria.
To provide quality health care to the people of Nigeria, she is one of the few Nigerians to get worldwide recognition.
Many people outside of Nigeria use and praise her company's goods.
Drugs from her firm may be found in almost every hospital in the nation, both public and private.
Dr. Stella Okoli is one of the richest women in Nigeria with an estimated net worth of over $500 million.
If you ever come across Emzor Paracetamol or any of the other many medications that the firm has manufactured,
Remember Stella Okoli because the idea for the business came from her.
Richest Women in Nigeria and their Net Worth 2023
Bimbo Alase Net worth
Mrs. Bimbo Alase formerly had a little furniture shop in Lagos, but now she runs Leatherworld Furniture Company, a multimillion-dollar enterprise.
To tell the truth, Bimbo Alase has always been a very ambitious businesswoman with a penchant for shaking things up.
Through her leadership, in 2015, the firm partnered with the Italian furniture manufacturer NIERI, allowing for widespread expansion across Africa.
Her firm, Leatherworld Furniture, proudly produces some of the best furniture in Nigeria.
You can find their products in major cities like Lagos, Abuja, Port Harcourt, and others.
There aren't many Nigerian businesspeople, but Bimbo Alase's tale has inspired generations of aspiring entrepreneurs.
She is now one of the wealthiest women in Nigeria, with an estimated $400 million in assets.
Mariya Dantata Net worth
The wealth of the relatively few who have already died on continues to grow. And one of them is Hajia Mariya Dantata.
This extraordinary businesswoman set the foundation for her company to flourish long after she was gone, resulting in massive profits.
Many people believe she is as affluent as she seems since her son Aliko Dangote is the wealthiest man in Nigeria and all of Africa.
Mariya Dantata is an independent lady who has never needed her son's wealth to support her.
Her multiple enterprises, some of which are located outside of Nigeria, are the source of her personal wealth.
It is said that she worked so hard that she was consistently included among the seven wealthiest women in Nigeria while she was still living.
Nigeria's Wealthiest Women in 2023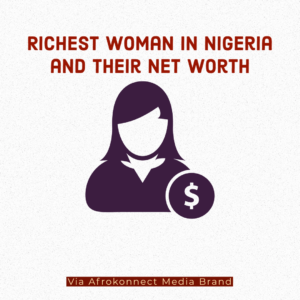 Maryam Babangida Net worth 2023
Quite a few reliable publications have listed this person as one of the wealthiest ladies,
According to reports, Maryam Babangida successfully launched a number of enterprises outside of Nigeria.
Her relatives are now managing the companies.
If you ever look up the eight wealthiest women in Nigeria online, or even the top ten,
You will realize that Maryam Babangida's name is always present.
If her husband was the president of Nigeria, why does she seem so wealthy? We'll have to save that debate for another day.
But the reality is that Hajia Maryam Babangida has been doing business in Nigeria even before her husband became the country's military ruler.
RECOMMENDED:
Richest Women in Nigeria and their Net Worth 2023
Final Remarks
The country of Nigeria is rich with successful businesspeople who are reshaping the economic landscape of Africa.
Regardless of the challenges they face along the road,
Women like Alakija, who is now the wealthiest woman in Nigeria, have shown that they will not back down.
It's no surprise that they're included on the same list as the richest men in Nigeria.
Do you agree with this list of Nigeria's wealthiest women? What do you think? Share your thoughts below.