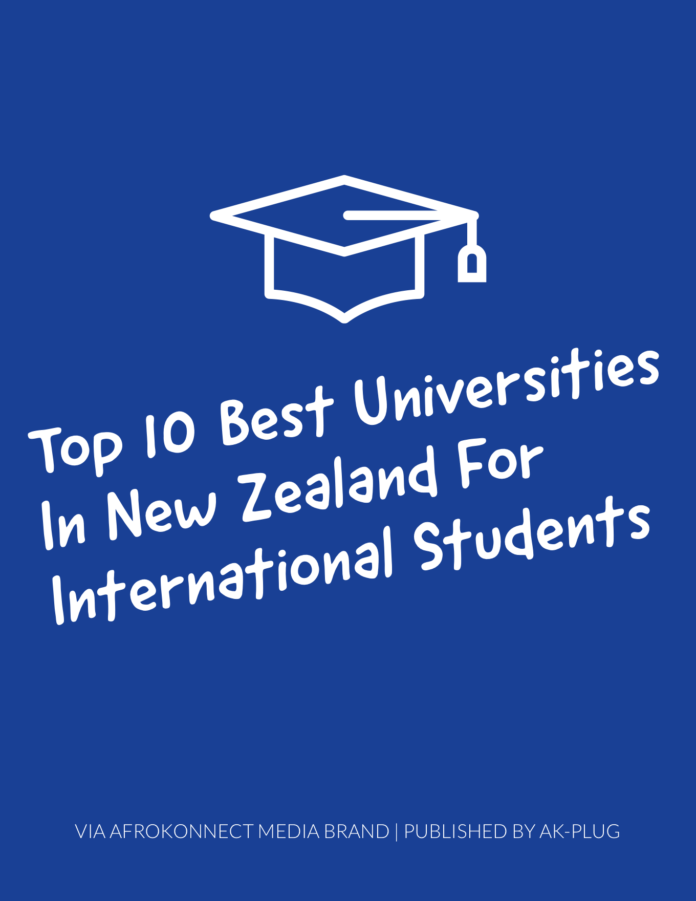 You are welcome to this article about the top 10 Best Universities in New Zealand for International Students and the cost of Studying in NZ for foreign students in 2023 via Afrokonnect.
If you are in search of an affordable and high-quality New Zealand education, look no further than this list of the 10 best universities in New Zealand for international students!
You will explore what makes these top 10 institutions in New Zealand a great places to study, and also discover how the quality of their programs can help you achieve your educational goals.
Remember, it doesn't matter whether you are seeking business school, engineering school, law school or any other kind of education;
Each one of these universities offers something that will suit your needs perfectly!
10 Best Universities in New Zealand for International Students in 2023
1. University of Auckland
Research at University of Auckland is rated as world-class and conducted by internationally-renowned scholars.
The university has close links with several industries, which is a major advantage for students who want to start their own business after graduation.
Highly-ranked research in the areas of medicine, engineering and computer science have made University of Auckland one of best universities in New Zealand for international students.
It's also worth noting that it is ranked #1 among all universities in New Zealand on Academic Ranking of World Universities (ARWU),
University of Auckland has several reputable programs such as Bachelor of Engineering (Honors), Bachelor of Commerce (Honors), Bachelor of Science (Honors) amongst others.
The University was founded since 1883 and it has a main campus is located in Grafton, Auckland City.
2. Victoria University of Wellington
Well-known for its film and drama programs, Victoria University of Wellington is also a popular choice for international students.
Based in Wellington, it offers lots of opportunities to study abroad and travel.
The university's stand-out programs include nursing, hospitality, design and management. It has been ranked one of the top 100 universities in Asia by QS World Rankings.
Victoria University of Wellington has received 5 stars from QS Stars – an evaluation system that assesses universities on areas such as teaching, employability and facilities.
The school provides outstanding support services for international students and high quality courses,
All first year English language classes are taught by qualified teachers who have experience with non-native speakers.
The university also runs events throughout each semester to help students settle into life in New Zealand.
These include social gatherings, cultural events and sports activities.
Accommodation is guaranteed for all first year students, but there are plenty of options nearby if you want to live off campus.
A meal plan is included in your tuition fees,  however, you can choose not to take part if you prefer to cook your own meals or eat out at local restaurants instead.
Best Universities in New Zealand for International Students in 2023
3. University of Canterbury
Canterbury (commonly abbreviated Cantuar) is a public research university in Christchurch, New Zealand.
It was established in 1873 as Canterbury College, and became a constituent college of the University of New Zealand in 1913.
The name was changed to it's current form in 1996 and the school is considered one of New Zealand's most prestigious universities.
It ranked in 12th place on Businessweek's list of top international business schools.
It has 4,200 postgraduate students, 1,600 PhD students and more than 14,000 regular full-time students.
From 2001 to 2008 it was also named by the Princeton Review as one of the world's best 300 business schools.
Canterbury is specifically known for it's undergraduate law program which consistently ranks among Asia Pacific region's best law programs,
It produces some of New Zealand's highest achieving lawyers each year.
We have complied a list of top 10 Best Business Schools in USA for MBA & Undergraduate,
I highly recommend you check it out if that is something that interests you.
4. Massey University, New Zealand
If you're planning to study abroad in New Zealand, it might be a good idea to get in touch with your local university and ask them what they can offer you.
Massey University is one of the best
universities you can ever think of as an international student.
They have everything needed for you to succeed in your chosen field, especially in terms of academics.
Best Universities in New Zealand for International Students in 2023
5. Lincoln University, New Zealand
At the number 5th spot on our list is Lincoln University, located in Christchurch.
Lincoln is an institution that does a great job at preparing students for a career in business administration and management.
The school offers a range of programs designed to get you in front of employer, and as a result,
According to Forbes Magazine, alumni who attend Lincoln are highly likely to secure positions shortly after graduation.
If you're looking for a university with small class sizes, then Lincoln might be your best bet.
Smaller classes mean more one-on-one time with professors and more opportunities to develop relationships with classmates.
It also means more opportunities to learn from each other.
At Lincoln, many students are working professionals already when they arrive.
So, if you want to study alongside individuals who have been in your shoes before, Lincoln may be worth checking out.
On top of their excellent academic reputation, Lincoln's faculty boasts three Fulbright Scholars among them,
Meaning that both academics and research staff alike have experience outside of New Zealand.
6. Unitec Institute of Technology
One of New Zealand's largest polytechnics, Unitec has six campuses around Auckland.
It is home to over 2,300 full-time students and over 1,000 continuing education students who study in a wide range of disciplines from engineering to performing arts.
Located in Auckland, one of New Zealand's most populous cities, Unitec is located close to many other tertiary institutions like the University of Auckland and Massey University for students who wish to further their education.
Unitec also has strong links with businesses and industries in order to provide its students with work experience opportunities.
This helps students find employment after graduation more easily than if they had studied at another institution.
7. Otago Polytechnic
At Otago Polytechnic, their focus is on student experience.
Their staffs are professional and approachable, and their grounds are calm, comfortable and safe.
It's hard to imagine a better location than Dunedin, either: it's surrounded by stunning natural landscapes, beautiful beaches, vineyards and hills to explore.
You can also choose from a wide range of subjects, with over 200 courses on offer.
They even have opportunities for international students to live in homestay accommodation and work part-time while studying.
If you want an education that will open doors for you when you graduate, then study at this university.
Best Universities in New Zealand for International Students in 2023
8. Toi Ohomai Institute of Technology
One of Toi Ohomai Institute of Technology's (TOIT) strengths is its inclusive atmosphere, which fosters a supportive and encouraging learning environment.
The school offers courses in a variety of fields, including business, biotechnology, computer science and digital media.
Most of TOIT's programs are available through distance education, but on-campus study options are also available for all degree levels.
The medium of instruction at TOIT is English. All international students must demonstrate English proficiency before enrolling.
TOIT has an open admissions policy, meaning that anyone with a high school diploma or equivalent can apply to study there.
Again, there are no minimum test scores required for admission to any program,
However, applicants must submit transcripts from previous academic work, as well as letters of recommendation from previous instructors or employers.
9. AUT University, New Zealand
Auckland's largest university offers a wide range of degrees from Architecture and Design to Education, Humanities, Sciences and Engineering.
With over 30,000 students studying in multiple locations around Auckland, it is one of New Zealand's most populated universities.
The campus is located on Great North Road, just under an hour away from downtown Auckland.
AUT University also has campuses in Wellington and Christchurch.
The AUT Business School is consistently ranked as one of New Zealand's top business schools.
It offers programs like MBAs and Executive Masters in Business Administration (EMBA).
In addition to offering undergraduate degrees, AUT also hosts master's degree programs including: Master of Commerce (MCom), Master of Management Studies (MMST), Doctorate Degrees amongst others.
Undergraduate tuition fees for international students starts from NZ$16,400 per year, while graduate tuition fees start at NZ$6,850 per year.
To learn more about these options or if you would like assistance applying to AUT University please contact Study Options.
Best Universities in New Zealand for International Students in 2023
10. Whitireia Community Polytechnic
Whitireia's approach to international students is refreshing in that it doesn't just encourage students to join, it welcomes them.
As a polytechnic, it was designed with industry links and relationships in mind, so it places a focus on practical learning for career-driven individuals.
This is good news for international students who want to learn transferable skills that will benefit them long after they graduate;
Many Whitireia graduates go on to forge successful careers in their chosen fields overseas.
The university also has exchange programs set up with colleges in China, Taiwan, Korea and India.
What's more, there are plenty of opportunities for hands-on experience:
Whitireia has a dedicated co-op program where students spend one semester working as interns at companies around New Zealand.
The program provides invaluable experience to help students secure jobs when they graduate.
Cost of Studying in New Zealand for International Foreign Students in 2023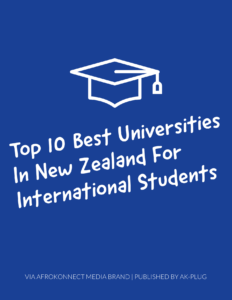 Undergraduate fees in New Zealand for International students
If you are planning to study as an undergraduate in NZ then you need to know the financial aspect,
As an international undergraduate student you should expect to spend between NZ$22,000 and NZ$32,000,
Which equals around US$15,000 and US$21,700 per year respectively,
You should expect higher fees for areas like medicine and veterinary science.
The good news here is, if you are coming from Australia then you don't need to pay that much because the government has subsidized the fees for students coming from Australia.
Postgraduate fees in New Zealand for International students
Not everyone is traveling to NZ for an Undergraduate program, others go for their PhD while some travel for masters degree or even Diplomas.
Either way, as an international student pursing master's degree in New Zealand you should expect to pay between NZ$26,000 to NZ$37,000 depending on specialization,
Which equals around US$17,660 to US$25,100 per year respectively.
International PhD students in New Zealand pay the same fee as domestic PhD students,
Unlike in the case of International Undergraduate and masters programs, where the government has subsidy applied on fees.
Notwithstanding, as a Phd intentional student in NZ expect to pay somewhat from NZ$6,500 to $9,000, which equals around US$4,400 to $6,100 per year.
Cost of Accommodation for International Foreign Students in New Zealand 2023
Accommodation is an important factor to also consider when planning your budget,
Which is why most New Zealand universities have Halls of Residence for their students to reside in,
Roughly, accommodation will cost you about NZ$270, which equals around US$180 per week, this may be a very reasonable alternative.
Here is the catch, Self-catered and catered student halls are both available. The prices ranges from NZ$169,
Which equals around US$114 per week, that is for University of Canterbury and other similar institutions in NZ.
If you prefer a self-catered accommodation then prepare to spend somewhat around NZ$473, which equals around US$320 per week.
A three-bedroom apartment in Auckland's city center will cost you around NZ$3,276, equaling around US$2,200 per month,
While a three-bedroom apartment in Dunedin will cost you around NZ$1,520, which equals around US$1,020 for same time frame.
Living costs to study in New Zealand for foreign Student in 2023
There is no exact fee for foreign students in New Zealand because of so many factors like your lifestyle, location, and spending habits.
However, the popular University of Auckland advises students to budget from NZ$20,000 to NZ$25,000, which is approximately US$13,500 – US$16,900 respectively.
Wellington, the country's capital, and Auckland, the country's largest city, are likely to be the most expensive cities in New Zealand based on living costs,
According to the University of Auckland estimations, international students should expect the following weekly cost of living while in New Zealand:
Utilities: Will cost you around NZ$23, equals US$15.50.
Internet services and a mobile phone plan will cost you around NZ$8 (US$5) and NZ$10 (US$6.75) respectively.
Insurance: This is an important item that will cost you around NZ$8, which equals around US$5.
Food: Prepare to spend around NZ$120 (US$80) on Food.
Transportation: Becaue you have to move from one place to another, you have to budget about NZ$35 for transportation, which equals around US$24.
Entertainment: New Zealand has so much to offer in terms of fun and you can budget somewhere around NZ$55 for entertainment, which equals around US$37.
New Zealand Student Visa Requirements
After securing admission to any university in New Zealand, you will need a student visa to enable you enter into the country legally.
To get a student visa you will need to provide some important documents. You'll also need to present the following:
An acceptance letter from a recognized educational institution.
You must show proof that you have paid your tuition payments.
A copy of your passport's identify pages.
A medical certificate or chest x-ray, as well as a police certificate, may be required.
You will also need a Proof of sufficient finances to support your living expenses, usually it ranges from NZ$20,000 per year, to back that up, you will need to show evidence of where this money came from.
NOTE: All documents should be translated into English if you are applying from a non-English speaking country.
RECOMMENDED:
Best Universities in New Zealand for International Students in 2023
If you're looking for the cheapest Universities in New Zealand then watch the video below to discover the most affordable universities in NZ for international foreign students;
This brings us to the end of this publication about the top 10 Best Universities in New Zealand for International Students and the cost of Studying in NZ for foreign students in 2023 via Afrokonnect.
Hope you found what you were looking for, Let us know what you think via the comment section. You can also check out the top 10 best universities in Africa if you haven't found your choice.