This page contains information about the Best Technical Schools in Ghana and reputable Institute to Attend in 2023 via Afrokonnect.
In Ghana, there are a variety of technical institutions that provide students with hands-on experience,
As well as specialized education in a variety of technical fields.
You will get knowledge about the top technical schools in Ghana as well as the programs they provide by reading this post.
In light of the aforementioned, a concise analysis of Ghana's technical schools may be seen below.
Best Technical Schools in Ghana in 2023
Students get hands-on experience and specialized education in a variety of disciplines of study at technical schools and colleges,
Which are also often referred to by their former name, technical colleges.
Depending on the certifications and programs that you choose to pursue during your time at one of Ghana's many technical institutions,
The typical time commitment is between two and four years.
What are the Category A technical schools in Ghana?
Throughout Ghana, technical institutions are ranked according to the quality of their academic performances in the school's respective histories.
Class A is a special category, Class B is a step below, and so on.
It is generally accepted that the majority of institutions that fall under Class A are among the very finest technical schools in Ghana.
As far as quality and perfection go, Class B is the next step up, and then everything else comes after that.
If you are looking for the best technical schools in Ghana and the programs that they offer,
The list of institutions that are classified as Class A may be found below.
Best and most prestigious technical schools in Ghana 2023
The following is a list of the top best technical schools in Ghana, broken down by region and city.
The order of the institutions on this list is not important because the ranking is in no particular order.
10. Koforidua Technical School
In 1967, Dr. Kwame Nkrumah was the person responsible for establishing Koforidua Technical School,
Making it one of the oldest technical institutions in Ghana.
When it was reorganized in the 2000s, it went from being a school that solely accepted male students,
To becoming one that also accepts applications from female students.
Koforidua technical school is among the most successful schools in terms of achieving high standards and producing outstanding WASSCE scores.
Courses such as Technical drawing, Auto mechanics, Leatherworks, metallurgy, Building construction and Wood Work are just few of the options available to students at this educational institution.
Have a look at some of the top aviation schools in Ghana.
9. Kumasi Technical Institute
This is yet another one of Ghana's greatest technical schools,
It focuses on imparting information and skills that are directly applicable to the construction and mechanical industries.
In 1976, the federal government of Canada, with the assistance of the Canadian International Development Agency, founded the educational institution.
Since that time, it has provided training to a large number of students in a variety of professions.
Concrete work, block laying, metalwork, plumbing, welding, auto body repair, AC and refrigerator service, and so on are all examples of such trades.
8. Saint Joseph Vocational and Technical School, Ghana
The Saint Joseph Technical School, which is one of the oldest technical institutions in Ghana, is the next stop on our ranking.
Since it was first established in 1967, it has gone through a variety of various restructurings.
After some time, in 1984, the operation of the institution was taken over by the government of Ghana.
Since that time, it has produced a large number of students who have achieved outstanding results in a variety of national examinations, including the WASSCE and the SSCE.
Because it teaches a wide variety of pupils a wide variety of skills and information, St. Joseph Technical School has made a positive contribution to the economy of Ghana.
Home Economics, Visual Arts, General Science, General Business, Agriculture,
And Many Other Subjects are just some of the subjects that are taught at St. Joseph Technical School.
7. Cape Coast Technical Institute
Have you ever heard of the well-known architectural technical school that is located in Ghana?
The Cape Coast Technical Institute was founded in 1955 with Architecture as its only course of study when it first opened its doors.
It was not until 1976, when it was reorganized by the government,
That it started enrolling and instructing students in a variety of different subjects.
Today, it is recognized as one of the most prestigious technical institutions in Ghana,
Holding several records of achievement and adhering to stringent criteria.
In addition to this, the institution has been victorious in a number of events held in Ghana and the surrounding areas.
6. Don Bosco Institute of Technology
The actual location of Don Bosco Technical Institute in Ghana is in Odumase,
Which is in the city of Sunyani and the region of Brong Ahafo.
The government of Ghana is responsible for establishing the educational institution that provides both boarding and day programs for its students.
At the Don Bosco technical institute, students have the opportunity to take classes in a variety of fields,
Including but not limited to the Creative Arts, Computer and Technology Science, Building, Printing Press, Agriculture, Electricals, and so on.
Best Technical Schools in Ghana: Institute to Attend in 2023
5. Royal Technical College
On our list of the very best private technical schools in Ghana is one that goes by the name ROTECO, which stands for Royal Technical College.
It is a private school that is known for its high levels of performance and standards.
Since it's founding in 1985, it has been responsible for the education of a significant number of technicians,
As well as engineers who are equipped with the knowledge and practical experience necessary to operate in a society that is highly competitive.
4. Boso Technical Institute
Another excellent technical school that made it into our list is Boso Senior High Technical School.
This illustrious institution first opened its doors in 1969 and functioned as a secondary school for day students as well as boarders.
Up to the year 1978, when it was reorganized by the government and then transformed into a technical school by Ghana Education Services, it had been a normal school.
Since that time, Boso Technical School has kept up its tradition of teaching it's students both theoretical and practical information and abilities related to a variety of different subjects.
3. Asuansi Technical Institute
Asuansi Technical School is, along with Koforidua Technical School, one of the oldest technical institutions in Ghana and the areas around it.
It was formed in 1917 with the goal of providing pupils with fundamental skills in reading, writing, and arithmetic.
The school was transformed into a vocational and technical institution in 1922,
Where students may learn a wide range of trade and technical skills.
The Asuansi Technical School is responsible for the education of a large number of students and professionals in a variety of subjects.
The fields of carpentry, agriculture, metalworking, business, the visual arts, and home economics are just a few examples among many more.
2. Keta Senior High Technical School
Another technical school in Ghana is Keta Senior High Technical School, which is often referred to by its acronym, KETASCO.
The institution, which can be found geographically in the Volta area of Ghana, is known for imparting information and practical skills in a wide variety of specialized subjects.
There are many different types of technical subjects,
Some of which include general sciences, home economics, business, agricultural science, and others.
1. Technical Senior High School of Brakwa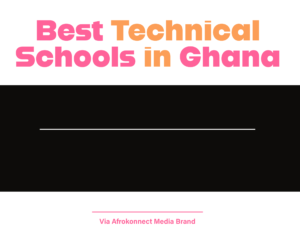 Finally, the Brakwa Senior Technical School is widely regarded as one of the country's most prestigious technical institutions.
Since it was founded in 2011, the academy is one of the most recent additions to the roster of government-sponsored technical institutions.
Before changing to a residential school in 2015, it operated as a day school.
Many students have benefited from its inclusion ever since, gaining hands-on experience in a wide range of technical disciplines.
RECOMMENDED:
Best Technical Schools in Ghana in 2023
The video below is about category A technical and vocational schools in Ghana by Itenert;
Conclusion
Before submitting your application, we strongly suggested that you carry out considerable study,
In order to choose the most suitable technical school for admission.
Also, before submitting an application, check if the institution is authorized by the state,
Make sure that it has a history of achieving notable levels of success so as to prevent squandering your time and money.
You also have the option of selecting a school from the list of the top best technical schools in Ghana,
All of which have shown their worth over the course of time.
Just in case you find yourself in Ghana as a foreign student here are the best hotels in Ghana,
Similarly, you might want to check out 10 Best Places to visit in Ghana (Tourist Attractions).
Good luck