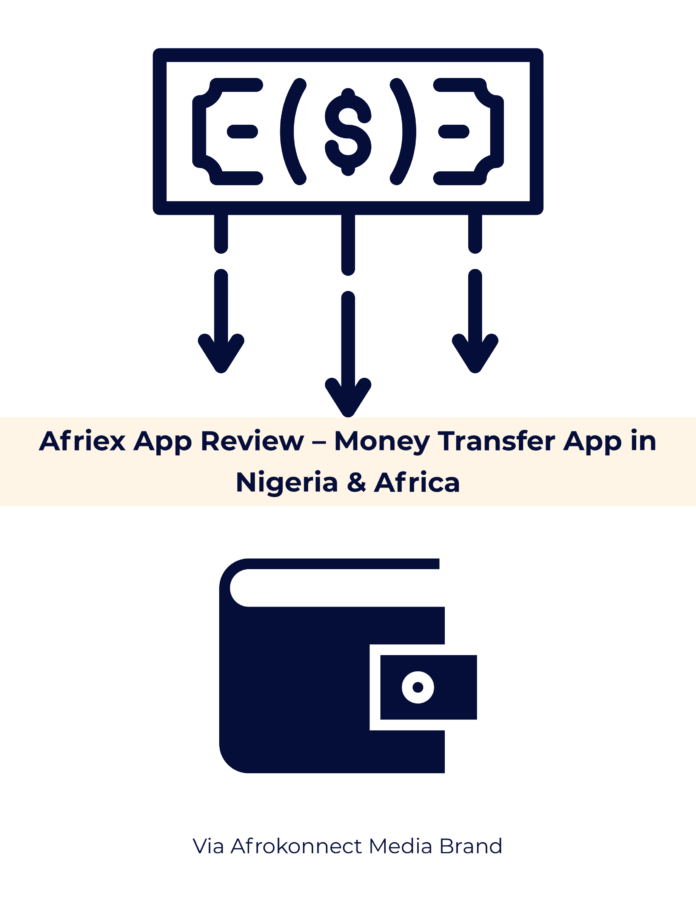 This page contains information about Afriex App Review, Money Transfer App in Nigeria & Africa via Afrokonnect.
Afriex is a worldwide payment corporation that operates as a mobile application for the transfer of money.
It is now accessible in the countries like Nigeria, Ghana, Kenya, the United States of America, and Canada.
Since it's 2019 debut, the Afriex app has amassed a user base of over 100,000 people.
Cryptocurrency serves as the driving force behind the Afriex money transfer network.
You can conduct rapid and very inexpensive money transfers both domestically and internationally,
You can also transfer money between the United States of America, Nigeria, Ghana, Kenya, and Canada when you use the Afriex app.
Transferring money from a debit card to a bank account or another Afriex customer is also a simple process.
Users are able to send and receive money to and from Africa using the Afriex app.
Afriex App Review: How to Transfer Money, Fees & Security
Some African nations allow Afriex to trade cryptocurrency, while others do not due to local regulations.
You are permitted to transmit a daily maximum of $3,000 to bank accounts and electronic wallets.
You may transfer money instantaneously to any Afriex user or straight to a bank account in Nigeria using Afriex.
The recipient will get the money immediately.
Users of Afriex have the opportunity to earn incentives just by recommending their friends and family to the platform.
Your friend or family member must join up for Afriex and contribute $100 or more for both of you to get the $5 credit.
The Afriex app is a safe option since it encrypts all of the user's sensitive information, protecting it from prying eyes.
In accordance with the requirements of the Payment Card Industry Data Security Standard,
The company's payment technology is compliant with PCI DSS.
The organization follows a rigorous set of security standards,
Purpose of which is to assure and keep the users payment environment safe at all times.
There is an Afriex app for both Android and iOS devices.
You are able to get the Afriex app on iOS by clicking this link.
Who owns Afriex App?
Tope Alabi, who serves as the company's CEO, and John Obirije are it's founders (CTO).
Sequoia Capital China, Dragonfly Capital Partners, Haseeb Qureshi, Exceptional Capital, Goldstreet Venture Capital, Stellar Development Foundation,
Bossa Nova InvestimentosPrecursor Ventures, Mandela Schumacher-Hodge Dixon, and Russell Smith are some of the investors in Afriex.
Afriex Review: Funding
A total of $11.3 million was obtained via fundraising by Afriex.
Seed round in the amount of $1.3 million in May of 2021,
And has just concluded a Series A financing in the amount of $10 million (2022), at a value of $60 million.
How does Afriex work?
Using the Afriex platform, you may send and receive funds instantly and cheaply,
No matter where you are in the world or what currency you use.
You are able to transmit money between the United States of America, Nigeria, Ghana, South Africa, and Kenya when you use Afriex.
Does the Afriex App function in Nigeria?
The Afriex app enables users to transfer money online in a matter of minutes to over 130 different countries, including Nigeria.
The answer is yes, Afriex does work in Nigeria.
You can examine the history of your transfers and keep track of your payments from any location.
RECOMMENDED:
How to Transfer Money from Afriex to a Bank Account – Ghana, Nigeria, South Africa etc
The following is a list of the actions that must be taken in order to receive money from Afriex:
To make a purchase, go to the bottom of the Afriex app and click the dollar symbol.
To pick the currency of your choosing, click your country's flag located in the upper right corner of the website.
After selecting the currency, type in the amount you wish to send, then click the SEND button.
Click 'SEND TO BANK.'
Click 'ADD RECEIVING BANK.' if it's a new account.
Select an account that has already been saved.
Enter the amount that you wish to send, then click 'SEND.'
How to Receive Money From Afriex in Nigeria, Ghana, Kenya, South Africa Etc
The following is a list of the actions that need to be taken in order to receive money using the Afriex app in Nigeria:
CHOOSE CASH PICKUP AS YOUR FIRST STEP:
Cash pickup is an option that is accessible to you whether you are transferring money or cashing out from your Afriex wallet.
STEP 2: You Will Receive a Text Message Notification:
Once your cash is available, the Afriex system will instantly alert you through SMS.
STEP 3: Pick up your money at the Bank:
Receive your US Dollars on the same day that the transaction has been completed at the Afriex partner bank, First City Monument Bank.
Afriex Review: Fees
When it comes to transferring money, Afriex does not charge any fees;
But, when it comes to withdrawing money, they may charge a little fee.
Check your app's settings to see if there are any hidden costs or currency rates.
Conclusion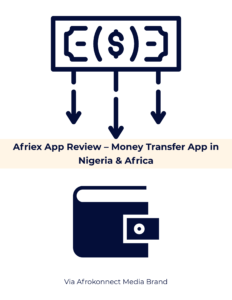 There are many money transfer apps and mobile banking apps that allows you to send and receive funds,
However, some of them come with outrageous fees or boarder limitations.
That is where Afriex app comes in, they allow you make international payments and transfers faster than most of your conventional banks.
Additionally, Afriex is also a secure network that will compromise or jeopardize your finances or privacy.
This brings us to the conclusion of this article about Afriex App Review, Money Transfer App in Nigeria & Africa via Afrokonnect.