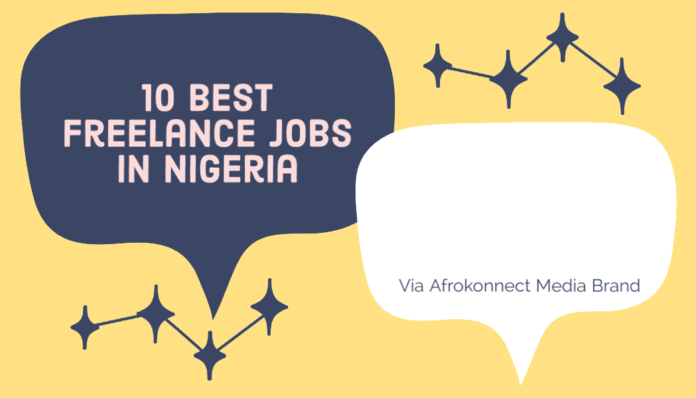 In this page you will discover the top 10 Best Freelance Jobs in Nigeria for beginners in 2023 via Afrokonnect.
Even in a country like Nigeria, where full-time employment is still the norm,
The trend toward independent contracting is gaining steam.
There has been a rise in the number of individuals choosing freelance careers in recent years due to the many advantages that come with working independently.
If you decide to be a freelancer, you will have the ability to work on your own terms,
Pick the customers you want to deal with and how many of them you want to work with, and work from the comfort of your own home.
Continue reading this article if you are interested in finding out more information on the top freelancing jobs in Nigeria.
In this post, we will discuss the top ten most lucrative freelancing jobs in Nigeria, all of which provide excellent future potential.
10 best freelance jobs in Nigeria for Beginners in 2023
The following is a list of the top 10 freelancing jobs in Nigeria, in no particular order:
The creation of websites is one of the freelancing jobs in Nigeria that has a lot of potential for growth.
Freelance website designers are responsible for a variety of tasks,
Including the development of original layouts for web pages, the implementation of search engine optimization strategies,
And the enhancement of the graphical elements of existing websites.
You don't even need a bachelor's degree in computer science to obtain remote jobs in Nigeria or anyplace else in the world;
All you need is certification in web design. You may work from nearly any location in Nigeria.
To become a web designer, you need to have the abilities necessary to become proficient in the tools used for GUI design,
Content management, and other skills targeted at enhancing the user interface and user experience of websites.
Best Freelance Jobs in Nigeria 2023
A prominent freelancing job in Nigeria is web development.
There is a significant shortage of web developers available almost everywhere in the economy where there is a need for some kind of online presence.
Freelancing as a web developer allows you to choose your own hours and work from wherever you feel most productive,
As long as you have a firm grasp of fundamental programming languages like JavaScript, HTML, CSS, PHP, and Node.js and the ability to write efficient codes, design and test websites, keep websites up-to-date and maintained, and troubleshoot website difficulties.
In recent years, freelance writing has emerged as one of the most lucrative independent careers available in Nigeria.
If you're a freelance writer, you have a lot of options for finding employment, whether you're looking for it in Nigeria or somewhere else.
Content writing, copywriting, business-to-business writing, academic research, technical writing, composing press releases, and corporate report writing are just a few of the writing specializations available.
Though competition is high in the freelance writing industry,
You may set yourself apart by honing your talents in areas like SEO, proofreading, excellent writing, meeting deadlines, independence, etc.
Data entry work that is performed on a freelance basis is quickly developing into a new industry trend.
This is because an increasing number of businesses are outsourcing data entry work to independent contractors (also known as freelancers),
So that their full-time employees may concentrate on more crucial responsibilities.
You may find work as a data entry clerk almost everywhere in the globe if you have excellent typing abilities, a keen eye for detail, the capacity to do data analysis,
And the ability to work under pressure and meet deadlines.
Freelance data entry clerks are responsible for entering information into various databases and spreadsheets, including customer records and inventory lists.
Best Freelance Jobs in Nigeria 2023
The Art of Graphic Design
Reaching out to new consumers, conveying brand messaging, and increasing sales are just a few of the many benefits of employing a graphic designer.
If you're a skilled graphic designer and you work independently,
You may help a broad variety of companies get their ideas out to prospective clients by designing logos, campaign commercials, and brochures using programs like Adobe Suite and Photoshop.
You will have the opportunity to take advantage of flexible schedules and varying amounts of work if you choose to work as a freelance graphic designer.
One other lucrative freelancing opportunity in Nigeria is in the field of user interface and user experience design.
The terms "user interface" (UI) and "user experience" (UX) are often used interchangeably.
Because you are a freelance UI/UX designer, app developers and web designers are always looking for your services to guarantee that their websites and applications provide users and visitors with a satisfying experience.
In addition to taking on other duties, you will be responsible for researching and assessing user needs,
As well as designing and executing designs for user interfaces.
Your chances of landing high-paying remote employment will rise if you have a complete grasp of tools such as Sketch, Invision Studio, Photo.io, Webflow, Axure, and Balsamiq,
As well as expertise in key skills such as wireframing and prototyping.
One of the most lucrative freelancing jobs in Nigeria is in the modeling industry.
In spite of the fact that working with a modeling agency could seem to be the more secure alternative,
Freelancing as a model gives you the opportunity to have more say over the kinds of tasks, the number of jobs, and the amount of money you make.
To be successful as a freelance model, you will need to make an investment in your looks, take suitable modeling classes, and consistently practice modeling.
Your chances of securing assignments will increase significantly if you participate in activities,
Such as networking with other industry experts, building a portfolio, and maintaining an online presence.
You can shoot your shots at any of these Top 10 Best Modeling Agencies in Nigeria.
Best Freelance Jobs in Nigeria 2023
One of the most lucrative and enjoyable freelancing jobs in Nigeria is photography.
When you work as a freelance photographer, there are many different ways that you might make money.
You have the option of selling high-quality photographs that you have taken from your portfolio in online photography shops,
Or you might choose to undertake photoshoots for corporate entities and individuals.
You might also try your hand at freelancing as a photojournalist or entering photographic competitions to boost your income.
We advise that you establish a website and implement the best techniques for search engine optimization,
In order to reach a broader audience and improve the number of customers you serve.
If you want to grow better at photography and establish a strong portfolio, you need to keep shooting.
There are several motivations for people to travel.
On the other side, some individuals find that having someone else take care of their logistics is a stress reliever for them.
You have the option, while working as a freelance travel agent, to either work for a travel agency as an independent contractor or to work directly with customers that you locate yourself.
You may assist individuals with their travel requirements by making airline reservations for them, making travel suggestions and plans for them, and assisting with any other areas of their travels that they might want assistance with.
Best Freelance Jobs in Nigeria 2023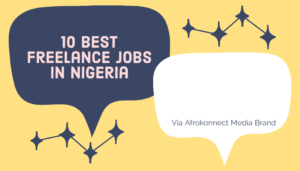 The majority of businesses and corporations are increasingly turning to independent contractors to complete activities that involve less obligations,
And less oversight in order to free up their in-house personnel to concentrate on more significant responsibilities.
These types of assignments often call for organizational support as well as technical instruction in the form of virtual assistance.
You may earn money as a freelance virtual assistant by doing administrative work for a single company or several companies via the use of independent contracts.
Among these responsibilities include, but are not limited to, responding to emails, organizing appointments, and maintaining financial records.
RECOMMENDED:
Top 10 Freelance Sites & Marketplace For Freelance Jobs In Nigeria 2023
ASUQU
Findworka
Jolancer
Justfrom5k
SourceGig
Alance.co
Gigs Nigeria
Freeciti
Oyerr
Yokebay
Best Freelance Jobs and Sites in Nigeria in 2023
Conclusion
Now this is the end of this article, hope you enjoyed reading through and also find it helpful.
Are you a freelancer or looking to become one? Let us know what you think via the comments section.