Welcome to this publication about Uncle Waffles Biography, Age, Songs, Career and Net worth, via Afrokonnect.
DJ and record producer Lungelihle Zwane, better known by her stage name, Uncle Waffles, was born in Swaziland but now resides in South Africa.
She is globally recognized for her Amapiano, upbeat and funky sound.
Uncle Waffle is an Amapiano singer and dancer who was born on March 30th, 2000.
Waffle is well-known for her performances, especially on the social media app Tiktok,
The majority of her dancing videos and routines have garnered a lot of attention.
This article will provide you with all of the information you want on Uncle Waffles's biography,
Including real name, age, nationality, songs, parents, career, and relationship.
Uncle Waffles Biography, Songs, Career and Net Worth in 2023
Background Information and Early Life
DJ, record producer, dancer, songwriter, and performer Lungelihle Zwane, better known by her stage name Uncle Waffles,
She was born on March 30, 2000 in the country of Swaziland but now resides in South Africa.
Waffles was raised by her grandmother in Eswatini, which was then known as Swaziland, where she was born.
When the dancer was a teenager, she finally found out who her biological parents were.
While she was growing up, Waffles' favorite music to listen to was kwaito and South African house music.
Black Coffee, Lebo Mathosa, and DJ Kent are three of her favorite bands. She also enjoys listening to DJ Kent playlist.
Uncle Waffle was a television presenter and host on Studio 1 on Eswatin TV before she transitioned into his current career as a DJ.
She quit the show in 2022 when her successor was made and she started getting buzz.
After moving from Eswatini to South Africa in order to complete her studies and pursue her goals in the music industry,
Uncle Waffle began calling South Africa her permanent home because of how swiftly she adapted.
Uncle Waffles Biography, Songs, Career and Net Worth in 2023
Professional career as a Disk Jockey (DJ), Entertainer and an Entrepreneur
During the lockdown of Covid-19 in the year 2020, Uncle Waffle picked up the skills of a DJ.
After that, she became a member of the South African creative firm KreativeKornerr,
Which is responsible for booking her performances all across the nation and beyond.
She became famous online in October 2021 when a video of her dancing at a nightclub in Soweto went viral,
She was performing as a DJ there when the clip went viral on various social media sites.
Drake, a Canadian rapper, became aware of her as a result of this and started following her on Instagram.
She became famous when a video of her dancing during her set to "Adiwele" went viral,
Ironically, she was stepping in for a sick DJ, when the video went viral.
As the video gained popularity, Canadian musician Drake began following Uncle Waffles on Instagram and eventually began publicly promoting her.
Soon after, Uncle Waffles began releasing music under her own name, beginning with the song "Tanzania" in March 2022.
This was followed by the release of her first EP, Red Dragon, later that same month.
Uncle Waffle decided to go into the music producing business as a direct result of her recent success and popularity.
She debuted her critically acclaimed single "Tanzania" in March, and then in that same month, she released her EP titled "Red Dragon."
The music video for "Tanzania" was released by her in September of 2022.
She gave a performance at the Global Citizen Festival in Accra the same year.
The second extended play (EP) by Uncle Waffles was titled Asylum and was published in March 2023.
It included the song "Yahyuppiyah" as one of its tracks.
Uncle Waffles Biography, Songs, Career and Net Worth in 2023
On Tiktok, her song "Yahyuppiyah" is now one of the most popular songs being used because of the Amapiano trend.
She made history at the Coachella music festival in April 2023 by being the first amapiano performer to ever play there.
In the wake of the widespread acclaim that her song "Yahyuppiyah" received,
Uncle Waffles uploaded a video on Tiktok showing herself and the American singer Ciara dancing together.
In addition, it is announced that she will do a performance at the Afro Nation Festival in June 2023,
Which was scheduled for both Miami and Portugal in America and Europe respectively.
In the year 2023, Uncle Waffle will be one of the up-and-coming African artists dominating African music and culture.
UNCLE WAFFLES SONG
The following is a list of tracks and features that Uncle Waffles has been a part of when she first started working in the music business.
Tanzania – starring Tony Duardo, Sino Msolo and BoiBizza
Her song "Yahyuppiyah" was performed by Uncle Waffles, Tony Duardo, and Justin 99, with Pcee, Eeque, and Chley.
Felo Le Tee and Uncle Waffle are the artists featured on "Hayi."
Discography
Red Dragon E.P – 2022
Asylum E.P – 2023
AWARDS
At the African Muzik Awards in 2022, Uncle Waffle took home the trophy for best DJ in Africa.
She was considered for the award of Best Female DJ at the All Africa Music Awards.
Uncle Waffles Biography, Songs, Career and Net Worth in 2023
In 2020, during the COVID-19 lockdowns, Uncle Waffles supposedly spent eight hours a day perfecting her DJ skills.
Despite South Africa's "heavily saturated" music business,
She was able to secure concerts after signing with creative firm KreativeKornerr.
Taking three months to perfect, the record was named the sixth greatest afropop song of 2022 by Rolling Stone, and she was dubbed "a global ambassador for amapiano" by the publication's reviewers.
This was Uncle Waffles' first time performing in the United Kingdom and Ireland, which she did in April 2022.
This was the first ever all-star amapiano tour in the area,
It was closely connected to a series of performances put on by Piano People that she headlined with DJ Maphorisa and Focalistic.
The music video for "Tanzania" by Uncle Waffles was released for the first time in September 2022.
Uncle Waffles Biography, Songs, Career and Net Worth in 2023
Uncle Waffles confirmed her residence on BBC Radio 1 in the same month.
At the Accra, Ghana Global Citizen Festival in 2022, she was the lone DJ to play.
In December of 2021/22, she collaborated with KFC South Africa to develop a limited-edition "Uncle Waffles burger" for sale at local locations.
She followed it up with a concert tour of the US and AU.
Uncle Waffles was named by the British music magazine Mixmag as a "breakthrough DJ" for 2022.
In March of 2023, she was also recognized as a "#UpNow" artist on the streaming service Audiomack.
Released as the first single from the album, "Yahyuppiyah" appeared on Uncle Waffles' second EP, Asylum, in March 2023.
Within a week after its release, the EP was certified gold by RISA, the South African recording industry.
She made history in April 2023 by giving the first ever performance by an amapiano performer at the Coachella Valley Music and Arts Festival.
On Instagram, Uncle Waffles said, "I'm crying, wow," in response to Beyoncé's use of a sample from her song "Tanzania" during a dance break on the setlist for her Renaissance World Tour.
In 2023, she is up for Best International Act at the BET Awards.
Uncle Waffles Net Worth in 2023: How Rich is Uncle Waffles?
As a result of having several hit songs, Uncle Waffles has now earned a spot among the richest men in South Africa.
She makes her money through streaming Royalties, performance fee/appearance as well as endorsement deals.
The estimated net worth of Uncle Waffles in 2023 is somewhere around $300,000,
If you convert that to South African currency it equals over 5,507,100 South African Rand.
RECOMMENDED:
Social Media
As an active user of social media and one who was blown as a result of the social media influence,
Uncle Waffles is an active user of each platform with millions of followers from around the world.
DJ Uncle Waffles's Tiktok and Instagram accounts can be found at @uncle.waffles and @Unclewaffles_, respectively.
Uncle Waffles Biography, Songs, Career and Net Worth in 2023
PROFILE SUMMARY
| | |
| --- | --- |
| Real Name: | Lungelihle Zwane |
| Stage Name: | Uncle Waffles |
| Date of Birth: | 30 March 2000 |
| Place of Birth: | Eswatini (Swaziland ) |
| Genre: | Amapiano |
| Occupation: | DJ, Dancer, Record Producer |
| Nationality: | Eswatini |
| Net worth | $300,000 |
Summary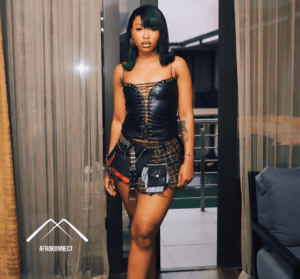 Uncle Waffles is the stage name of Lungelihle Zwane, a DJ and record producer originally from Swaziland who now resides in South Africa.
Billboard called her the "princess of amapiano" for her contributions to her dancing skills within the amapiano genre.
The Recording Industry of South Africa recognized her first hit, "Tanzania," as quadruple platinum since it achieved number one in that country.
She was raised by her grandmother throughout her youth since she had never met her biological parents.
When she was a teenager, she finally made amends with her mother, but their relationship was difficult after that point.
Zwane was raised on Black Coffee, Lebo Mathosa, and DJ Kent, among other South African house and kwaito musicians.
Zwane was a TV host on Eswatini TV's Studio1 before she became famous as a DJ, however she left the program in January 2022 and was replaced.
Since the studio had a fifteen-year-old set of DJ decks, this is where her buddy, Dj Stunner,
Who worked at the studio and appeared on the program with her, first taught her how to DJ.
After deciding to pursue further education in South Africa, she moved there.