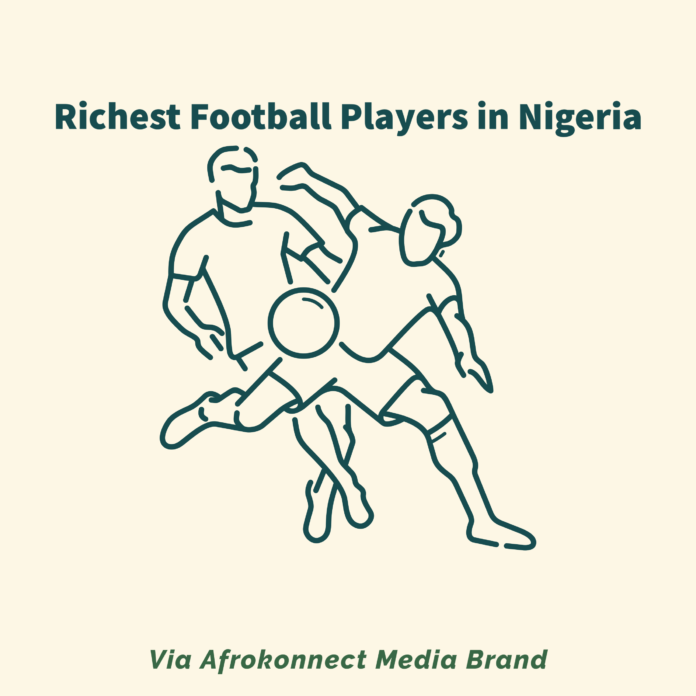 Welcome to this publication about the top 10 Richest Nigerian Footballers from Nigeria in 2023 via Afrokonnect.
Do you want to discover which Nigerian players have the most money right now?
As of the year 2023, the ten richest are profiled here in this post with their net worth.
It's possible that some of your favorite athletes may surprise you by making the cut.
Nigeria is home to a large number of African footballers who have achieved international acclaim.
From Austin Jay Jay Okocha and Kanu Nwankwo to many more.
That includes the ones who are still very much involved in the game.
Who Is the Highest Paid Footballer in Nigeria Right Now? Perhaps you're wondering.
As far as we can tell, John Mikel Obi is now the richest footballer in Nigeria.
The former Chelsea midfielder is the wealthiest footballer in Nigeria with a net worth of approximately 23 billion Naira in 2023.
Mikel, in contrast to many Nigerian players, has widespread respect on the international stage,
Particularly in England, where he has spent the most of his professional career.
More information about him will be revealed as you read on.
Now that we know who the richest football star in Nigeria 2023 is,
You can see who others made it into our top 10 list.
I'll begin with the tenth-wealthiest individual and work my way up.
If you're serious about learning about them all, read the text in its entirety.
You'll find the current wealthiest footballers from Nigeria listed below.
Top 10 Richest Nigerian Footballers in Nigeria 2023
You'll find a list of the highest-earning Nigerian footballers below;
10. Alex Chuka Iwobi – N1.3B
Alex Iwobi, or Alex Chuka Iwobi, is the tenth player on our list.
He has made a name for himself on the football field and presently represents Everton Football Club in the Premier League.
The defensive midfielder was born on May 3rd, 1996 in the city of Lagos, Nigeria.
Austin Jay Jay Okocha, a former captain and playmaker for the Nigerian national soccer team, is his cousin.
Alex Iwobi has left his mark on the history books of the English Premier League by playing for both the youth and senior sides of Arsenal FC.
The young kid has amassed a large following on social media thanks to his unwavering support for both his nation and his team.
When he plays for the Nigerian national team, he is sure to be a fan favorite.
Alex Iwobi has a current market value of about N1.3 billion.
This makes him one of the wealthiest football players in Nigeria.
9. Kelechi Promise Iheanacho – N1.4B
Because of the criticism he has received, youngster Kelechi Iheanacho did not get a lot of playing time in the most recent African Cup of Nations.
The player for Leicester City was once considered one of the most promising Nigerian players overseas.
Iheanacho is presently one of the richest players in Nigeria,
Thanks to his time spent at Premier League powerhouse Manchester City.
The athlete reportedly has a garage full of expensive cars, including a Rolls Royce, a Mercedes C300, and a Range Rover.
Furthermore, he has one of the nicest homes of any Nigerian player.
Kelechi Iheanacho is now the 9th wealthiest Nigerian athlete, with a net worth of over N1.4 billion.
Richest Nigerian Footballers in Nigeria 2023
8. Victor Anichebe – N6B
One of the players from Nigeria who gained international attention a few years ago is named Anichebe Victor.
When Anichebe was a member of the Super Eagles,
He was a striker who excelled with other elite Nigerian players. He dominated games.
The young guy became well-known after his time with the Nigerian senior squad,
He went on to play in various leagues throughout the globe, particularly the Chinese League, where he amassed a considerable fortune.
In spite of being a free agent at the moment, Anichebe is still the eighth-richest player in Nigeria.
About 6 billion Naira is the sum total of his estimated wealth.
7. Emenike Emmanuel – N6.4B
While playing with the Super Eagles, Emenike Emmanuel was a dangerous attacker.
Many of Nigeria's victories in the 2013 African Cup of Nations may be attributed to him.
The striker has played in enough international leagues and amassed enough riches to be included here.
One of Nigeria's richest football talents, Emenike Emmanuel has a net worth of over N6.4 billion.
As a result of his wealth, he now ranks #7.
6. Musa Ahmed – N6.5B
To most Nigerian fans, Ahmed Musa is probably the best player in the world right now and deserves to be on our list.
Musa would be one of the three wealthiest Nigerian players if he hadn't given so much of his money away.
People both within and outside of his community have benefitted from his assistance.
There is no doubt that Ahmed Musa will perform at his best in the most crucial of games.
Both in the African Cup of Nations and the World Cup, he has scored against teams who are considered to be among the best.
Currently, he is a member of the Al-Nassr squad in Saudi Arabia,
Where he has been a significant contributor to the club's overall success.
It is believed that Ahmed Musa has a net worth of around N6.5 billion,
Which places him as the sixth wealthiest player in Nigeria at the present.
Richest Nigerian Footballers in Nigeria 2023
5. Victor Moses – N7.3B
The footballer Victor Moses is the 5th wealthiest in Nigeria with a net worth of roughly 7.3 billion Naira.
The Nigerian national team fans were excited to see the former Chelsea FC midfielder play for Nigeria,
Since he was one of the players they were most looking forward to seeing.
Both the World Cup and the African Cup of Nations have seen him play for Nigeria's national team.
The player's return to the spotlight was when he played at Chelsea and established himself as a valuable member of his new squad.
4. Vincent Enyeama – N10B
Vincent Enyeama is the all-time leader in Super Eagles caps and is widely considered the finest goalie in Nigeria's history.
At the present time, he is also the team's oldest member.
You should never underrate Enyeama since he has the ability to score goals (penalties) like a striker.
He has played the position of goalie for the most of his professional career, and as a result, he is highly regarded as a player in Israel.
An estimated 10 billion Naira is Enyeama's net worth, making him the fourth-wealthiest player in Nigeria.
Richest Nigerian Footballers in Nigeria 2023
RECOMMENDED:
3. Odion Ighalo – N12B
Odion Ighalo, who played for Manchester United, is unquestionably one of the finest attackers to ever play professionally outside of Nigeria.
While playing in the Chinese Super League, not only did the former player become famous, but he also amassed a substantial fortune.
It's great to see Ighalo back where he belongs, in front of a global audience,
As he rejoined an English Premier League club for a spell.
The transfer was described as "a dream come true" by him.
It's been said that Odion Ighalo is worth over 12 billion Naira.
The ex Manchester United star is the third-wealthiest footballer in Nigeria right now, according to his net worth.
2. Obafemi Martins – N14B
Any true fan of the beautiful game in Nigeria surely knows the name Obafemi Martins.
The former Super Eagles forward's nickname was "Obagoal," which means "the king of goals," because to his incredible goal-scoring ability.
The term "Obagoal" immediately conjures images of physical prowess, swiftness, pinpoint precision, and mastery of one's craft.
Super Eagles squad views him as a crucial member even though he no longer plays,
Obafemi Martins is now a member of the Shanghai Shenhua squad that competes in the Chinese Super League.
Prior to moving to China, Martins played professionally in Italy and England.
Because of his approximately N14 billion value, he is currently the second richest Nigerian player at the present.
RECOMMENDED:
1. John Mikel Obi – N23B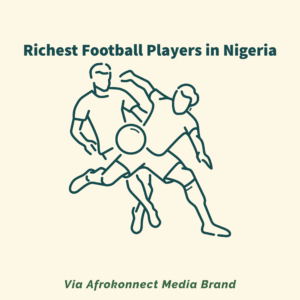 The finest player Nigeria has ever produced, John Mikel Obi, also happens to be the wealthiest footballer on our list of the richest footballers in Nigeria.
There is no question that Mikel's name will be included among the top three most successful football players in the nation when the topic is brought up.
Despite the fact that he is not a very prolific striker,
The man who once played for Chelsea FC has won almost every major trophy that is available in all of the leagues in which he has participated.
The prestigious English Premier League and European Champions League are two examples.
He is perhaps the wealthiest and most famous football player in Nigeria.
Richest Nigerian Footballers in Nigeria 2023
Closing Remarks
I'm curious as to how you, a football fan, feel about this list of the wealthiest Nigerian players right now.
Learn more about celebrities careers and their present net worths here.
You can read about Victor Osimhen Biography, net worth and Grass to Grace story before you leave this page,
You may now be confident in what you are saying when you start stating that your favorite Super Eagles player is the richest Nigerian athlete at the present time, since you will have access to the aforementioned facts.