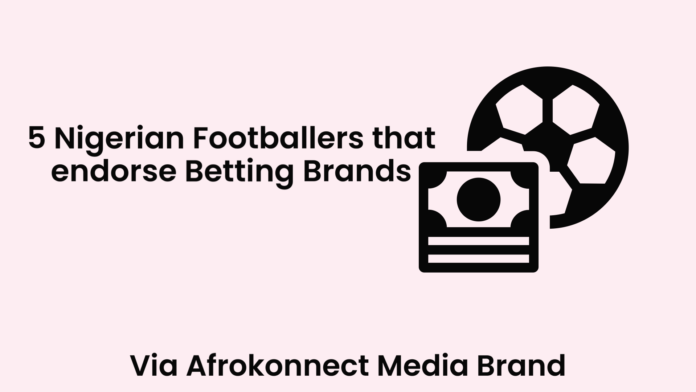 In this article you will discover 5 Nigerian Footballers that endorse Betting Brands via Afrokonnect.
Given the large number of betting sites in Nigeria, betting operators must be right on top of their PR and marketing game if they are to make any telling impact in the market.
One way of getting ahead of the cue is by having the right brand ambassador to push the image of the brand.
With Nigerian fans being very passionate about their football and football stars,
More betting companies are identifying with past and present Eagles greats as ideal partners to boost their profiles.
5 Nigerian Footballers that endorse Betting Brands
In this article, we look at the top Nigerian footballers that endorse betting brands in the country.
JayJay Okocha – Betking
Jay Jay Okocha is one of Nigeria's greatest footballers; it's therefore no surprise to see that he is being courted by many brands.
The former Super Eagles skipper has endorsed many companies, both during and after his playing days,
But his most notable project has arguably been his current partnership with Nigerian betting giants, Betking.
Betking have been very aggressive with their branding and marketing, and have smartly installed Okocha as the face of the brand.
Betking officially announced Okocha as their brand ambassador in February 2018, and the company has grown astronomically since then.
The association has worked wonders for the relatively new bookie,
Pushing them right up there amongst the most popular betting brands in the country.
In fact, My Betting Sites Nigeria, a top betting affiliate marketing site, rates Betking amongst the top five bookies in the country.
Nwankwo Kanu – Sportsbet
Kanu Nwankwo is one of Nigeria's most decorated footballers, winning league titles, Cups and even the UEFA Champions League during a decorated playing career.
And even when he wasn't representing traditionally big European clubs, he was still winning trophies.
Who can forget his contribution to Portsmouth's stunning FA Cup triumph in 2008.
He also bagged lots of individual honours, including being named African Footballer of the Year on two different occasions.
Sure enough, everyone wants to be associated with such greatness.
Kanu has previously been a brand ambassador with SportyBet, but his current gig is with crypto-centric bookmaker Sportsbet.
The partnership started in June 2022, when Papillo was announced as the brand's global ambassador.
Nigerian Footballers that endorse Betting Brands
Victor Ikpeba – Bet9ja
One of the first betting companies to leverage on the popularity of Super Eagles players was bet9ja, who joined forces with Victor Ikpeba almost a decade ago.
Safe to say that this was a terrific move!
The partnership between Bet9ja and Ikpeba has consistently borne fruit,
With Bet9ja surging to the top of the Nigerian betting market.
They have undoubtedly become the most popular betting brand in Nigeria, and part of the reason for that is the Ikpeba endorsement.
Ikpeba was also a member of the revered Eagles squad of the mid-90s and early 2000s.
He also boasts a very impressive club CV, representing heavyweights like Monaco and Dortmund.
His goal-scoring exploits for Monaco earned him the nickname, Prince of Monaco.
He's now also very much the Prince of Bet9ja!
Daniel Amokachi – BetBonanza
Along with JayJay, Kanu and Ikpeba, Daniel Amokach also represented Nigeria in the golden years of the 1990s and 2000s,
Just like his contemporaries, he has also earned himself a deal with a betting company.
Amokachi is currently the face of BetBonanza, having teamed up with the new-ish betting brand in 2019.
The forward, fondly called "The Bull" during his playing days, can be seen on numerous BetBonanza posters and online banners.
Amongst many other individual and team honours,
Amokachi will forever be remembered as the first player to score in the UEFA Champions League,
Finding the net for Club Brugge in a UCL tie against CSKA Moscow in 1992.
Finidi George – Lucky Bet
Rounding up our list is another member of that great Eagles era, Finidi George.
The flying winger was instrumental in Nigeria's superb World Cup debut in 1994,
When remarkably he was tearing down the right flank and tormenting the very best left backs in the world.
These days, Finidi is into football management, and a bit of brand endorsement.
The former Eagles No. 7 was announced as an ambassador for Lucky Bet in February 2020,
with the brand stating its ambitions of climbing into the top order of betting sites in Nigeria.
Nigerian Footballers that endorse Betting Brands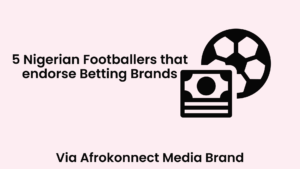 Conclusion
Nigeria has a lot of Reliable Betting Sites and some of the Best Prediction Sites,
Most of these betting brands use influential Nigerian footballers for publicity,
And ultimately to further Cement trust in the heart of their target audience.
Thank you for reading through this article about Nigerian Footballers that endorse Betting Brands.