You are welcome to this post about Maraji Biography, Educational backgrounds, and Net Worth in 2023 via Afrokonnect.
Maraji is the stage name that comedian and content producer Gloria Oloruntobi uses professionally.
Oloruntobi is from Nigeria. The comedian, who was born on February 6th, 1997, is originally from the state of Edo.
Although she was born in Edo State, she spent most of her childhood in Lagos State.
Maraji Biography, Education, Comedy Career, and Net Worth in 2023
Family and Early Life
Her mother and father are both still living together,
They remain in a happy marriage, and are both very funny too.
Maraji has one sister, two brothers that grew up with her and still supports her,
Her father was not aware that she was doing comedy skits when she first began,
But her mother was well aware of it and has given her full support right from the beginning up till the present day.
While she was still in school, her mother made sure that she maintained a healthy balance,
Making sure she didn't fall behind in either her academics or her ability to produce quality material.
Relationship Status and Personal life
Maraji is in a secret relationship at the moment,
Though she has promised to come clean when the man of her dreams pops the question.
Plans for the Nollywood industry
In a short amount of time, Maraji will be working in the film business.
Maraji is already receiving offers to star in movies,
Though she always turns them down since either the part she is supposed to play or the plot of the movie is one that has been done before or does not align with her vision.
Additionally, she portrayed the main character in the music video for the song "Something Light" by Falz featuring Ycee,
As well as the music video for "Single and Searching" by Yemi Alade featuring Falz.
Both of these videos were directed by Falz.
According to Maraji some of the people with whom she will enjoy collaborating includes,
Therealfemi, Chigurl, and Genevieve Nnaji to name a few.
Educational Background
Covenant University, a private institution located in Nigeria, is where Maraji earned her Bachelor of Arts in International Relations.
Maraji received a second class upper degree from Covenant University when she was 19 years old and graduated with it.
Maraji gave two explanations for why she decided to major in International Relations throughout the course of her interviews (with Ebuka on Rubbin Mind and on R2TV).
The first reason is that the title of the class is pretty intriguing sounding, and the second is because she is tremendously into history.
Maraji Biography, Education, Comedy Career, and Net Worth in 2023
How She Got Her Start
During the 2016 winter break, when she was in the second semester of her third year,
Maraji contacted a friend out of boredom and her friend inquired whether she had heard the new Nicki Minaj song that had just come out.
When they finished talking, Maraji listened to the music, recorded a lip-sync video, and emailed it back to her buddy,
Who found it extremely intriguing and pushed her to put it online but Maraji denied due to fear of humiliation.
Her buddy went on to broadcast the video without her permission or consent,
And the video received great feedback and gained momentum on the internet as a result of her friend's actions.
Maraji Biography, Education, Comedy Career, and Net Worth in 2023
During the winter break, Maraji and her buddy continued to shoot lip-sync videos,
Despite having made a pact with one another that they would cease doing so as soon as school started back up again.
Maraji once again created a lip-sync video for the song "Sugar Baby,"
Which Reekado Banks reposted her video on his Instagram page.
As a result, Maraji's number of followers on Instagram increased,
As people returned to her page to applaud her for the video and try to find tutorials on how to make videos like that.
Her passion in content creation was sparked after singers Korede Bello and Skales uploaded her lip-sync videos on their official Instagram accounts too.
After creating a number of lip-sync videos for famous songs,
She made the decision to switch things up and began creating lip-sync films of popular comedy videos.
In these clips, she behaved crazier than the original character, but the music remained the same.
The results were that the videos did far better than the song lip-sync videos.
She began producing comedy sketches after she had already amassed a large following on Instagram,
Since then, she has risen up the ranks to become one of the top 10 Nigerian Instagram comedians.
Why Maraji hardly collaborate with other content creators
The reason why she does not collaborate with other producers of internet material is as follows:
In contrast to the majority of other comedians on Instagram, who regularly collaborate on content together, Maraji always works alone.
Maraji has lately disclosed the reason why she prefers to work alone,
Despite the fact that some people believe she does it out of pride and others believe she merely like the independence of working alone.
She claims to be a perfectionist who believes there is always room for improvement,
Because of this, she prefers to work alone since she is afraid of coming off as a critic if she pushes others too hard and expects them to give their all in a group setting.
She is responsible for every step of the content production process on her own,
Including coming up with ideas for the videos, acting in them, filming them, and editing them.
Her management has tried on several occasions to hire her a videographer, but she has always rejected,
Citing that she likes every component of the work and that, because she is generating material full-time and has no other employment,
Maraji does not see any issue in taking care of every aspect of the production herself.
Awards and Recognition
| | | | |
| --- | --- | --- | --- |
| Year | Award Ceremony | Prize | Result |
| 2017 | The Future Awards Africa | Prize For Comedy | Nominated |
| 2017 | Nigerian Teen Choice Awards | Choice Instagrammer | Nominated |
| 2018 | The Future Awards Africa | Prize For Comedy | Nominated |
| 2018 | City People Music Awards | Comedy Act Of The Year | Nominated |
| 2018 | Nigeria Entertainment Award | Comedy Act | Nominated |
Maraji Net Worth in Naira and Dollars in 2023
According to sources from Maraji, she charges between 500,000 to 1,000,000 Naira for each Instagram sponsored post,
Since 2018, she has been getting along much better, and she now charges more N1,000,000 for a single sponsored Instagram post.
She makes money from sponsorship deals and the ad revenue/Adsense from her YouTube channel.
In 2016, for her first sponsored post, she received NGN 10,000,
Maraji has said that she currently receives a lot of advertising requests,
But she turns down most of them because she doesn't want to flood her audience with promotional content and instead focus on making people laugh.
She is also careful to make sure that the product or service she is promoting fits in with her brand of comedy and that the company behind it is reputable.
As of the year 2023 Maraji is said to have an estimated net worth of $500,000, which equals around 214,030,000 Nigerian Naira.
RECOMMENDED:
Maraji Biography, Education, Comedy Career, and Net Worth in 2023
Profile Summary
| | |
| --- | --- |
| Birth Name | Gloria Oloruntobi |
| Stage Name | Maraji |
| Date Of Birth | February 6, 1997 |
| Religion | Christian |
| State Of Origin | Edo |
| Age | – |
| Net Worth | $500,000 |
| Nationality | Nigeria |
| Associate | Twyse Ereme, Taaooma, Funke Akindele  |
Social Media handles & Contact Details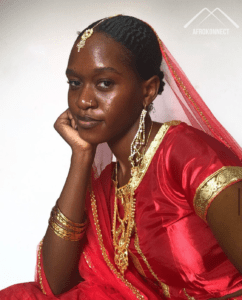 This brings us to the end of this article about Maraji Biography, Educational backgrounds, and Net Worth in 2023 via Afrokonnect.