Welcome to this post about How To Get ISBN Number In Nigeria, via Afrokonnect.
We will cover a step by step Guide to Obtaining a Nigerian ISBN Number.
Do you live in Nigeria and want to publish a book,
Or, have you already published a book and want to know how to receive an ISBN number,
So that it can be compared to books published by other writers throughout the world?
You won't need to go any farther, as the information you need to obtain an ISBN number in Nigeria is included in this page.
What exactly is ISBN Number?
According to Wikipedia, the International Standard Book Number, sometimes known as an ISBN,
Is a numeric commercial book identification that was created with the intention of being one-of-a-kind.
In most cases, the International Standard Book Number (ISBN) is individually allocated to each edition and version of a publication.
For example, the ISBN for a book is different from the ISBN for the book's paperback or hardcover editions of the same book.
Before 2007, the typical length of an ISBN was ten digits, but starting on April 1 of that year, it was increased to thirteen digits.
Several systems exist for issuing an ISBN, and these procedures vary from nation to country,
Especially in relation to the scale of the publishing industry in that country.
Publishing books may be a lucrative business for authors who are skilled storytellers and communicators.
You may get an ISBN number for your book from the National library, which can be found in either Abuja or Lagos.
This is one of the most important phases in the process of publishing a book in the correct manner.
Accreditation might help your works obtain attention in huge libraries and booksellers,
And it could also benefit you in times of difficulty,
Such as a lawsuit involving plagiarism.
In spite of this, its primary purpose is to identify books, given that no two books may have the same ISBN number.
What is difference between ISBN and ISSN?
ISBN and ISSN are both unique identification numbers used in the publishing industry, but they serve different purposes.
Here's the difference between the two:
ISBN (International Standard Book Number):
Purpose: The ISBN is used to identify and track individual books or book-like products.
Scope: It is primarily assigned to books, including textbooks, novels, reference books, and other publications intended for individual sale or distribution.
Function: The ISBN helps in cataloging, inventory management, and facilitating book trade transactions.
It ensures accurate identification of a specific edition, format, or version of a book.
ISSN (International Standard Serial Number):
Purpose: The ISSN is used to identify and track ongoing publications that are issued in a series or serial format.
Scope: It is assigned to periodicals, such as newspapers, magazines, scholarly journals, newsletters, and other publications that are released in a continuous or regularly recurring manner.
Function: The ISSN helps in organizing and distinguishing serial publications, making it easier to locate and access specific issues or volumes.
It aids in the management of subscription services, library holdings, and bibliographic control.
In summary, the key distinction lies in their application:
ISBNs are used for individual books, while ISSNs are used for ongoing serial publications.
Both numbers play a crucial role in the publishing industry, ensuring accurate identification, tracking, and management of books and serials respectively.
How do I get an ISBN number for my book in Nigeria Online?
As was said before, anyone interested can obtain this number by visiting either of the nation's libraries in Abuja or Lagos.
The cost of an ISBN in Nigeria ranges from N2,500 to N5,000 but one should anticipate spending considerably more.
NLN makes it simple to apply for an ISBN for your book in Nigeria.
To learn more about Nigeria's national library, check out its online portal.
You will see that there is a drop-down menu for ISBN and ISSN at the very top.
Simply access this website by clicking on the link provided or by going directly to it.
Register an account, or enter your existing details if you have one.
After signing in, a button reading "APPLY FOR ISBN" will appear in a pale blue font.
Click the "Next" button, fill out the form, and continue with your selections.
Your ISBN will be shown when you finish processing and making payment.
Follow the actions that are explained below in order to receive it on time.
Address a letter to the appropriate national library requesting an ISBN number and a form, and include your request in the letter.
Bring a photocopy of the certificate of company registration that you acquired from the Corporate Affairs Commission.
Please include a copy of the book's manuscript that you wish to have assigned an ISBN number.
In response to the submissions you've made, an ISBN will be allotted to you.
After obtaining it, you are able to move forward with publishing your book.
READ ALSO:
Step by Step Guide on How To Get ISBN Number In Nigeria Offline
To obtain an International Standard Book Number (ISBN) in Nigeria, you can follow these steps:
Visit the National Library of Nigeria: The National Library of Nigeria is the designated agency responsible for issuing ISBNs in the country.
Prepare the necessary documents: Typically, you will need to provide certain documents to support your ISBN application.
These may include:
A completed application form: Obtain the official application form from the National Library of Nigeria. Fill it out accurately and completely.
Proof of publication: You might need to provide evidence that your book has been published or is about to be published.
Proof of identity: You may be required to submit a valid identification document, such as a passport or national ID card, to verify your identity.
Author/Publisher information: Prepare details about the author or publisher, such as name, address, contact information, and any relevant affiliations.
Submit your application: Once you have gathered the necessary documents, submit your application to the National Library of Nigeria.
Pay the required fees: There is a certain fees associated with obtaining an ISBN. They will provide you with information on the accepted payment methods.
Await confirmation: After submitting your application and payment, you will need to wait for the National Library of Nigeria to process your request.
This may take some time, so be patient.
They will communicate with you regarding the status of your application and provide you with the assigned ISBN(s) if your application is approved.
Remember to adhere to any additional guidelines or requirements provided by the National Library of Nigeria during the application process.
They will have the most up-to-date information and can guide you through the specific steps required to obtain an ISBN in Nigeria.
Conclusion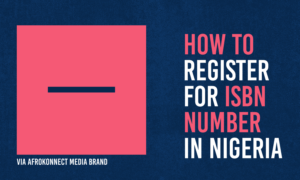 In conclusion, obtaining an International Standard Book Number (ISBN) in Nigeria is a crucial step for authors,
As well as publishers looking to establish their books in the literary market.
By following the application process outlined by the National Library of Nigeria,
Individuals can ensure their works are properly cataloged and identified with a unique ISBN.
This identification facilitates efficient book distribution, tracking, and marketing both locally and internationally.
By obtaining an ISBN, authors and publishers can enhance their professional credibility,
Increase the discoverability of their books, and reach a wider audience.
Remember to thoroughly review the specific guidelines and requirements provided by the National Library of Nigeria to ensure a smooth application process.