In this article you will find information about Don Jazzy Net Worth in 2023, Biography and Career as a Music Producer via Afrokonnect.
When you're talking about the Nigerian or even the African Entertainment Industry then the name Don Jazzy must be mentioned,
Weather you're making references to this decade or the last decade,
You'll at some point still bounce back to the Don because he's been here long enough,
His contribution to the industry as a Producer, Musician and a business mogul cannot be overemphasized,
And that's why today we're going to share some information about Don Jazzy with you,
In this article you'll find more information about the net worth of Don Jazzy, his biography, Endorsement deals and more.
Don Jazzy Biography, Background Information and Net worth in 2023
A lot of people only know Don Jazzy as a professional music producer and that's all they know,
They don't know about his background story, His struggles, Achievements, Labels and all of that,
So, continue reading this article to discover all of that information about your favorite Producer.
Don Jazzy was Born on the 26th of November in 1982 and his parents Mr and Mrs Ajereh gave him the name Michael Collins Ajereh,
Don Jazzy is an Indigene of Isoko Village in Delta State, Nigeria.
Incase you don't know, Don Jazzy's mother is an Igbo Princess from Abia State while his father originates from the Isoko,
He was born in Umuahia, Abia State though After a while his family moved to Ajegunle in Lagos state, where he was raised.
Now, that was a little background information about Don Jazzy's roots so let's dive into his educational career.
Educational background
While growing up Michael Collins Ajereh popularly known as Don Jazzy attended the Federal Government College Lagos,
The same school He completed his secondary school education,
After graduating from secondary school Don Jazzy proceeded to Ambrose Alli University, Ekpoma in Edo state, Nigeria,
Where he studied business management and graduated with flying colors.
Don Jazzy Career as a Music Producer, Net Worth in 2023 and Biography 
After graduating from the University Don Jazzy decided to start music production professionally,
Even though He discovered his passion for music since he was only 12 years old,
He developed an interest in music and began to play the bass guitar then,
He also gained knowledge of traditional and percussion instruments.
By the year 2000 Don Jazzy went to London,
While he was staying with his Uncle in London he used to play drums and instruments in their local church,
As well as working at McDonald's as a security guard.
Gradually but steadily Don Jazzy kept growing his network and Audience,
He started associating with other acts including the likes of Solek, JJC, Kas, The 419 Squad and D'Banj,
Don Jazzy learnt most of his production skills from Emeka Infiniti at O-Town record company.
Don Jazzy Record Labels, Net Worth, Biography, Relationship, House and Cars in 2023
Mo' Hits Records and GOOD music
In 2004 Don Jazzy collaborated with D'Banj to form an imprint called Mo'Hits Records,
According to Nigeria's Corporate Affairs Commission (CAC) Mo'Hits Records Limited was founded in 2006, signing D'banj as its first recording artist.
Don Jazzy was the CEO/President of the label and D'banj was the Co-Owner.
After two years Don Jazzy has already produced albums for D'banj titled No Long Thing and Rundown/Funk You Up,
The album came with several hits and it gave birth to a third studio album, Curriculum Vitae,
Around this time Don Jazzy developed a recognizable introduction "It's Don Jazzy Again!".
In 2008 Don Jazzy was credited in the production of The Entertainer by D'Banj,
He also contributed to the production of Wande Coal's Mushin 2 MoHits,
Sometimes Don Jazzy perform background vocals for artists he produce,
Some of the acts he has done vocals for includes the likes of D'Banj, Sauce Kid, Dr SID, Ikechukwu, Kween, D'Prince, Jay-Z amongst others,
Don Jazzy has also provided vocals on Kanye West's song Lift Off alongside Beyoncé on the Watch The Throne album.
In 2011 Don Jazzy was employed by Kanye West as a producer at Very Good Beatz.
In March 2012 Don Jazzy and D'banj Parted ways and the Mo'hit records was disbanded,
D'Banj's reason for leaving was cited as difference in interests,
Don Jazzy went on to establish another record label known as Mavin Records.
Mavin Records
After Don Jazzy and D'Banj abandoned their partnership imprint In March 2012,
On 7 May 2012 Don Jazzy announced a new record label "Mavin Records",
Mavin Records also known as the Supreme Mavin Dynasty is a Nigerian record label founded by record producer Don Jazzy,
Also Check Out our article about The top 10 Best Record labels In Nigeria.
According to Don Jazzy "I see Mavin Records being the powerhouse of Music in Africa in the shortest possible time."
Don Jazzy and Olamide Headies Controversy
During the Headies Awards in 2015 Don Jazzy and Olamide had a little misunderstanding on Stage,
The two disagreed about who should have won the "Next Rated" award,
After Lil Kesh of YBNL records lost to Reekado Banks Who was a Mavin artist,
Olamide went on stage to express his anger by saying Lil Kesh deserved the award and he's their next rated,
In Response Don Jazzy told Olamide he can come and get the car given to Reekado if the car was his reason for the outburst,
After the show both of them apologized to each other and moved on with their careers.
Don Jazzy Wife, Relationships and Girlfriends
Over the years the public always thought Don Jazzy has never married in his entire life,
On the 4th April 2021 Don Jazzy made a statement via his Social media accounts,
According to him he got married to his best friend Michelle when he was 20 years old,
But they got divorced two years later because he was very young and focusing on his music then:
❤️❤️❤️ pic.twitter.com/moBlgm5wzl

— ITS DON JAZZY AGAIN. 🐘 (@DONJAZZY) April 3, 2021
Don Jazzy is still single and not in any open relationship at the moment,
He said it before that he loves to keep his relationship status private,
He added by saying The only reason why he's bringing up his previous marriage online after a long time was Because he felt his recent interview with Ebuka was an all out interview,
Where he talked about all his life experiences and he couldn't skip that important part of his life,
You can also watch the Black Box interview with Ebuka and Don Jazzy via Bounce Radio below;
In the interview Don Jazzy talked about a lot extensively so enjoy;

Don Jazzy has always professed his love for American singer and songwriter Rihanna,
Nobody knows if it's a joke or he's genuinely in love with her,
Though after the news of Rihanna reportedly dating ASAP Rocky, Don Jazzy revealed that he needs a new girlfriend via a post on his official Twitter account,
He stated that it's obvious that the singer is pregnant and thus it's time he gets a new girlfriend.
Don Jazzy Net Worth in 2023, Biography, House and Cars
Don Jazzy is currently one of the richest music producers in Nigeria and in Africa at large,
Recently a news broke out that the producer bought a new house reportedly worth N300 million naira in Lekki part of Lagos State,
So you can imagine how much more of this type of assets Jazzy has unknown to the public,
Don Jazzy is also a car freak and has a lot of these toys in his garage.
List of Exotic cars owned by Don Jazzy
Among the numerous cars you can find in Don Jazzy Garage is a Bentley continental flying spur worth an esimated $200,000 minimum.
The 6.0 litre W12 engine can propel the Flying Spur from 0 to 60 mph in just 3.7 seconds (0 to 100 km/h in 3.8 seconds),
Other cars in the collection includes;
2016 Cadillac Escalade worth $100,595

Bentley Continental Flying Spur

Range Rover Sports SUV worth $130,000

Mercedes G-Wagon worth $156,450

Porsche 911 Carrera worth $112,000

Lexus LX570 

worth $86,930

2019 Toyota Land Cruiser and 

Toyota Prado SUV 

worth between 

$59,840 to $87,807
Don Jazzy Net Worth in 2023 – Forbes
Don Jazzy has an estimated net worth of $20 million which equals over 8,267,000,000 Nigerian Naira according to Forbes,
That figure officially takes Don Jazzy into the Top 10 richest musicians in Nigeria and also making him the richest music Producer in Nigeria 2023.
FAQ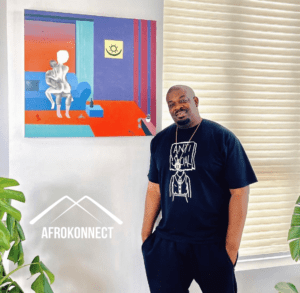 How much is Tiwa Savage net worth in 2023?
Tiwatope Savage popularly known as Tiwa Savage is a Nigerian singer, songwriter and an actress born on 5th February 1980 in Isale Eko,
Read about Tiwa Savage Net worth and Biography Here.
Don Jazzy and Wizkid who is the richest in 2023?
Since According to Forbes Don Jazzy has an estimated net worth of $20 million dollars,
Wizkid on the other hand has an estimated net worth of $35 million dollars,
By that calculation, Wizkid is richer than Don Jazzy with around $15 million dollars.
Social Media
On Instagram Don Jazzy's account has over 10.5 million followers,
While on Twitter Don Jazzy has over 5.1 million followers, you can follow him on
Twitter: @DONJAZZY

Instagram: @DONJAZZY
Also Check out the: Net worth and Biography of Don Jazzy new signee Ayra Starr.
On that note, this brings us to the end of this article about the Nigerian ace veteran producer,
Let us know your thoughts and opinions via the comments section below. Thanks for reading along with us.