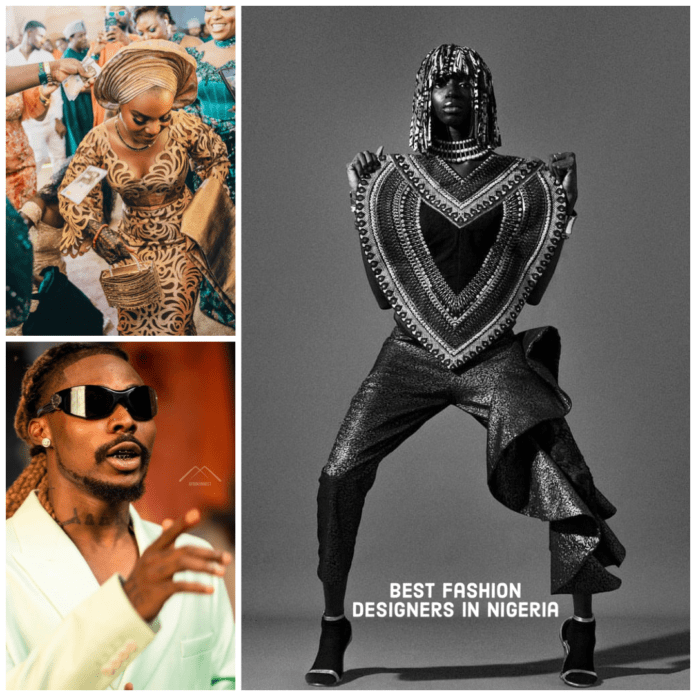 In this article you will discover the Top 10 best Nigerian Fashion Designers and stylist in Nigeria for the year 2023 via Afrokonnect.
It's no secret that we love to celebrate our artists, actors, actresses, and footballers when they reach new heights in their professions,
But we seldom talk about or acknowledge Nigerian fashion designers.
Despite the fact that many of them are making innovative strides and positively portraying Nigeria.
So today we will be taking a look at a few Nigerian fashion designers that are making waves internationally,
At the same time doing a great job of representing Nigeria and Africa via their work.
Through their writings, they have advocated for Nigerian and African culture,
Please kindly note that this list is in no particular order, which means 10th on the list can be 1st.
Top 10 Best Fashion Designers in Nigeria –  Nigerian Stylist in 2023
1. Deola Sagoe
Deola Sagoe is a fashion designer who specializes in haute couture,
She is also the creator of The House of Deola Sagoe and the mother of three young daughters.
Deola has been credited for helping to place African fashion on the global fashion map,
Since she began her profession as a fashion designer in 1989,
She has garnered attention not only in Africa but also in other areas of the globe.
Deola Sagoe became the first black woman to show a collection at AltaRoma, Rome's famed fashion week,
She earned the MNET/Anglo Gold African Designs 2000 Award in 2000.
United Nations World Food Program selected Deola to represent Nigeria in their "Catwalk the World: Fashion for Food" campaign,
She has an impressive clientele that includes royalty from Africa, society women like Lydia Hearst and top model Alek Wek,
Also, celebrities like Oprah Winfrey and Will Smith have patronized her universally attractive aesthetic.
2. Lisa Folawiyo
Lisa Folawiyo is a Nigerian fashion designer who is well known for mixing traditional West African fabrics with contemporary tailoring skills,
As well as putting a focus on beading and sequin trim.
Lisa Folawiyo is well known for incorporating modern tailoring techniques with traditional West African textiles.
After completing her legal degree, the mother of two chose to pursue her second passion, fashion,
In 2005, she opened up shop in her basement under the moniker Jewel by Lisa.
Her creations may be seen in boutiques across Nigeria, New York, the United Kingdom, South Africa, and the United States.
She has won several accolades for the originality and aesthetic excellence of her works.
In 2012, she was featured in Vogue Italia and the following year she won the African Fashion Awards.
Women's Wear Daily also recognized Lisa as one of 2014's "eight rising stars" (WWD).
The designer was included on the 2015 BOF500 (Business Of Fashion 500) list of the world's most influential fashion businesses.
Both New York and Paris Fashion Weeks in 2010 saw her in action.
Best Nigerian Fashion Designers in Nigeria 2023
Before we proceed, you can check out the Top 10 Best Modeling Agencies in Nigeria.
3. Folake Folarin-Coker
Folake Akindele Coker, who works as a fashion designer and is the creative director of Tiffany Amber,
She went to college in Switzerland and the United Kingdom, got her master's in petroleum law,
Before she moved back to Nigeria to pursue her passion for design.
Tiffany Amber, her fashion label, was first introduced to the world in 1998 in Lagos,
Since then, it has expanded to four locations in the city and to Abuja.
Her contributions to the fashion world were not overlooked, as she received several awards for her designs.
In 2008, she created history as the first African-based fashion designer to showcase her work at New York Fashion Week not once, but twice.
After receiving the first "Designer of the Year" award at the 2009 African Fashion Week in Johannesburg, South Africa, she quickly rose to prominence in the industry.
In 2011, Folake was named "Fashion Brand of the Year" by ARISE Magazine.
She was honored with an Enterprise Award at the 2013 Women, Inspiration, and Entrepreneurship (WIE) Symposium.
Duro Olowu
Olowu was born in Lagos to a Nigerian father and a Jamaican mother.
He spent his whole childhood in Lagos, which at the time was the capital of Nigeria.
Then he went to the United Kingdom when he was 16 and received a law degree from the University of Kent;
He eventually abandoned his legal studies to pursue his real love, fashion, eventually becoming a worldwide celebrity.
In 2004, he launched his namesake womenswear line, which became an overnight phenomenon.
An empire-waist multi print silk dress from his 2014 Spring/Summer 2005 collection was found by American Vogue editor Sally Singer and went on to become a worldwide hit,
Selling out at prestigious retailers including Barney's New York, Browns, and Harrods in London, and Ikram in Chicago.
It was deemed the best dress of the year by both American and British Vogue.
After that, things only kept looking up for him; in 2005, he was named "New Designer of the Year" at the British Fashion Awards,
Just two years later, he debuted at London Fashion Week.
In 2009, Olowu won the African Fashion Awards for Best International Designer.
Michelle Obama, who had previously held the position of first lady of the United States of America, was a fan of his work and regularly wore items that he had designed.
The Vermeil Room of the White House was decorated by Olowu at the request of First Lady Obama in 2015.
Olowu is known for saying, "My job is not telling to ladies what they should wear; it is giving them with lovely alternatives."
Best Fashion Designers in Nigeria – Nigerian Stylist 2023
Zizi Cardow
At the age of 17, Zizi landed her first work in the fashion industry at an Italian-owned shop in Apapa, Lagos,
Afterwards, promptly abandoned her ambition to become a forensic profiler.
Though she had no prior interest in fashion before taking the job, yet it sparked a deep fascination and passion inside her.
After four years, she decided to leave her job to launch her own fashion label called "Zizi",
Because she wanted to see Ankara worn on red carpets throughout the globe.
She lived to see her dream come true when, many years later, Ankara patterns became instantly recognizable all throughout the world,
She has also won many notable awards for her work.
In 2001, after only one year of work in the fashion industry,
She was honored with the Prestigious Designer of the Year Award at the Nigerian Fashion Show;
In 2002, she was honored with the St. Moritz Style Selection Award and the Nigerian Women Awards;
And in 2003, she was honored with the DAME Award for her outstanding achievement in fashion.
Her list of accolades goes on and on, but some of the most significant prizes and honours she has received include:
UN Peace Ambassador (2010)
Global Leadership Award (2010)
Young Achievers Award
Fashion and Style Award
Merit Award for African Heritage
Zenith Award for Excellence (2009)
African Role Model Leadership Award.
6. Amaka Osakwe
Designer Amaka Osakwe is a leading figure in the Nigerian fashion industry.
Amaka was the only one on the list with a degree in fashion studies from Arts University Bournemouth,
As opposed to law or another traditional liberal arts field.
She debuted her line Maki Oh in 2010, and her designs have since been worn by superstars like Beyoncé, Kerry Washington, Rihanna, Lady Gaga, Solange Knowles, and many more.
Michelle Obama wore a Maki Oh shirt created by Amaka Osakwe on her official state visit to South Africa in the summer of 2013.
Numerous publications and organizations throughout the world have highlighted and honored Amaka Osakwe.
The African fashion publication ARISE has named her "Designer of the Year."
Several museums and galleries across the world have shown her work since 2010.
These include the Museum of Fashion Institute of Technology, the Vitra Design Museum, and the Brighton Museum & Art Gallery.
7. Okunoren Twins – Taiwo Okunoren and Kehinde Okunoren
Also known as The Okunoren Twins, they were both born in Lagos, Nigeria, in the year 1983.
Their parents, Kunle and Abiola Okunoren, are responsible for their upbringing.
At the age of 19, the twins followed in their mother Abiola's footsteps and joined the fashion business,
Where they quickly rose to prominence thanks to the high demand for English attire in the 1980s.
When the brothers saw that their customers were having trouble finding suits that fit properly,
They were motivated to start creating customized suits for the typical Nigerian at a period when the industry was just getting started.
They've subsequently amassed a plethora of high-profile clients,
Including musicians, actors, and politicians from Nigeria's ruling class, and earned several industry accolades for their efforts.
RECOMMENDED:
Best Fashion Designers in Nigeria: Nigerian Stylist 2023
8. Mai Atafo
Known simply as "Mai Atafo," the Nigerian designer acquired a household name after releasing his own apparel line.
After working in the United Kingdom for a number of years,
Mai Atafo returned to Nigeria in 2000 and quickly rose through the ranks of the business world.
Having worked as a brand manager for Guinness Nigeria, he chose to leave that position in 2010 to focus full-time on the fashion company he had begun.
His career has gone from strength to strength since the following year (2011),
When his fashion business debuted a wedding collection named "Weddings by Mai."
Toyin Lawani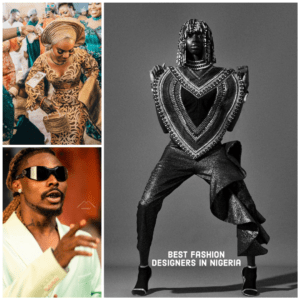 Because her creations are so original and chic, it's tempting to believe that she just mouths them into existence.
Toyin, who was born into a wealthy family, already had the DNA of an entrepreneur and a fashionista,
As shown by the fact that she owned a spa, a mini-supermarket, and a shop while she was only 16 years old and attending the University of Lagos.
Both the business Tiannah's Place Empire, which is named after her daughter,
And the design school TiannahStyling Fashion Academy, which is located in Nigeria are under her ownership and control.
Among the many famous people who have worn clothes designed by Toyin Lawani include Wizkid,
She styled Wizkid and the females on the cover of his second album, titled "Ayo", Don Jazzy, Mercy Johnson, Tiwa Savage, Waje, Funke Akindele, and many more.
10. Yomi Makun (Yomi Casual)
Yomi Casual, aka Nigerian fashion designer Omoniyi Makun, is the sibling of AY,
One of Nigeria's most famous comedians and one of the top 10 Most Followed Nigerian Celebrities on Instagram.
One of the most popular comedy programs in Nigeria is AY Live, and Yomi Casual is in charge of his brother AY's wardrobe for every performance.
Since then, he has built up wonderful relationships with a variety of other celebrities, and several A-listers,
Such as Jay-Jay Okocha, Timaya, Kcee, Bovi, Desmond Elliot, Alex Ekubo, Sammie Okposo, Chioma Chukwuka, Seyi Law, among others.
Many different organizations' accolades have been bestowed to him for his achievements.
Best Fashion Designers in Nigeria: Top Nigerian Stylist in 2023
Conclusion
Nigeria is a country blessed with so many talented fashion designers and this article is just a glimpse of what the industry has in store,
This list can go on an on but we've picked only the top 10 who's works have been recognized worldwide.
On that note, this brings us to the end of this publication about Top 10 best Nigerian Fashion Designers and stylist in 2023 via Afrokonnect.
Let us know what you think about the list via the comment section.