Welcome to this post about the top 10 best 5 Star luxury Hotels In Lagos, Nigeria in 2023 via Afrokonnect.
Do you need a place to stay while you're in Lagos for business or pleasure?
If you're on a budget then you should consider our article about the cheapest hotels in Lagos,
However, if you're ready to break the bank then you should continue reading through.
Top 10 Best Hotels In Lagos: 5 Star Luxury Hotels 2023
The best luxury hotels in Lagos are listed below for your convenience;
Oriental Hotel
The Oriental Hotel, which can be found on Victoria Island's Admiralty Way is regarded as having one of the finest amenities that are up to par with world norms.
It is widely believed that Asiwaju Bola Ahmed Tinubu, a prominent member of the APC, owns the hotel.
The Presidential suite is the most expensive accommodation in the hotel,
At the moment it will cost you more than N400,000 ($920) per night to sleep there,
This makes it the most expensive room in the hotel.
Sheraton Hotel in Lagos, Nigeria
The Muritala Mohammed Airport and Ikorodu Road in Lagos may be reached via the Lagos Sheraton Hotel in Ikeja, which is located along Maryland road.
Despite the fact that guests from both the diplomatic community and the local community flocked to this hotel in droves,
The level of competition has increased as a result of the opening of new hotels in the country that adhere to international standards.
However, since it is a hotel that serves guests from a variety of countries,
The Sheraton Hotel in Lagos has managed to keep its position as the industry leader.
Top Best Hotels In Lagos: 5 Star Luxury Hotels 2023
Federal palace Hotel, Lagos
Sun International owns the Federal Palace Hotel, which can be found on Ahmadu Bello Way on Victoria Island in Lagos, Nigeria.
Sun International is also the parent company.
The hotel has a well-deserved reputation for being a top pick among travelers, diplomats, and political office holders alike.
Eko Hotel, Lagos
On Victoria Island in Lagos, you'll find the Eko Hotel and Suites, which can be found on Adetokunbo Ademola Street.
It is known as the hotel that has a sufficient number of event centers,
And it has been the location of quite a few events of a very high caliber.
Most entertainment shows in Lagos are held here, Including the AY LIVE, Olamide live in concert, among others.
The hotel is highly recommended by those in charge of organizing events.
Top Best Hotels In Lagos: 5 Star Luxury Hotels 2023
Four Points by Sheraton
Within Oniru Chieftaincy Estate on Victoria Island is where you'll find the Four Points by Sheraton hotel.
It is one of the hotels that has been categorized as having contemporary amenities.
Intercontinental Hotel
Plot 52, Kofo Abayomi Street, Victoria Island, Lagos, Nigeria is the location of the Lagos InterContinental Hotel,
Which is a five-star establishment that can be found in a fashionable, upscale neighborhood of Lagos.
It is the tallest hospitality building in Nigeria, and thanks to its terraces, it provides breathtaking views of the city of Lagos, most notably the Lagos Port and the skyline of Lagos.
Ikoyi Club can be reached in a car in about half an hour, and the hotel's location,
Which is also close to Embassies and Silverbird Cinemas, makes it an ideal spot for guests to have a pleasant stay.
The 23-story building has a total of 358 luxurious rooms and suites, which can be broken down into the following categories:
King Superior, The Lagos Continental Club, Club King, One Bedroom Ambassador Suite, and One Bedroom Deluxe Suite.
The rooms at The Lagos InterContinental Hotel are luxurious and exquisitely furnished.
7. Radisson Blu Hotel
The rooms at The Radisson Blu Hotel are luxurious and exquisitely furnished with king-size beds,
In addition to fine tapestries from around the world, air -conditioners, ornate lampshades, DVD-players,
A refrigerator, a flat-screen TV with satellite reception, a work desk and chair, a wardrobe,
And a balcony that offers a view of the surrounding area that is truly breathtaking.
Top Best Hotels In Lagos: 5 Star Luxury Hotels in 2023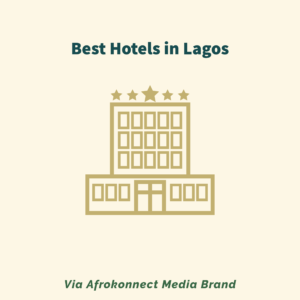 8. Protea Hotel
With a total of 116 guest rooms, the Protea Hotel Ikeja Select is ideally suited for both business and leisure travelers,
Thanks to its location in a peaceful suburb of the Ikeja CBD.
There is an LCD flat-screen television, an electronic safe, international plug points, a mini-bar refrigerator, a desk, air-conditioning,
In addition to tea and coffee-making facilities in each of our guest rooms.
Their rooms have been designed to accommodate your preferred traveling style.
9. Golden Tulip Hotel
Golden Tulip Hotel & Conference Centre is located in one of the most dynamic trade and business districts in Lagos.
Approximately a half an hour's drive from both the Lagos International Airport and the Lagos Domestic Airport.
It also has easy access to Apapa commercial harbor and industrial areas,
In addition to other business districts such as Ikeja, Victoria Island, and Ikoyi, amongst others.
The hotel is designed to offer a variety of business and leisure facilities to its guests,
As well as international service standards and the gracious hospitality of the local community.
The Golden Tulip Festac Lagos is a brand-new hotel that has a total of 471 guest rooms.
Golden Tulip Festac Lagos is located close to the Badagry Highway,
Which is the road that connects travelers coming from Lagos to the Republic of Benin,
Both the central business districts and the airport can be reached within half an hour by car.
10. Hotel Southern Sun Ikoyi
A top-rated hotel in Lagos, situated in the city's most desirable location,
That offers a haven of tranquility and productivity in the heart of Africa's largest and most rapidly expanding metropolis.
Restful and relaxed rooms for short trips as well as extended stays,
Up-to-the-minute business amenities for global big-brands or Lagos startups,
Gourmet restaurant variety with Nigerian flavors for family celebrations or executive lounge deal-making,
These are just some of the features that can be found at the Hotel.
The fact that Southern Sun Ikoyi has both local connections and international experience makes it the ideal place to start your exploration of Lagos.
RECOMMENDED:
Top 10 Best Hotels In Lagos: 5 Star Luxury Hotels in 2023
Conclusion
Lagos is Nigerians Mega city and many people who visit the country prefer to stay there,
Compared to other places like the Capital city, Abuja,
If you will like to check other options then check out our article about Best Hotels in Nigeria in terms of Luxury and Affordability.
Below, you'll find a comment section where you may suggest other hotels for inclusion on the list.