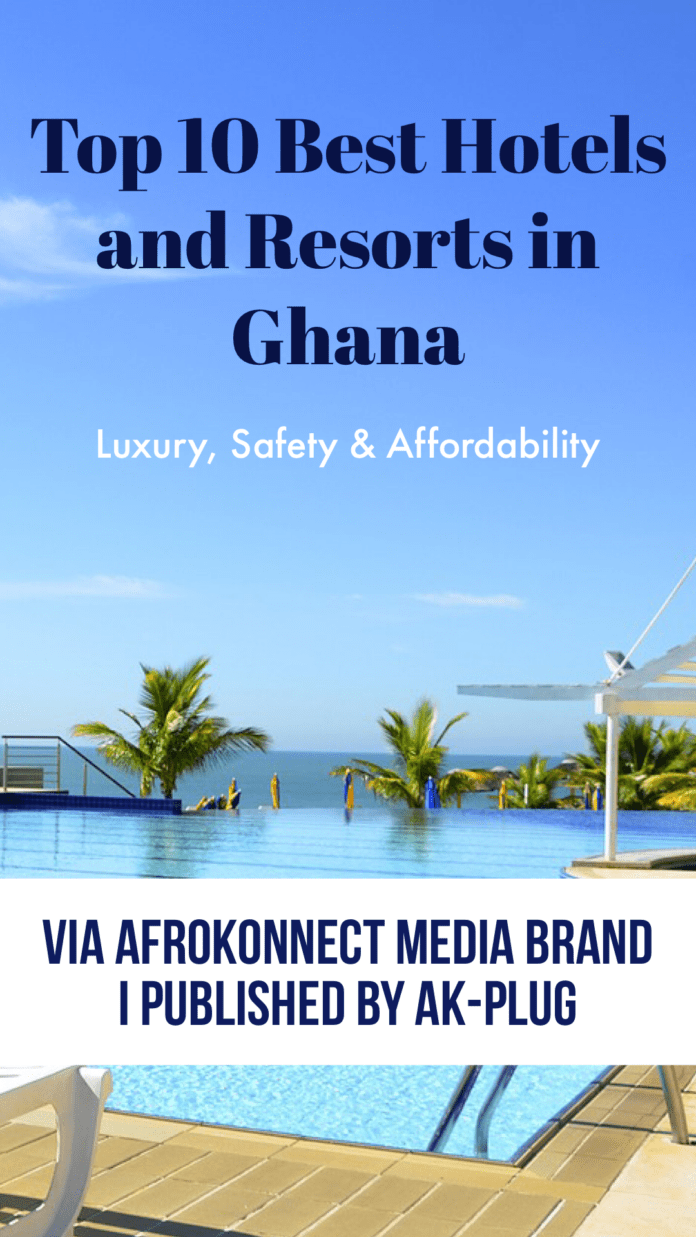 Top 10 Best Hotels and Resorts in Ghana in 2023 via Afrokonnect.
If you've been to Ghana you'll notice that there are a lot of expensive hotels in the country,
Some of these expensive hotels are worth every penny you spend per night,
While some of them are just pure waste of money,
Which is why we did a research to help you pick the best accommodation in Ghana.
In this publication you'll discover the best hotels in Ghana in terms of luxury, affordability and safety,
Most of these Hotels in this article provide hospitality alongside rich experience for their guest,
The list is also brought to you base on their services delivered and general reviews on google and other platforms.
So without further ado, let's dive into the business of the day.
Top 10 Best Hotels and Resorts in Ghana 2023
10.
Cascade Hotel Ghana
(3-Star Hotel)
This hotel is a 3 star hotel located  in Lapaz, Accra-Ghana and generally safe for foreigners and locals,
Cascade Hotel is relatively new and highly furnished with modern facilities,
This brand new hotel located in the Accra Metropolis also offers high quality and personalized service to their guest.
Another benefit that comes with staying in Cascade Hotel is that their average rooms are very comfortable, neatly painted and affordable,
You also get a free WiFi and free access to their customers support in case you need any assistance.
The hotel is situated close to the roadside for safety reasons with enough parking space available for car owners,
Also, this hotel currently boasts of 24-hours electricity and water supply.
Each room at Cascade Hotel comes with a self-controlled air-condition, a flat screen television with satellite cable service, telephone, desk, wardrobe, tea/coffee making facility, towels, shower and a fridge,
Added advantage here is that all the rooms are sound proof so if you're a music lover or a musician then this is a safe heaven for you,
Cascade Hotel gives complimentary toiletries in all rooms with Complimentary breakfast served daily for specific packages.
Top Locations & Tourist Places to Visit in Ghana in 2023
9. Zaina Lodge
(
3-star hotel)
This is another 3 Star hotel in Ghana that has been in the hospitality industry for a while now,
Zaina Lodge is trusted by both foreign visitors and the locals,
It is the first West African luxury safari lodge located within Mole National Park,
Mole National park is the largest and most developed of Ghana's seven recognized National Parks with 21 protected areas,
The park is approximately 4,577 square kilometers and is one of the few locations where guests see elephants regularly,
If you're a safari lover or a tourist traveling to Ghana then you should consider lodging at Zaina as it'll help you cut down cost.
While at the hotel you can take a guided walking tour or a vehicle safari tour,
You can also relax at their infinity pool or visit their outdoor bar if you like,
They also have a restaurant that serves nutritious and delicious meals for local and continental dishes.
Best Hotels in Ghana in 2023
8.
La Tua Villas
If serenity is what you're looking for then La Tua Villas is what you need,
The hotel has been rated by couples as one of the best get away spot in Ghana for lovers,
Couples love this location and it has been rated online with a solid 8.2 for a two-person trip.
The hotel has an outdoor clean swimming pool, a green garden and rooms with sea views,
La Tua Villas is the definition of luxury and comfort, their guests can order their choice of drink from the well-stocked bar,
The bar is fully stocked with both alcoholic and non-alcoholic drinks.
Guests at La Tua Villas can enjoy a continental breakfast and you get to try their amazing Ghana Jollof rice,
Some of the facilities of this property includes a restaurant, a 24-hour front desk and room service along with a free WiFi,
Each room has an air conditioner, a flat-screen TV with satellite channels, a microwave, an electric tea pot, a shower, free toiletries and a room desk.
Literally, you'll be getting more value for your money when compared to other accommodations in the city.
La Tua Villas is located in the coastal town of Prampram in the Greater Accra region.
Best Hotels in Accra
7. Bays Lodge and Apartments, Accra
Bays Lodge and Apartments is rated as a 3 star hotel but in real sense they offer services of a 4 star hotel,
It won the best lodge on Jumia award in 2018 and was best reviewed in Accra for its cleanliness.
The hotel is located opposite the Junction Mall in Accra, Ghana,
Bays Lodge and Apartment is an ideal location for all type of guests looking to spend time in Ghana,
Their rooms are well furnished with some amazing creative paintings and there's also a mini swimming pool for swimmers.
Additionally, there's a 24 hours guarantee of electricity supply so you don't have to worry about that too,
You get to enjoy their free WiFi with a complimentary Breakfast,
It also offers a free airport shuttle service for the convenience of guests.
Some of their services also include Laundry and concierge services, though you'll be charged a fee for that,
The hotel has a conducive meeting space which makes it ideal for all business guests.
And, because it is in close proximity with the Tema Harbour and the Accra Train station,
Most people tend to lodge here so when it's time to leave they don't have to worry about transportation hassle.
6. Golden Bean Hotel Nhyiaeso Ghana
This hotel was named after the cocoa bean, a product that has fuelled Ghana's economy for close to a century now,
Interestingly, it is a 3 star hotel located at heart of Kumasi, No. 19 Harper Road Nhyiaeso, Ghana.
This hotel is one of the best hotels in Ghana, it has a lush garden, a fitness center and a pool,
Golden bean Hotel has a Superior room that cost GHS 735 and Deluxe room that will cost you GHS 1,075 per night,
Which equals around $96.62 (N40,232) and $141.32 (N58,843) respectively.
They also have other rooms of higher and lesser rates with a wide variety of options depending on your choice and needs,
Each room is equipped with free Wi-Fi, LED TVs, personal safe, large wardrobe and comfortable beds.
Similarly, Golden Bean is small enough to give personal attention to every guest,
Yet, the hotel is large enough to cater for over 1,000 people either as a banquet, conference or any other event.
Best Hotels in Ghana 2023
5. Volta Serene Hotel (4 Star Hotel in Ghana) 
This is a luxurious 4 star hotel located in Ho, Volta Region of Ghana,
They offer Executive rooms, Presidential suite, Conference hall, Spa, gym, rooftop bar and a pool.
Just like the name implies the hotel is very Serene and peaceful with heavy security always at alert,
In case you don't know, Volta Serene Hotel in Ghana is the only four star facility located in the heart of the regional capital, Ho.
The beauty of this particular hotel comes at night because the hotel sits at the very top of the picturesque Kabakaba Hill in Ho,
Similarly, their panoramic terraces provide the most magnificent views of the Ho township,
Volta Serene Hotel is one of the most comfortable places for honeymooners and other leisure travelers,
The intimate atmosphere of the hotel gives guests the comforts of a private home with the convenient facilities of a hotel.
Whether you're staying for business or leisure in Volta Serene Hotel, be rest assured you'll get nothing less than the best,
You'll definitely enjoy their fast Wi-Fi internet, flatscreen TV and air-conditioning during your stay.
Places to visit in Accra – Tourist sites in Accra in 2023
4. The Royal Senchi Resort/Hotel – Best Resorts in Ghana
On the fourth spot of our list of best hotels in Ghana comes another 4 star hotel,
This hotel is named "Royal" for a reason, because their clients and guest are welcomed and treated like royals.
They pride themselves as the West Africa's finest up-market resort,
Royal Senchi Hotel and Resort is the epitome of luxury and pure exhibition of nature,
If you're a lover of nature and water views then this hotel is the perfect destination for you.
Another advantage of lodging here, is because the hotel is situated in one of the most beautiful locations in Ghana,
Precisely, on the banks of the famous Volta River in the Eastern Region of Ghana, just about 90 minutes drive from the capital city, Accra.
Royal Senchi Resort/Hotel has over 80 furnished rooms with a spectacular natural view,
The hotel has a unique modern architectural design that blends with the typical traditional Ghanaian styles,
So, if you're looking to explore the Ghanaian culture and night lifestyle then this hotel should be on your priority list,
Royal Senchi is located at Senchi Ferry Road, Akosombo, Ghana.
ALSO READ: 
3. Akayet Hotel
The hotel is mostly considered as the pride of the north and the leading hotel in northern Ghana,
It is located at the Bolgatanga, upper east region, Ghana.
Akayet Hotel is a luxurious 4 star hotel in the heart of the Upper East Region,
This region is known for their warm welcoming of visitors.
Akayet hotel is very ideal for business trips, get away or if you want to take a holiday away from home.
The hotel offers over 52 well furnished rooms, 10 executive chalets, international and local restaurants,
Akayet also has a customized pub, a pool, a bar and other recreational facilities you can enjoy while on vacation.
Best Western hotel Takoradi – Best Hotels in Ghana 2023
2.
Atlantic Hotel Takoradi
This list of best Hotels in Ghana cannot be completed without including Atlantic Hotel Takoradi,
It is one of the best hotels currently operating in the Western Region of Ghana.
It is a 4 star hotel located at No 3 Axim Road, Dixcove Road, you can find this location on Google map,
The luxuriant 4 star Hotel is an attractive leisure destination with miles of white beaches,
With over 132 rooms at Atlantic Hotel Takoradi, guest are left with multiple options to choose from,
This hotel is a clear representation of comfort and hospitality, it is in close proximity to the Takoradi air and sea ports,
Additionally, the hotel boast of first class conference facilities and up-to-date fitness facilities,
Guests can enjoy modern swimming pool after a long day at work or during a relaxing weekend retreat.
There's a 24 hours electricity and water supply, luckily the hotel is just about 5 minutes walk to the beach and the whindo river,
So, if you're a beach lover then this is where you consider staying.
Five star hotels in Ghana – Best Hotels in Ghana in 2023
1. Mövenpick Ambassador Hotel Accra
Finally, on our list of best hotels in Ghana is a 5 star hotel, this is where all the exotic nightlife takes place,
This hotel is an oasis in the heart of Accra, it is located at the independent avenue, Accra, Ghana.
Mövenpick ambassador Hotels & Resorts is a modern, upscale hospitality company that is passionate about 'creating moments',
This is where most of the richest musicians and celebrities in Ghana run to chill and hide out.
One of the core values of Mövenpick is recognizing that small gestures make a big difference to guests,
Which is why the hotel sets a standard for themselves to do ordinary things in an extraordinary way.
Mövenpick is a global firm with Swiss roots, a restaurant and hospitality heritage that dates back to the 1940s,
It is one of the oldest hotels in Ghana yet they maintained a very high standard and quality service delivery.
This hotel was able to stand the taste of time because it embraced innovation in all ramifications,
That has helped them meet their ever changing guests needs and continue to celebrate rich legacy,
They never compromise on quality and authenticity.
Top 10 Best Hotels in Ghana in 2023
Mövenpick Ambassador Hotel Accra

Atlantic Hotel Takoradi

Akayet Hotel

Royal Senchi Resort/Hotel

Volta Serene Hotel

Golden Bean Hotel

Bays Lodge and Apartments

La Tua Villas

Zaina Lodge

Cascade Hotel Ghana
Conclusion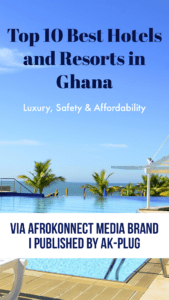 Ghana has several hotels in different regions of the country,
Some of these hotels are very expensive while others are relatively affordable.
In this publication we covered some of the best hotels in Ghana according to users review online and Google review,
If you're still looking for more top hotels in Ghana then you can watch the video below;
On that note, this brings us to the end of this article about Top 10 Best Hotels and Resorts in Ghana in 2023 via Afrokonnect,
If you enjoyed this post please don't forget to share this post on social media.